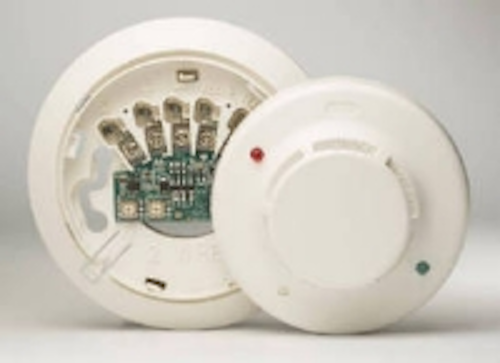 DMP has announced the latest addition to its growing line of security and fire sensors; the 2W-BLX and 2WT-BLX addressable photoelectric smoke detectors require reduced wiring, which speeds installation, notes the company. As addressable devices, the new detectors report the specific location of an alarm, enabling monitoring centers and emergency responders to pinpoint the exact location of the alarm.

"Adding new features sometimes means increasing the complexity of device installation and operation," explains DMP's vice president of sales, Mark NeSmith. "With the new 2W-BLX and 2WT-BLX smoke detectors, the opposite is true. This detector is a faster-installing device that significantly improves the ability of fire and emergency resources to respond effectively when there's an alarm. That faster response can mean greater safety for building occupants and reduced damage to the home or building and its contents."

Related product: Wire-to-fiber converter extends fire alarm systems' reach

Single-point addressable technology means each detector reports individually to the panel. In an alarm situation, facility owners and emergency responders instantly know the exact trouble location. Once on scene, responders don't waste valuable time searching for the location of the fire.

Compared to non-addressable devices, addressable detectors require much simpler wiring, adds DMP. This reduces both installation time and the chance of installation errors. The mounting base of the new product can be installed in a variety of fixtures and pre-wired so the heads can simply be inserted to complete the installation. Setting the address is as easy as setting the on-board rotary switches to positions matching the LX-Bus zone number address. Wide-angle, dual-color LEDs provide at-a-glance status indication, visually confirming correct installation and operation.

The addressable smoke detectors are compatible with DMP's XR series panel. The company is a privately held independent manufacturer of a variety of intrusion, fire, access control, network, and cellular communication products that are designed, engineered, and assembled in Springfield, MO. DMP is among the most widely recognized specialists in alarm communications over data networks with products that are available through professional electronic security companies.

For more information, contact Melissa Pitfield at (800) 641-4282, or visit www.dmp.com.
Related product: 2-hour fire-resistive cables certify to UL 2196