IP camera stands up to tough conditions, eases bandwidth demand
Bosch's Dinion IP imager 9000 HD camera features a rugged design, IR lighting and dynamically adjusts bit rate.
Apr 10th, 2014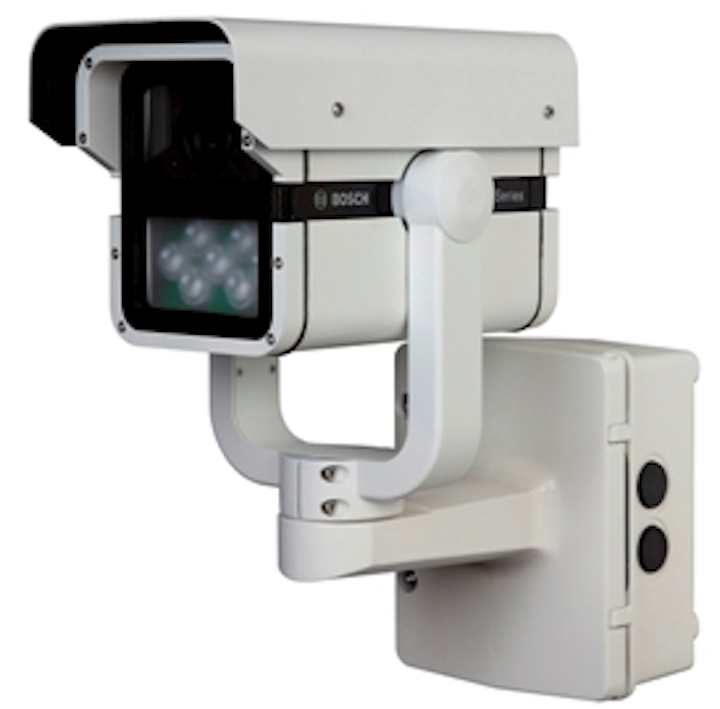 Bosch Security Systems' new Dinion IP imager 9000 HD camera is designed for perimeter protection as well as the surveillance of critical infrastructures like power plants and water-treatment facilities. "These types of applications require robust and reliable IP-video surveillance solutions that proactively guard the property's fences day and night," Bosch explained when announcing the new camera, "regardless of weather and lighting conditions. The Dinion IP imager 9000 HD has an extremely rugged design and built-in active infrared lighting to withstand harsh weather conditions and penetrate darkness. Its unique features ensure that relevant objects of interest are captured with the highest level of detail possible, regardless of harsh backlight or front light, using intelligent Auto Exposure [iAE] from Bosch. At the same time, intelligent Dynamic Noise Reduction (iDNR) maintains the lowest possible network burden by significantly reducing data bit rates and storage requirements."
Concerning iDNR's ability to alleviate the camera's burden on the IP network, Bosch Security Systems further explained, "An ever-increasing need for image detail and in turn higher resolutions leads to a continuously growing amount of video data. As a result, IT infrastructures are often stretched to their maximum and system costs driven by data transmission and storage cost increase substantially. Consequently, cameras' bit rates need to be managed and optimized to ensure minimum of network burden and storage costs. As with all other Bosch IP cameras, the Dinion IP imager 9000 HD is equipped with iDNR, which continuously analyzes the content of the scene, dynamically adjusting the bit rate depending on the amount of movement. In average scenes, this saves up to 30 percent on bit rate and thus storage requirements, while equally reducing network strain by only using as much bandwidth as is needed. The camera has the capability to temporarily store data and decide through its embedded intelligence when data streams should be sent through the network tor he recording unit, checking always for free network capacities."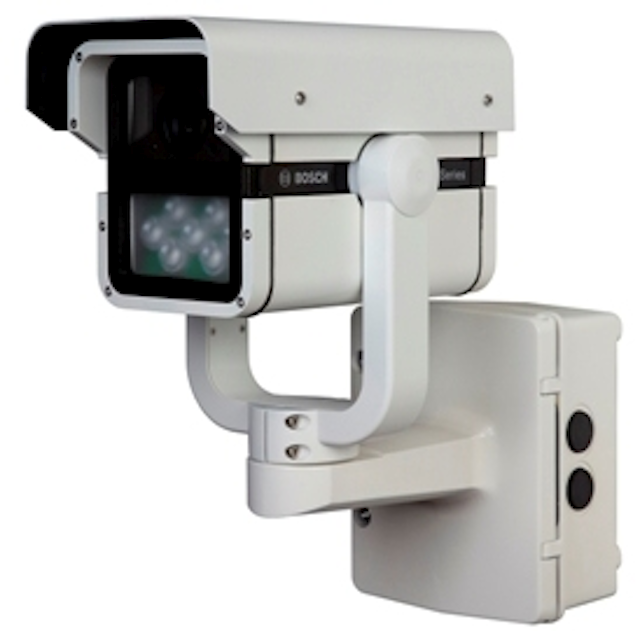 The camera's iAE meets the challenge of variations in daylight "by automatically adjusting the camera's settings to increase the dynamic range," the company said. This capability ensures moving objects, or those of interest, are enhanced and can be identified easily. For night-time use, the active IR capability allows objects as far away as 120 meters to be detected in complete darkness.
The Dinion IP imager 9000 HD also is equipped with an Intelligent Video Analysis (IVA) package, which "proactively supports guards in focusing their attention on relevant incidents when something or someone breaches predefined alarm rules," Bosch added. The capability also is particularly useful in securing unmanned facilities, such as pipelines, the company said.