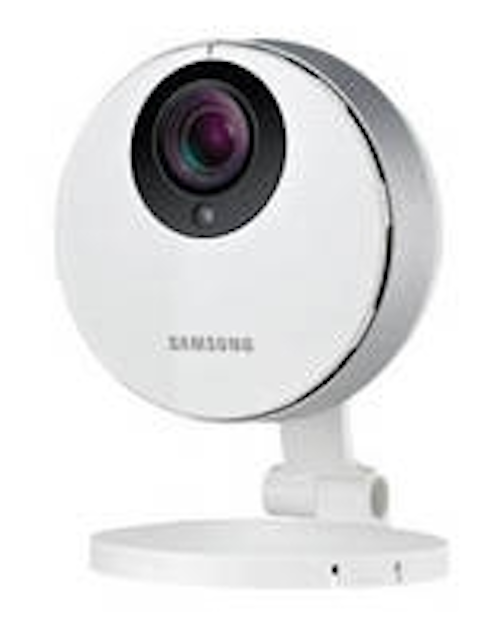 Samsung Techwin America (Ridgefield Park, NJ) reports that its new Wireless Smart Cam SNH-P6410BN WiseNet III Full HD Wi-Fi camera "is quickly earning praise in both the commercial and consumer markets, and was awarded Honorable Mention at ISC West 2014 in the SIA New Product Showcase." Targeted for SOHO and SMB users, Samsung says its model SNH-P6410BN camera not only provides professional, surveillance-grade video quality, but enables easy monitoring and recording.

Notable design features of the new wireless video surveillance camera include full 1080p video quality at 30fps, a 128-degree ultra-wide angle field of view, dual band Wi-Fi capability, and advanced motion detection with real time notification. Users can set up events and view live video "anytime or anywhere" through 3G/4G or WiFi networks via iOS, Android, PC and Mac devices. Video can be recorded in either H.264 or MJPEG. To help ensure uninterrupted viewing, the Smart Cam supports both 2.4 GHz and 5 GHz bands and allows multiple streaming of up to four different profiles.

Related: How law enforcement can leverage wireless video surveillance

Samsung says its true wide dynamic range (120dB WDR) technology enables the camera to capture crisp detailed images in varying lighting conditions, making it ideal for use in applications ranging from office lobbies to home nurseries. The camera also features day/night capability with built-in IR LED lamps to ensure nighttime vision. Other features include a micro 64G SDXC memory card slot, and a speaker and microphone for two-way talk.
The camera features audio detection and advanced motion detection which allows three areas of interest to be set, with alarm notifications sent by email or mobile. Event, manual or continuous recording is easily programmable and up to 64 GB of data can be recorded on via the micro SDXC memory card. System set-up is fast and easy, and requires no network configuration or monthly fees, says the company.

"With the increased demand for security, both in homes and businesses, providers have a responsibility to offer high quality video surveillance that is easily accessible," comments Frank De Fina, Samsung's executive vice president. "Samsung is leading the way with solutions like our new Smart Cam that make it easy and affordable for everyone to have a safer and more secure environment." For more information, visit samsung-security.com.