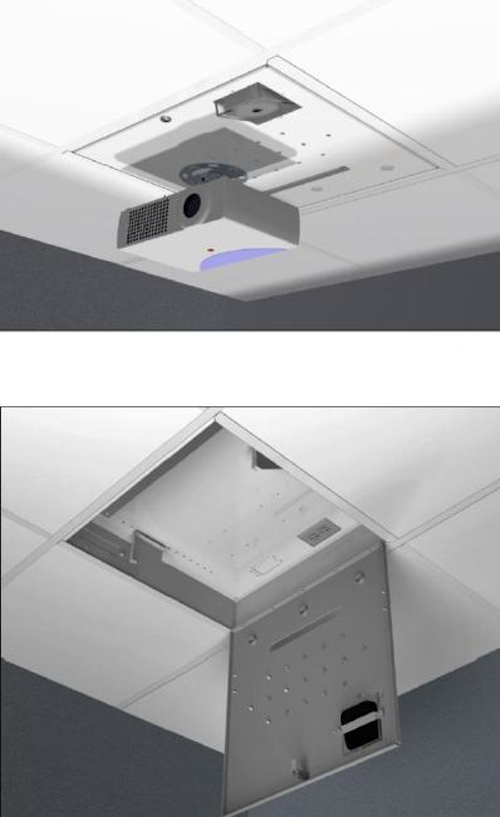 A new suspended-ceiling mount enclosure for multimedia gateways and projectors, available from Oberon and based on the company's wireless-access-point enclosures, provides a secure, convenient and aesthetic mounting option that is UL-listed for use in a building's plenum space, the company says.
"Classrooms and conference rooms everywhere are being equipped with high-definition multimedia projectors and multimedia gateways such as the Apple TV, Roku, and the Google TV platform," Oberon explains. "This technology enables students and participants to wirelessly share content with everyone in the room through the multimedia gateway. The old-fashioned podium with a VGA plug for the instructor is quickly going away. Protecting the investment in new interactive, multimedia education and training is mission-critical."
Oberon also explains that its new mount, the 2x2-foot Model 1074, works as follows: "The Apple TV or other multimedia gateway is inserted into the clear plastic dome in the enclosure door. The Apple TV is powered, network-connected, and plugged into the enclosure-door-mounted projector with a short HDMI cable. The door is closed and locked, securing the equipment in the ceiling and providing ideal communication between the multimedia gateway and those devices connecting to it."
The enclosure features attachment points on its door for a universal projector ceiling mount, such as the Sanus Model VMPRI and Chief Manufacturing Model iC-PR-IA1. "Project cabling is managed inside the enclosure, which fits 2U rack-mounted networking equipment," Oberon says. "The enclosure is UL-listed for use in the plenum space, and has openings in the locking door for up to three external 802.11 WiFi or cellular/PCS multicarrier antennas. A clear polycarbonate insert in the door provides security and IR visibility for the user's choice of multimedia gateway," such as Apple TV.