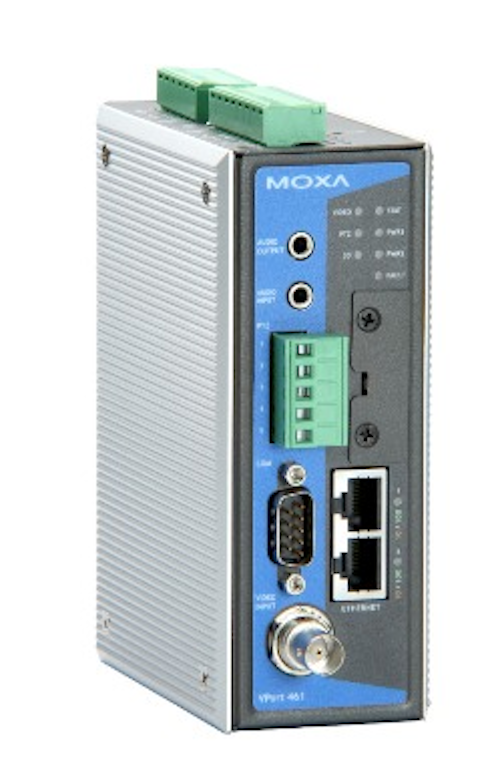 Moxa says its VPort 461-ON-T differs from other analog-to-IP video encoders because it is designed to, and does, perform well in harsh conditions including an operating temperature range from -40 to +75 degrees Celsius. According to the company, these characteristics make the encoder a good choice for applications such as intelligent traffic systems, military environments, industrial plants, railway stations, remote site surveillance and perimeter or traffic monitoring.
The single-channel encoder features H.264 video compression, Moxa says, "enabling the transmission of superior live or recorded video with video latency under 200ms, all without taxing the network's bandwidth." Additionally, the encoder "can provide up to three video streams simultaneously for use in viewing, recording and analyzing in either H.264 or MJPEG."
The VPort 461-ON-T is ONVIF-compliant, enabling interoperability with video management software from partner companies as well as with ONVIF-compliant network video recorders.
Moxa lists the following key characteristics of the VPort 461-ON-T
Two Ethernet ports for cascade and port redundancy
One RS-232/422/485 COM port for controlling external serial devices
Redundant 12/24 VDC and 24 VAC power inputs for greater reliability
Metal housing with IP30 protection against dust
DIN-rail mounting option
NEMA TS2, Section 2 requirements
Joe Cook, business development manager with Moxa Americas Inc., comments, "As cities transition to network infrastructure, we are seeing many agencies, such as the Department of Transportation, migrating from analog CCTV to IP video. These agencies are able to connect the existing PTZ and fixed analog cameras to Moxa IP encoders, allowing the video to be transmitted efficiently over the network." He adds that the VPort 461-ON-T has a five-year manufacturer's warranty and a 375,000-hour mean time between failures.