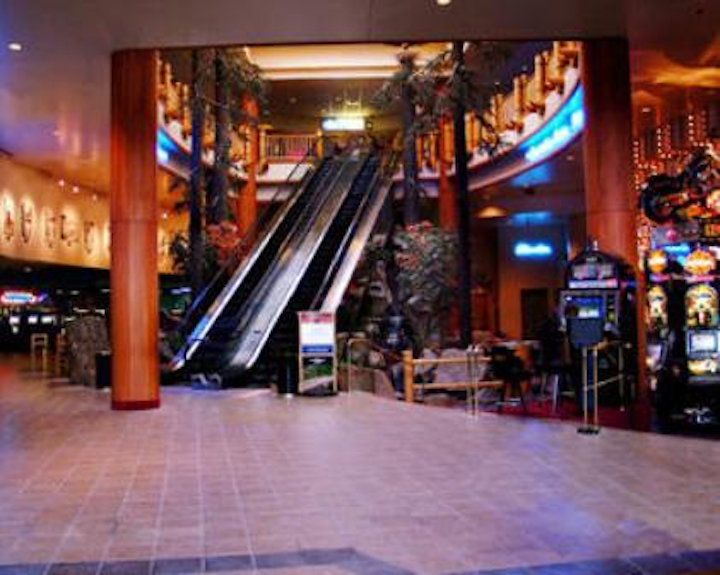 A 500-camera IP-based video surveillance system oversees the gaming at Chinook Winds Casino Resort in Oregon. According to IP-video system supplier IndigoVision, Chinook Winds is a good example of how a digital IP video solution can transform a gaming-surveillance operation.
The casino reviewed its options over a period of nearly four years before selecting IndigoVision. The casino's head od surveillance Abe Martin quips that the facility had drawn "a royal flush of project challenges: budget, space, power, cooling, and load limits--all of which hindered our progress.
"Although some were skeptical when we started looking for a digital solution that would fit our needs, IndigoVision met the challenges head-on and exceeded expectations," he continued. "This can be seen through the reduction in overall equipment footprint from 18 racks to only 4, which addressed many of the project challenges."
Chinook Winds includes a 24/7 casino, a 227-room beachfrot hotel, fitness center, 18-hole golf course, and 6 food outlets located throughout the resort.
The casino installed transmitter/receiver modules, thereby maintaining much of its investment in its original analog cameras. An addition 55 IndigoVision IP pan/tilt/zoom cameras were also installed to increase coverage.
"IndigoVision is unique in offering a guarantee that delivers high-quality, full framerate video wihtout dropping a frame, under any condition," IndigoVision says about this installation and its equipmetn in general. "This is fundamental to ensure that any fraudulent activity is detected and customer disputes are quickly resolved--an area in which the casino has seen significant improvement."
The casino's security team uses the Control Center security management software system from IndigoVision to view live and recorded video from all cameras. The software system includes tools that allow userst o locate and analyze relevant video clips. For Chinook Winds, a significant benefit has been the increased number of live views that can be displayed, comapred to its original system.
"Inconclusive reviews have dropped nearly 50 percent since installing the new surveillance system," Martin adds, "helping us to save money and improve our customer service. In addition, we have realized labor-saving efficiencies gained through eliminating tape changes, improving incident response, and lower maintenance."