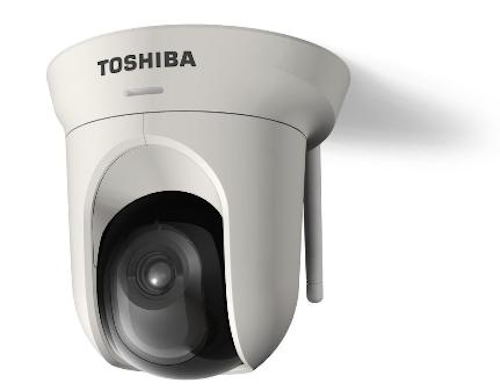 The IK-WB16A-W IP camera from Toshiba Surveillance and IP Video might be the Frankenstein's monster of IP convergence. The 2-megapixel pan/tilt/zoom (PTZ) camera is equipped with 802.11nwireless connectivity, the combination of which "gives installers greater freedom to mount wherever wherever detailed video surveillance is required, including areas not wired with coaxial or Cat cabling," Toshiba says. "Once installed, the camera's live video can be viewed and camera movements controlled by either a network-linked PC, notebook or viewed via an Internet-ready cell phone," the company adds. A non-wireless verion of the IK-WB16-A-W is equipped with Power over Ethernet (PoE) functionality, allowing it to be mounted in locations not adjacent to a power outlet.
The company says that each version of the camera is equipped with a CMOS (complementary metal oxide semiconductor) progressive-scan sensor that is key to image clarity. The sensor "delivers flicker-free, ultra-sharp color video up to 30 frames per second without picture blur," the company says. User-selectable resolutions range from megapixel 1600x1200 to cell-phone-size 176x144. A 4x digital zoom is ideal for higher-resolution settings, Toshiba says.
"Megapixel resolution enables a single IK-WB16A-W to wirelessly capture overviews of very large indoor areas, such as shopping malls or casinos, as well as high detail situations including closeups on individual faces or items being checked out by a cashier," explains Sergio Collazo, director of sales and marketing for Toshiba Surveillance and IP Video.
Both versions of the camera ship assembled and ready to install.