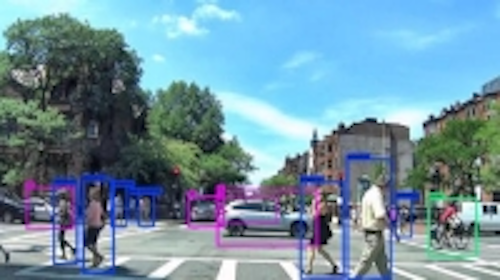 Car on Newbury Street in Boston, Massachusetts automatically identifies pedestrians, cars, cyclists and trucks in the scene. Recognition is done in real-time. This is how a self-driving car can see the world. (Source: Neurala)

Boston-based Neurala, the software company known for inventing 'The Neurala Brain,' a deep learning neural networks platform that the company says makes smart products like toys, cameras and self-driving cars "more autonomous, interactive and useful," has announced the closing of a $14 million series A funding round led by Pelion Venture Partners.

"Neurala pioneered the development of deep learning neural network software for NASA to use in planetary exploration, where processing power, battery life and communications are limited," expressed a company statement. "Instead of designing deep learning neural networks for super computers, as other companies do, The Neurala Brain was designed to work where the decisions need to be made. Today, Neurala has customers deploying a broad range of applications, including autonomous drones and cars. Customers include Teal Drones, Parrot and multiple members of the Fortune Global 500. Neurala is currently working with Motorola Solutions on new applications of video, image and audio analytics for public safety."

Neurala says it will use the capital "to accelerate servicing of its rapidly increasing customer demand, as well as to revolutionize additional application areas by adding built-in intelligence and autonomous behavior."

"The Neurala Brain was designed from the beginning to transform industries," commented Massimiliano "Max" Versace, co-founder and CEO of Neurala. "Bio-inspired brainpower can be built right into drones, cars, toys, cameras, and other devices found in the home so that they can learn, see and act. This is essential for applications like drones and self-driving cars, where reaction time is critical and where you can't always get fast network access. It's also an endearing capability when built into toys that recognize their young owners by sight and give them a smile without communicating with a server."

Neurala says its neural network software "uses a bio-inspired approach to mimic the way the human brain learns and analyzes its environment. This software enables a variety of smart products—from self-driving cars and industrial drones to toys, consumer electronics and smart cameras—to learn, adapt and interact in real time. With The Neurala Brain, toys can learn to identify their owners, security cameras can identify specific threats, drones can 'learn' how to diagnose problems at the tops of cell towers, saving humans considerable danger and drudgery, and self-driving cars can be safer and learn to avoid obstacles."

Neurala's software development kit (SDK) supports industry-standard NVIDIA, ARM and Intel processors, so teams can develop for the processor that is best for their product instead of being forced to select a high-priced proprietary processor. One significant differentiator of Neurala's deep learning software is that it scales from embedded hardware to powerful servers. Neurala calls this an "Anywhere Brain." By operating "on the edge" and locally on the device, toys can entertain without communicating personal information to a third party, and applications like self-driving cars need not rely on the internet—which can be slow or unavailable—to avoid accidents.

The funding round was led by Pelion Venture Partners, with participation from Sherpa Capital, Motorola Solutions Venture Capital, 360 Capital Partners, Draper Associates Investments, SK Ventures, and Idinvest Partners through its Electranova Capital II Fund and in partnership with Ecomobility Ventures. Both 360 Capital Partners and Draper Associates also provided seed funding.

"Motorola Solutions is constantly seeking ways to accelerate technology innovation for our public safety and commercial customers, who work in demanding and often dangerous environments," said Paul Steinberg, Chief Technology Officer, Motorola Solutions. "Neurala brings advanced deep learning capabilities that will enable us to further explore the potential of artificial intelligence to augment our customers' experiences 'at the edge.' This has the power to do things like help police find a missing person faster or guide a field worker's maintenance activities by turning their body -worn camera into a sensor that can recognize actionable information in video and images—in real time at the edge."

"Almost every application on earth can benefit from becoming smarter," said Tim Draper, well-known venture capitalist and founder of Draper Associates. "Neurala is the only platform that enables products to see and react in their worlds, with fast, local, real-time learning. It's already driving innovative new intelligent hardware applications even as it makes current ones more efficient, with greater financial feasibility."

"Pelion is a firm that believes in a future in which automobiles, robots, drones and other mobile hardware devices will need to navigate the world autonomously and safely, and we believe that Neurala has the right solution to enable that future," said Senior Associate Ben Lambert of Pelion Venture Partners. "Neurala's executives have a deep technology background and have been leading development efforts in this industry since 2006. As a result, the company is far ahead of its competitors and is at the forefront of the deep learning and computer vision space."

"Neurala technology is already achieving great traction in Europe. We will be able to help the company's founders build upon that momentum to accelerate growth," said Idinvest Director Julien Mialaret. "Our fund sponsors have ideas for ways to deploy Neurala's exciting technology."

Learn more at www.neurala.com.