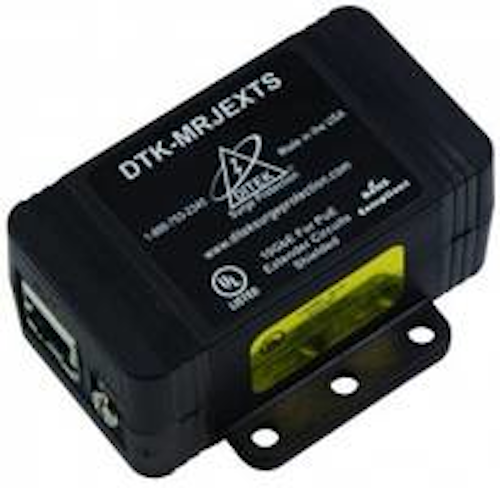 DITEK has announced the debut of the company's DTK- MRJEXTS surge protector, designed to be installed on the outputs of PoE extender devices.
Per the company, "the DTK-MRJEXTS is a point-of-use surge protector compatible with Cat5e, Cat6 and Cat6A cabling infrastructure - and when used with STP cabling, the DTK-MRJEXTS does not require a separate earth ground, allowing for simpler installation."
"The advanced circuitry in the DTK-MRJEXTS provides protection for PoE extender circuits," says Jason Klein, national sales manager, DITEK. "In the event of a power surge, installing this product will ensure your PoE extender devices are not damaged or destroyed and your system will maintain operational."
As stated by DITEK, "The DTK-MRJEXTS is designed to handle data speeds up to 10GbE without signal degradation and is ready for high-wattage applications with PoE+ and Hi-PoE. It contains shielded RJ45 connections with external grounding screw and complies with IEEE standards 802.3af and 802.3at for PoE. It can also operate in temperatures from 40°F to 158°F and is offered with a 10-year warranty."
"For businesses that make use of PoE extenders for critical systems such as access control or video surveillance, ensuring that those systems do not experience downtime due to a surge event is essential," adds DITEK's Klein. "Surges can spread easily across a PoE network, so protecting your devices helps to protect the entire organization."
For more information, contact DITEK at 800-753-2345 or visit www.diteksurgeprotection.com.
Search the Cabling Installation & Maintenance Buyer's Guide for companies, new products, press releases, and videos: