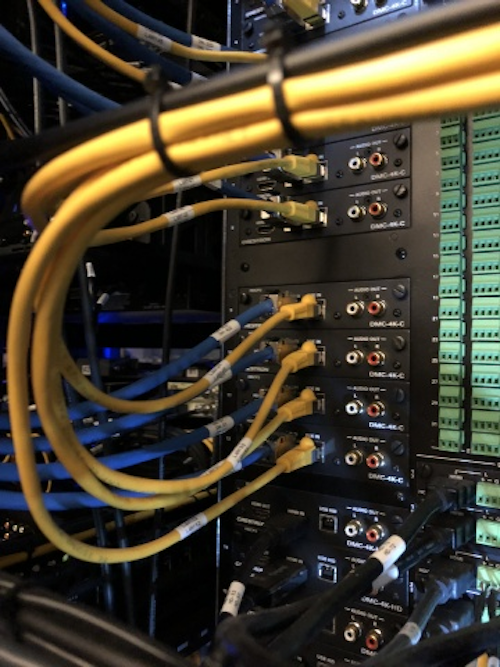 Belden announced its recent partnership with AV systems designer HB Communications to bring a new audiovisual ecosystem to life. During the recent renovation of its corporate headquarters in North Haven, CT, HB Communications wanted to reimagine how AV technology is implemented and integrated throughout not only its North Haven location, but also across the entire company. It also wanted to showcase unique applications of technology to customers while improving internal and external communication and collaboration.
HB Communications staff envisioned a state-of-the-art environment called the Audiovisual Ecosystem: a client showpiece that also served as a place for meetings, content creation, impromptu collaboration and presentations to live or remote audiences. To create a reliable, futureproof network, Belden cable and connectivity solutions were used throughout the space.
Belden introduces REVConnect preterminated assemblies
"With help from Belden, HB Communications was able to establish an easy way for anyone and everyone – onsite or remote – to effortlessly join meetings with any device in any conference room," says Elizabeth Stephan, director of sales and channel, broadcast and AV, for Belden. "The infrastructure is designed to support an easy-to-use collaboration platform for the entire organization (including mobile desktop and collaboration spaces) that improves communication. In addition, the company can now support the sharing and display of real-time data about managed services and clients to keep employees informed about performance and progress."
According to a press release, more than 38,000 linear feet of Belden 10GX Category 6A Cable support the needs of the Audiovisual Ecosystem, which requires high-density connections and superb mechanical and electrical performance. For AV transportation and video switching, more than 5,000 linear feet of Belden's 4K Ultra HD Media Cable support a Crestron DigitalMedia system – a 32x32 DigitalMedia matrix switcher – which connects several spaces to one frame and serves as the AV backbone, transmitting and distributing audio and video.
Belden's REVConnect Connectivity System was also used to simplify termination during the project. The connectors use a unique termination process with a universal core comprised of a cable manager and cap. With the ability to support devices requiring up to 100W of power, REVConnect creates highly reliable, gas-tight terminations for all Category 5e, 6 and 6A UTP and STP cables. This complete end-to-end infrastructure supports technology such as immersive video walls and digital signage, 4K video content and digital art, overhead audio and surround sound, BYOD devices and a live, 24/7 connection between HB Communications headquarters and remote locations.
Belden unveils HDBaseT warranty program for pro AV industry
By reimagining its headquarters and creating an Audiovisual Ecosystem with a robust infrastructure for seamless internal and external communication, HB Communications proves that almost any type of collaboration is possible through the integration of AV and IT technology. To read the entire case study, and learn more about how Belden helped HB Communications create a showpiece to illustrate AV and IT technology coming together to improve communication and collaboration, visit https://www.belden.com/resources/knowledge-center/case-study/hb-communications.