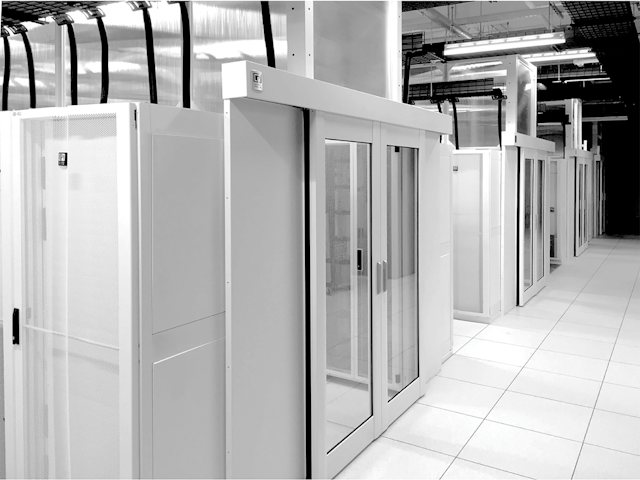 As the average heat load per cabinet rises, simply arranging cabinets in a traditional open hot aisle/cold aisle configuration is no longer an effective approach. Despite many data center cooling solutions emerging in the market, airflow containment is still the most cost-effective, widely accepted and recommended path for reducing power usage efficiency (PUE).
Airflow containment—the isolation, redirection and recycling of hot exhaust air—leads to a variety of improved efficiencies, while reducing cooling energy costs. The energy saving benefits are so convincing, state and federal laws now require airflow containment as an energy efficiency measure in data centers.
If you are looking to lower PUE through airflow containment, whether you manage a small or large enterprise data center, it is important to consider which type of containment method will be the most beneficial for your goals and budget.
Vertical Exhaust Duct
With minimal budget and deployment time, a Vertical Exhaust Duct will be the most cost-effective option, as it is the simplest method to deploy and change. However, this system requires an overhead plenum and the addition of collars on air handler units to create a complete closed return.
Hot Aisle Containment (HAC)
The most popular airflow containment solution, HAC, comprises of a configuration of duct work and baffles that are set up over the hot aisle, with doors blocking the aisle entrances at either end. As such, the hot exhaust air from the room does not reach the adjacent cold aisles, and do not mix with the cold air. The hot exhaust air in the hot aisles is then returned to the cooling units, usually through drop ceiling plenums.
Cold Aisle Containment (CAC)
Typically used in retrofit environments where a raised floor cooling system already exists, CAC requires deployment by an entire row and additional end-of-row doors. One challenge of a CAC design is that it typically requires the fire suppression system to be redesigned.
If you are implementing or upgrading airflow management for a data center aisle containment solution, take into account your own business requirements and architectural limitations. The white paper below provides a comprehensive checklist of major considerations for each type of containment system and summarizes major differences between them.
Download "Data Center Airflow Management Basics: Comparing Containment Systems" now.