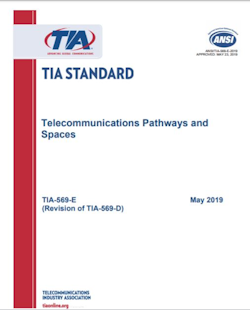 The Telecommunications Industry Association (TIA) recently published the ANSI/TIA-569-E standard, Telecommunications Pathways and Spaces. The "E" revision supersedes the 569-D standard, which was published in 2015. ANSI/TIA-569-E was developed by the TIA's TR-42.3 Subcommittee. "More than 40 organizations within the telecommunications industry, including manufacturers, consultants, end users and other organizations, contributed their expertise to the development of this standard," the TIA said.
The standard's foreword explains that the major changes from the previous edition include updated references; incorporation of revised temperature and humidity requirements originally published in ANSI/TIA-569-D-1; and incorporation of additional pathway and space considerations for supporting remote powering over twisted-pair cabling originally published in ANSI/TIA-569-D-2.
The foreword also explains that the ANSI/TIA-569-E standard recognizes the following three fundamental concepts related to telecommunications and buildings.
Buildings are dynamic. Over the life of a building, remodeling is more the rule than the exception. This standard recognizes, in a positive way, that change takes place.
Building telecommunications systems and media are dynamic. Over the life of a building, both telecommunications equipment and media change. The standard recognizes this fact by maintaining independence from specific vendor equipment and media.
Telecommunications comprises more than just voice and data. Telecommunications also encompasses many other building systems including environmental control, security, audio, television, sensing, alarms and paging. Indeed, telecommunications embraces all wired and wireless means of conveying information within buildings.
The standard has one normative (required) annex and three informative annexes. The normative annex covers firestopping. The informative annexes cover electromagnetic noise reduction guidelines for twisted-pair cabling, considerations for supporting remote powering over twisted-pair cabling, and a bibliography.
The standard proper has nine sections: 1) Scope; 2) Normative References; 3) Definitions, Acronyms and Abbreviations, Units of Measure; 4) Environmental Compatibility; 5) Diversity of Telecommunications Facilities; 6) Building Spaces; 7) Access Provider Spaces and Service Provider Spaces; 8) Multi-Tenant Building Spaces; 9) Building Pathways.
The ANSI/TIA-569-E standard was published May 23, 2019. It is 112 pages in length. You can purchase the standard from IHS Global here. Cost: $355 for print or secure PDF; $568 for both.