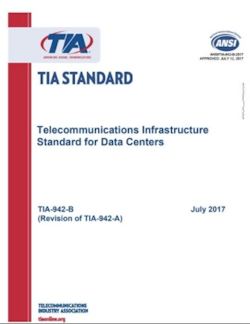 The Telecommunications Industry Association (TIA) introduced a program through which it will certify data center facilities that conform with the specification in its ANSI/TIA-942 standard series. TIA described the program as "a new industry scheme to provide official auditing and certification to data centers" that conform with the 942 standard.
The certification scheme will establish conformity assessment bodies (CABs) that, according to TIA, are "deemed competent to verify data center conformity with the standard." The association further explained, "Recognizing the benefits of implementing a sound quality management system for audits and certification in addition to the technical requirements, TIA has selected Certac to provide verification of conformance to standards by independent third-party CABs and accreditation of participant CABs."
CABs will be accredited through the independent evaluation of an organization against recognized standards to ensure their impartiality, competence, and consistency, TIA added. The accreditation process relies on a uniform approach accepted and implemented worldwide to determine the competence of an organization, according to TIA.
"Including accreditation for certification as part of the TIA scheme provides assurance of the impartiality and competence of the CABs," TIA commented. "It also provides data center operator/owners the assurance that registered CABs are authorized by TIA to perform such audits."
A list of registered CABs is published at tia-942.org.
ANSI/TIA-942 covers the telecommunications infrastructure and other aspects of a mission-critical data center, including site selection, architectural and physical structure of the building, electrical and mechanical infrastructure, fire safety, and physical security.
Details of the application process for a data center facility can be found here.
Harry Smeenk, senior vice president for technology program for TIA, said, "With this official recognition by the TIA, data center operators can now demonstrate, to both internal and external end users, that their data center has been independently audited to meet the target resilience rating required by their business."
TIA's chief executive officer Wes Johnson added, "ANSI/TIA-942 is perhaps the most popular true standard in the world for data centers. It is one of TIA's most popular standards and it is constantly evolving to match today's data center design requirements, including new technologies and design principles. We are delighted to now have an official scheme to verify conformance to this standard."
May Cheow is program manager at Certac. Cheow commented, "We are very excited to work with TIA s their global operations partner supporting the accreditation of the TIA-942 scheme and CABs. The official TIA scheme will ensure that strict quality standards are applied to anybody authorized by TIA to participate in the scheme."
The EPI group of companies is a TIA-942 audit and certification body, and a CAB in this program. Edward van Leent, EPI Group's chairman and CEO, added, "We applaud this move by TIA. We have seen a number of enterprise and commercial data centers who have fallen victim to subpar and non-accredited or registered organizations performing audits, leaving the customer at great risk. This official scheme will ensure that only competent organizations will be allowed to perform audits, reducing business risk and protecting the investment of the customer."