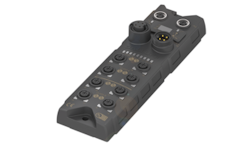 Balluff
Balluff's new EtherNet/IP IO-Link master block insulates against inductive, conductive, and capacitive noise produced by electromagnetic interference (EMI).
With a robust housing that protects against harsh welding environments, the company says its IO-Link master block: reduces inductive noise using coil choke filters; reduces conductive noise with its fiberglass-reinforced, polyphenylene sulfide (PPS) housing; and reduces capacitive noise with its thick profile, which raises the printed circuit board away from the backplane.
Per Balluff, "This master block was designed to protect against electromagnetic interference that can negatively impact work processes. The non-conductive PPS housing does the work of a separate grounding plate. And PPS is also inherently non-stick, so weld spatter slides off it."
The master block offers four Class A IO-Link ports and four Class B IO-Link ports.
"The BNI00CY IO-Link master block's built-in display allows configuring of network parameters, and its embedded web server allows for remotely configuring the block and connected IO-Link devices," adds a product summary.
Other key product features, according to the manufacturer, include: filters multiple types of EMI; PPS composite body resists weld spatter; and up to 9A of output power with 2A per channel.
Learn more at: http://www.balluff.com.
In this video, Canadian integrator BOS Innovations demonstrates how Balluff sensors, networking and IO-Link technologies can be used to improve an automated workcell. In this cell, technicians are assembling and laser etching a giveaway at the CMTS show in Toronto Canada. Linear position transducers (BTL) are used for pressing and carrier position, SmartLights are used for position feedback and workcell status indication. Networking devices (BNI) are used for Ethernet switching, EtherNet/IP slave I/O and IO-Link masters for I/O and power supply (BAE PS) status. Inductive couplers (BIC) are used for tool changes on the collaborative robot along with capacitive sensors (BCS) for starting the demonstration.