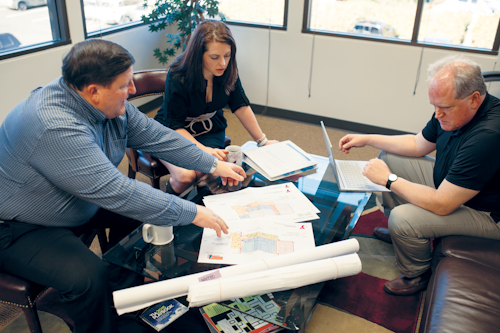 By Patrick McLaughlin
Glenn Sexton, a longtime contributor to standards-development efforts by The Telecommunications Industry Association (TIA) who received a Meritorious Service Award from the American National Standards Institute (ANSI) a few years ago and has been called a telecommunications evangelist, is winding down his decades-long career. Sexton currently is in semi-retirement, serving as Principal Consultant for NIS, a Beaverton, OR-based consulting firm he guided for years.
As he approaches retirement, Sexton sat down for an interview with Cabling Installation & Maintenance. Alongside him were Jeff Cazel, NIS's Chief Executive Officer and Diane Forbes, NIS's Chief Operating Officer.
Sexton joined NIS—then called Northwest Information Services—in 1990 after years in the banking industry. "I had seen network transport systems evolve from DEC, IBM and Wang," he recalls. "I can't tell you how many times I heard someone say, 'This is going to be the last cabling system we install.'"
Standardizing on the 8-position, 8-contact connector interface for use with twisted-pair copper cables was a turning point in the industry, he believes. "We coined a phrase in the early '90s: 'Let's come up with a methodology that allows us to say a jack is a jack is a jack, and we don't care what's plugged into it. We want a universal cabling scheme.'" The global acceptance and practical utility of the 8P8C connector are indicative of the benefits of standardization.
In 1997 Sexton attended his first TIA standards-development committee meeting, in no small part because of his belief in the value of standards. "I believe TIA is the heartbeat of not only national standards, but international connectivity," he says. "I attended my first meeting with notepad in hand, ready to listen and learn. Soon after I wanted to jump in deeper." Within a few years he began serving in leadership roles for some subcommittees. He emphasizes that, as a consulting firm working directly for end-user organizations, NIS brings that end-user perspective to the standard-development process. "We represent the consumer," he stresses.
In the early part of this decade, Diane Forbes began attending TIA meetings with Sexton. Since then, he has phased out his TIA participation and she has ramped up hers. Currently Forbes is vice chair of TIA's TR-42.1 Generic and Premises Cabling and TIA's TR-42.5 Telecommunications Infrastructure Terms and Symbols subcommittees. "I wanted the standards baton to be handed to an independent who can represent the end user," Sexton notes. "The transition is complete; Diane has taken the reins."
Originally a biochemist, Forbes comments that upon joining NIS and beginning to participate in TIA standards-development activities, "I'm of the mindset that jumping in is the way to go. That's what I did with TIA. At my second meeting I volunteered to be an editor on the TSB dealing with DAS, and it has grown from there. I had been in the medical field for a long time, and TIA has enabled me to learn as much as possible, quickly. There's nothing like standards work to keep you current."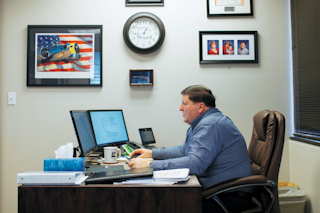 Glenn Sexton, former CEO and now Principal Consultant with NIS Consulting, works at his desk in the firm's Beaverton, OR headquarters. NIS serves customers throughout the United States, and Sexton has gone to cities across the continent as part of the Telecommunications Industry Association's cabling-standards development committee.
TIA is not the industry's only standards-development group, of course. As an organization NIS has drafted a common foundation of standards, based on TIA specifications along with those from the IEEE, CENELEC, BICSI and other standards-development bodies. "We've been able to take that common foundation, extrapolate information, and customize it for the customer," Sexton explains. "Standards in a cast form, if you will, are transportable. From one school district to another, they embrace those standards. We have one client—a large school district in the Portland area—that breathed a huge sigh of relief when they realized that standards exist to guide their projects. If you're following standards, you don't have to be concerned with what you're plugging in. It all works because the transport mechanism is standard."
"For many clients we have developed a set of in-house standards for them to use," Forbes adds. "Even when a client brings us in for a design or an assessment, typically by the end of a project they have asked for a standards document."
Sexton opines, "If you go proprietary rather than standards-based, you'll rue the day. When we build to standards, we know interoperability is not going to be an issue. We have school-system clients where cable we spec'd in the mid-1990s is still delivering 100Base-T to workstations, to this day."
Built on independence
Cazel, Forbes and Sexton all emphasize the value of NIS operating as an independent entity on behalf of its clients. "We've always been vendor-independent," Cazel explained. "It has come up a number of times that we could be more profitable if we changed that independence, but we've stuck to our guns. We're not going to sell you one brand over another. We're not uninterested; we're disinterested."
Speaking with these three executives, it becomes evident that the work done at NIS is personal. And the word "standard" applies not just to technical specifications put forth by industry bodies, but also to standards of professional competence and conduct.
"We uphold standards and principles that are true to NIS," Cazel adds. "Specifically, passion, independence, and transparency."
Sexton observes, "It lets us sleep at night. I have worried about projects at times, but I've never had to worry about an ethical or moral dilemma. If we're in a situation and need to stop and take breath, we will. As a firm, we embrace the standards of honesty, morality, and purity. It works out."
While NIS executives pride themselves on not moving off their standards of professional conduct, they simultaneously pride themselves on moving however necessary in terms of the firm's competencies.
"We frame a lot of our conversations in terms of OSI models," Cazel notes. He brings to NIS experience in Layers 2 and 3 of that OSI model, providing valuable perspective to projects that often have customers looking for solutions strictly at Layer 1.
Forbes says that in recent years, the work NIS carries out with clients has broadened and deepened. "Working directly with clients, I'm noticing an expansion of our scope. More and more we're being asked to weigh in, to provide input on areas that traditionally have been in other arenas. Call it smart buildings, IoT, whatever you want to call it—everything is so inter-related in a building system. We're seeing our work take us into new areas. Door-hardware integration is one example. Once you enter the security world, you're not just dealing with cabling but also with the devices that the cabling supports."
She says that the design work NIS performs remains foundational to their service offerings, and construction administration has emerged as a service offering through which the company can provide more value to a customer.
Sexton observes, "I know how Category 6 or how fiber is going to perform. We know how active electronics are going to work. Jeff has written the book on transport systems. As we move toward administration, we encounter a different component: the human component." NIS has done work for school districts in the Northwest and other regions of the United States. Sexton uses that customer type as an example of the human component to construction administration. "Several people are involved—principal, teachers, custodians, facilities managers. We manage the components of the network and the components of the project, and we need to bring them all together to a seamless execution so it performs—not only as a physical building, but also serving the needs of the people in it."
Cazel and Forbes are certified Project Management Professionals (PMP), having earned that certification from the Project Management Institute. Cazel explains, "Because we are PMPs, to some extent the methodology and book-of-knowledge applies across different industries. We are pretty fearless about managing a project, even if we don't necessary have deep expertise in the subject matter."
Sexton adds, "Diane and Jeff being PMPs goes hand-in-glove with standards. We have standards and absolute values that we manage from, employing the PMP methodologies."
He also points out that NIS has added resources to meet clients' changing demands. "We've brought on staff with formal education in architecture to manage all our BIM and Revit design," he explains. "As drawings become the foundation of all the systems we design, and with various complexities associated with BIM and Revit, we have gone to full color for our plotting ability. That's so five years from now, you'll be able to turn on and turn off layers to understand why systems are where they are. This is a capability you'll have long after the system has been deployed. It takes an architectural mindset to accomplish that, so that's who we brought on—an architectural graduate."
Standard of excellence
A conversation with these NIS executives becomes a look at technical trends, business operations, and ethical choices. Within that conversation, Sexton engages in reminiscent discussion about his time on TIA's cabling standards development body. He says that when he began taking on leadership roles in TIA project work in the 1990s, he shared a mentality with several committee colleagues. "Bob Jensen, Donna Ballast, Steve Swanson, Herb Congdon—we all believed that if we hitched our wagon to this star, we can be sure we are on the forefront of technology.
"Another thing I really appreciate about my TIA involvement and have embraced over more than 20 years is the expertise of the people involved in the process. With the likes of Valerie Maguire, Cindy Montstream, and Shadi Abu Ghazaleh, we're just one phone call away from an industry expert. There's a core of industry professionals who embrace these standards."
He concludes by explaining that his work to develop industry standards translates to NIS's work to serve their clients. "What excites me is when I see the light come on with people we're serving. They say, 'We can do that.' I say, 'You sure can, and we're going to show you how.' We're constantly coming up with creative solutions and methodologies."
Always standards-based.
As for a timeline or plan for Glenn Sexton to move from semi-retirement to full retirement, he confesses, "They're going to have to push me out the door."
Patrick McLaughlin is our chief editor.