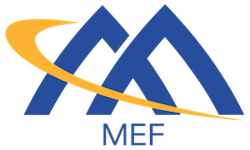 Metro Ethernet Forum
At MEF19 (Nov. 19-22) in Los Angeles, the Metro Ethernet Forum (MEF) announced the SD-WAN Certified Professional (MEF-SDCP) program, billed as the newest in its series of professional certifications that validate workforce skills necessary for successful digital transformation.
This past August, MEF published the industry's first global SD-WAN standard, SD-WAN Service Attributes and Services (MEF 70), to help accelerate market growth. The consortium says the standard "describes requirements for an application-aware, over-the-top WAN connectivity service" that uses policies to determine how application flows are directed over multiple underlay networks.
Per an MEF statement announcing the new certified professional program, "The SD-WAN professional certification is the industry's only exam verifying knowledge, skills, and abilities in the domains of SD-WAN based on the MEF SD-WAN Service Attributes and Services (MEF 70) standard as well as other fundamentals of SD-WAN solutions. This exam is designed for technically-oriented SD-WAN professionals ranging from pre-sales to network/service engineering and operational personnel in the service provider, technology vendor, and enterprise communities."
The MEF added that more than 200 professionals employed by 80 companies worldwide participated in the consortium's MEF-SDCP beta test phase that recently ended. Successful beta participants are slated to receive their certification credentials in December.
"Today's SD-WAN market shares similarities to the early days of the $85+ billion Carrier Ethernet market before standardization and services, technology, and professional certification took hold," observed Kevin Vachon, Chief Operating Officer, MEF. "Having skilled professionals who are well-versed in the emerging common language for SD-WAN will be key to enabling ecosystem stakeholders to capitalize on market opportunities."
RELATED COVERAGE:  SD-WAN solution suits SMBs and distributed enterprises
The MEF-SDCP exam and training is scheduled to be generally available by mid-December 2019. To ensure key core competencies, the MEF-SDCP test covers:
-- Assessing, planning and designing:  Scenarios of size and scale, implementations, applications, strategy, and business requirements.
-- Implementation:  MEF 70 related to business requirements, application flow, policy, underlay services, characteristics, and migration strategy.
-- Lifecycle Service Orchestration (LSO):  Service impacting issues, diagnostics, performance metrics, and troubleshooting.
-- Components and Features:  Fundamentals and characteristics of SD-WAN solutions, service components, and service attributes.
Three MEF accredited training partners are now offering training programs for the MEF SD-WAN professional certification. The partners are: Perpetual Solutions; SD-WAN Academy; and Tech 2000.
Others are training partners are expected to follow. Individuals interested in taking the MEF-SDCP exam may register here and learn more information.
Concurrently at MEF19, the consortium formally introduced the MEF 3.0 SD-WAN Services Certification Program, with Spirent Communications as the program's SD-WAN Authorized Certification and Test Partner (ACTP) who will collaboratively develop and execute on the program. SD-WAN Certification is being conducted within the context of the MEF 3.0 Global Services Framework.
Per MEF's statement, "MEF 3.0 SD-WAN Certification enables service and technology providers to validate that their SD-WAN services and products conform to the recently published SD-WAN Service Attributes and Services (MEF 70) standard. The certification will test the service attributes and their behaviors defined in MEF 70 and described in detail in the upcoming MEF SD-WAN Certification Test Requirements (MEF 90) standard. Demonstration of conformity with the industry's first SD-WAN services standard is a valuable reference baseline for users choosing a service supplier in the inevitable confusion of a fast-growing new market."
MEF and Spirent say they have already begun working with an initial group of 7 service providers and technology vendors selected to participate in the MEF 3.0 SD-WAN Certification Pilot Program. The first certified companies are expected to be announced in Q1 2020.
"There are expansive opportunities in the SD-WAN market, with tens of billions of dollars in revenue at stake during the next five years, and many service providers are looking to quickly develop and advance their SD-WAN offerings to ensure they remain competitive," commented Nan Chen, President, MEF. "MEF 3.0 SD-WAN standardization and certification will play a vital role in accelerating SD-WAN market growth and facilitating creation of powerful new hybrid networking solutions optimized for digital transformation. Spirent's technology, market leadership, and global reach make it a great partner to help maximize SD-WAN's full market potential through certification."
Commenting on the significant new partnership, Abhitesh Kastuar, General Manager of Spirent's Cloud and IP business, said, "Spirent has earned a global reputation as the advisor and vendor-neutral authority that guides complex deployments of new technologies. SD-WAN is a particularly important innovation that accelerates the value realization of virtualized infrastructures, and Spirent solutions assure that resulting SD-WAN services are ready to perform as expected. We are pleased to join forces with MEF on the first SD-WAN Certification Program and look forward to the important work ahead of us as MEF 3.0 SD-WAN rolls out around the world."
"SD-WAN is a dynamic service delivered using software-defined networking, virtualization, and inherent security and therefore requires a significant level of testing, validation, and assurance to achieve certification," added Marc Cohn, Spirent's Head of Virtualization. "The transition from traditional to MEF 3.0 orchestrated and assured services is significant to Spirent and for the entire global communications industry. We are thrilled to participate as the official SD-WAN Authorized Certification and Test Partner."
Recent research findings from Heavy Reading cited by MEF indicate that 94% of surveyed service provider professionals worldwide believe their employer will offer an SD-WAN service by the end of 2021 if they do not already. Seventy-three percent believe that SD-WAN professional certification will be "critical" or "important" for accelerating SD-WAN service sales. Heavy Reading's SD-WAN Services Strategies survey included responses from 125 service provider professionals representing companies based in every major geographic region.
Companies interested in participating in the MEF 3.0 SD-WAN Services Certification Program can contact sd-wan@mef.net or SD-WAN-Certs@spirent.com for more information.
Finally at this week's MEF19 conference, the consortium released its new MEF 3.0 SD-WAN Services White Paper exploring the definition of a standardized managed SD-WAN service, use cases, service requirements for various industry verticals, and an overview of MEF's expanding SD-WAN-related initiatives.
As the white paper states, the SD-WAN market is one of the fastest growing sectors in the communications industry. IDC estimates the global SD-WAN infrastructure market will reach $5.3 billion by 2023, while Vertical Systems Group estimates the US SD-WAN managed services market will grow to $4.5 billion by 2023.
"Carrier Managed SD-WAN is one of the fastest growing markets for service providers, MSPs, and enterprises – projected to reach $4.5B in the U.S. alone by 2023 based on our latest research," concludes Erin Dunne, Director of Research Services, Vertical Systems Group. "MEF's standards development and professional certification program will go a long way toward ensuring that the service providers, vendors, and enterprises can best monetize the benefits of SD-WAN to move their businesses forward."
"MEF standardization creates an open marketplace and reduces confusion in a new market that is experiencing very rapid growth," adds Daniel Bar-Lev, VP Strategic Programs, MEF. "This white paper provides a valuable overview of that standardization work, its importance to different vertical markets and upcoming MEF activities in this space. Service provider and enterprise customers reading this paper will be able to derive the true and significant value that SD-WAN services can deliver to their organizations."