BICSI released the 6th edition of its OSP Design Reference Manual and refreshed its approach to OSP standards. TIA is in the midst of revising its O
SP standard.
A prominent part of the display within BICSI's booth at its own Winter Conference and Exhibition in January was the association's learning resources, including its technical manuals. Among those documents was the recently updated Outside Plant Design Reference Manual (OSPDRM). This author had the opportunity meet with BICSI's president, Jeffrey Beavers, RCDD, OSP, who specifically pointed to the OSPDRM and noted that its contents are not confined to customer-ownedfacilities.
BICSI published the 6th edition of the OSPDRM in early 2018, at which time the association commented, "In addition to covering traditional infrastructure subjects such as cabling and pathways, the updated OSPDRM also covers items not typically found within interior design work, such as right-of-way, permitting and service restoration. Written by OSP subject matter experts, the manual focuses on outside plant properties, with the detailed information contained applicable to all projects large andsmall."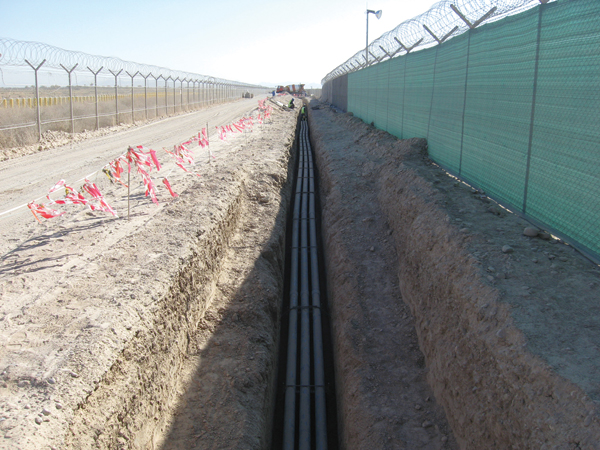 The 6th Edition of BICSI's Outside Plant Design Reference Manual acknowledges that outside plant networks may differ in a number of ways, including climate, topography, customer requirements and more. However, overall OSP network components and methods are relatively standard. This photo, provided by Mission 1st, shows an outside-plant project taking place in Kandahar, Afghanistan.
Multiple resources from BICSI
Specifically, the OSPDRM 6th edition includes updates and additional information on maintenance and restoration of OSP; air-assisted cable installation for OSP cable runs; additional excavation methods for direct-buried cable and pathways including vacuum, hydro-vac, and air nozzle; aerial installation of all-dielectric self-supporting (ADSS) cable; the OM5 optical fiber cable type; passive optical networks; changes resulting from the issuance of the 2017 edition of the National Electrical Safety Code concerning clearances and grounding/bonding requirements; radio frequency over glass (RFoG) specific to OSP fiber-optic installations; new storm loading requirements for aerial OSP design that includes the U.S. Warm Islands Zone per requirements in the 2017 NESC; project management information; and geographic informationsystems.
BICSI makes the first chapter of the OSPDRM available for free download on its website. Within that chapter, the manual explains, "The majority of OSP facilities are designed, installed, and maintained by local access providers serving specific geographic areas. However, OSP facilities located on private properties or in areas not covered by a local access provider become the customer's responsibility. To support the needs of the local access providers, many private companies offer OSP design, engineering, and constructionservices.
"BICSI defines OSP as the telecommunications infrastructure that is designed and installed externally to buildings and typically routed into an entrance facility," Chapter 1 continues. "OSP may include: optical fiber cabling; balanced twisted-pair cabling; coaxial cabling; supporting structures required to link serving facilities to outlying locations and enable voice, data, video, and other low-voltagesystems."
The document addresses the fact that one OSP environment may differ significantly from another, emphasizing that good design principles can apply regardless. "OSP networks may differ because of topology, climate, choice of cabling, economics, local code requirements, network functionality, current and future types of supported equipment, and customer requirements," the DRM states. It follows that statement with, "The specifics of telecommunications infrastructure may be unique; however, overall OSP network components and the methods used to complete and maintain installations are relatively standard. Standardizing cabling installations is necessary to ensure successful performance of increasingly complexarrangement.
"Standards are beneficial because they promote design and installation consistency, impose conformance to physical and transmission line requirements, provide a structured telecommunications facility that enables efficient system expansion and other changes, and provide uniform documentation," the OSPDRM says. Additionally, standardization allows for interoperability and compatibility of materials and products from various vendors so an installation not only meets or exceeds the applicable standards, but does so in a cost-optimized and efficient manner, BICSI emphasizes. "The overall effect of standardization is to support current and future needs and reduce the risk of obsolescence," itadds.
Separate from the OSPDRM and its other technical manuals, BICSI also develops standards, including several that address OSP. BICSI G1-17 is titled ICT Outside Plant Construction and Installation: General Practices. BICSI explains it is the first in a series of standards focused on the construction and installation of ICT cabling infrastructure within OSP pathways andapplications:
"BICSI G1 is designed to provide general information relevant to all OSP construction and pathways, with additional standards under development providing in-depth detail on the specific pathways and associated tasks." BICSI currently is developing three other OSP-related standards—one covering holes, poles, attachments, and guys; another covering cable lashing, and another covering general aerialpathways.
About BICSI G1-17, BICSI explains that because of the nature of development, the standard is under continuous revision, so that as additional material is developed and approved, content within the standard can be modified to expand areas not present, or remove conflicts if they arise. BICSI encourages individuals to send revision suggestions to standards@bicsi.org so they can be included as business items at meetings of its OSP Construction and InstallationSubcommittee.
The standard is available to download at no cost, to BICSI members and non-membersalike.
The TIA's OSP standard
The Telecommunications Industry Association (TIA) TR-42.1 Committee currently is developing the third revision to the ANSI/TIA-758 Customer-Owned Outside Plant Telecommunications Infrastructure Standard. The most recent revision, 758-B, was published in 2012 and work is underway within TR-42.1 to develop the 758-Crevision.
In 2017 the TIA's TR-42 committee officially approved the project request for this revision, and in 2018 the TIA issued a call for interest on the effort. "TR-42.1 is developing guidelines to enable the planning and installation of an outside plant structured cabling system infrastructure," the association said in its call for interest and participation. "This standard establishes the recommendations and requirements used in the design of the telecommunication pathways and spaces, and the cabling installed between buildings or points in a customer-owned campusenvironment."
As of the January 2019 meeting of TR-42 and TR-42.1, the project to revise the TIA-758 standard is in the industry balloting stage, meaning it has completed the committee balloting stage. After industry balloting—a process that can repeat multiple times and whose timeframe is difficult to predict—the draft standard goes through default balloting before being approved and published.