NBase-T adapter reference design for enterprise networks unveiled
Tehuti and Aquantia say new adapter delivers optimal form factor, power and cost for pervasive NBase-T deployment across 802.11ac infrastructure.
Mar 4th, 2015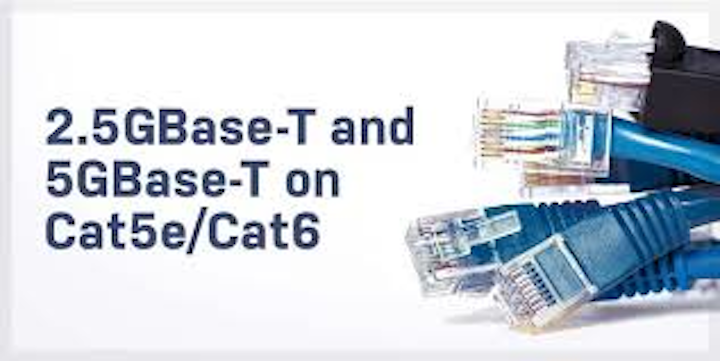 Tehuti Networks (Israel), a fabless semiconductor company focused on enabling mass adoption of multi-Gigabit Ethernet (GbE) technology, has unveiled what it says is the industry's first NBase-T adapter reference design, capable of reaching 2.5 and 5 Gigabits per second over 100 meters of legacy Cat 5e cabling.

The Tehuti NBase-T reference design hosts the latest Tehuti TN4010 controller, an optimized 10GbE controller designed for low-power, low-cost, single-port applications. The TN4010 MAC is paired with the Aquantia AQR105 transceiver, a single-port, low-power, high-performance NBase-T PHY.

"We are pleased that Tehuti Networks has chosen the Aquantia AQR105 NBase-T PHY for their NBase-T adapter reference design, as it enables seamless migration of existing Gigabit Ethernet (GbE) networking, ubiquitously available in wireless infrastructure, to 2.5 and 5 Gbps speeds – providing a boost in performance at very low power and cost levels and without requiring cabling upgrades," comments Kamal Dalmia, Sr. VP of sales and marketing at Aquantia.

Designed to support high-volume enterprise wireless local-area network (WLAN) OEM systems requiring multi-Gigabit Ethernet connectivity, such as 802.11ac Wave 2 wireless access points, Tehuti says its NBase-T adapter reference design offers a low-power, small form factor and low-cost solution, enabling pervasive NBase-T connectivity. NBase-T technology boosts the speed of broadly deployed twisted pair copper cabling up to 100m in length -- well beyond the designed limits of 1 Gbps.
RELATED STORY: Cisco adding 2.5-G, 5-G Base-T ports to switches

Tehuti notes that enterprise WLAN access point infrastructure is being upgraded en masse to accommodate the rapid growth of ever more powerful mobile devices. Specifically, 802.11ac Wave 2 provides nearly 20 times the bandwidth compared to 802.11n, with an aggregated throughput of up to 5Gbit/s. A key challenge in enterprises taking advantage of the latest WLAN infrastructure is that such systems are connected to backbone wired networks using 1 Gbps Ethernet copper cable links which reduces the performance five-fold compared to the available bandwidth.

Deployment of Tehuti NBase-T adapters within 802.11ac Wave 2 access points will allow an increase in network speeds over existing Cat 5e/Cat 6 cables to up to 5 Gbps, at lengths up to 100 m. The Tehuti adapter reference design supports auto-negotiation, allowing the NBase-T solution to optimally select the best speed: 100 Megabit Ethernet (100MbE), 1 Gigabit Ethernet (GbE), 2.5 Gigabit Ethernet (2.5GbE), 5 Gigabit Ethernet (5GbE) and 10GBase-T over Cat 5e/Cat 6 or better cabling.

"Industry analysts forecast massive upgrade of enterprise WLAN infrastructure driven by the explosive growth in smartphones, tablets, bring your own device (BYOD) access and 4k HD video," comments Nir Sever, COO of Tehuti Networks. "The Tehuti NBASE-T adapter reference design leverages the TN4010 controller, which is uniquely positioned for this market as the only true single port 10GbE MAC available today to enable the upgrade of wired network infrastructure required to propel the adoption of these technologies."

Tehuti's NBase-T adapter reference design is already in use by Tier-1 OEMs and is available now for evaluation by OEMs and ODMs. A copy-ready NIC reference design kit including full schematic, layout and bill-of-materials is available to qualified customers. Device drivers are available for Windows, Linux, VMware, and OS X.