NBase-T Alliance demos 2.5 and 5GBase-T systems
CommScope cable was used in the Interop demo, which had live 2.5 and 5GBase-T circuits serving wireless LAN and other networking systems.
Apr 29th, 2015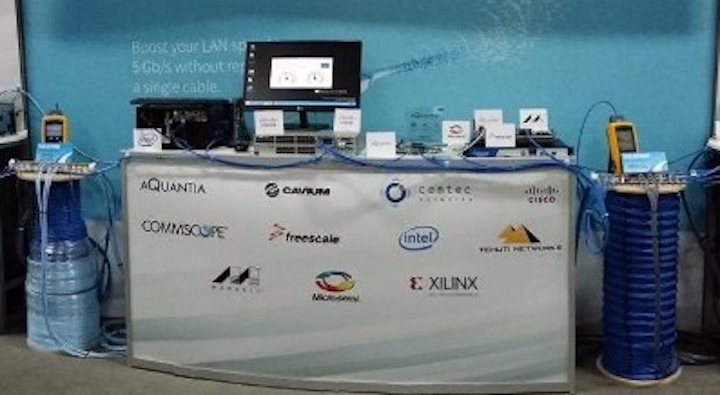 The NBase-T Alliance used the Interop exhibition floor April 28-30 for a live, multi-vendor demonstration of 2.5 and 5GBase-T network infrastructure. CommScope cabling was used in the live demonstration. CommScope is a "Contributor" member of the alliance; Fluke Networks and Panduit are "Adopter" members.
CommScope Tweeted a photo of the demonstration on April 29.
Check out @NBASETAlliance multivendor demo at booth 1251 @interoppic.twitter.com/Yez56zkriW

— CommScope (@CommScope) April 29, 2015
When announcing its plans for the demonstration two weeks before Interop, the alliance said, "The demonstration will show NBase-T technology deployed in three key components of an enterprise network: wireless access points, switches, and client devices. Specific products on display will include NBase-T technology-enabled wiring closet/campus LAN switches, 802.11ac Wave 2 wireless LAN access points, network interface controller in personal computer, network-attached storage, field-programmable gate array, network and embedded processors and Power over Ethernet chipsets. Connectivity between these products will be based on a wide range of cabling configurations including Cat 5e, Cat 6 and Cat 6A, with lengths extending up to 100 meters."
Also as part of that announcement, Phil Delansay, chair of the NBase-T Alliance Marketing Working Group, commented, "Our interoperability demonstration is a strong statement of the maturity of NBase-T technology and the widespread development of the ecosystem from a broad range of chip and system-level suppliers. This is the largest demonstration of real-world solutions capable of pushing network speeds up to 5 Gbits/sec using the installed base of Cat 5e and Cat 6 cabling infrastructure. By highlighting NBase-T product interoperability, we not only show the strong industry movement toward delivering 2.5GBase-T and 5GBase-T Ethernet solutions, but highlight the many concrete options available to customers who either want to build or buy NBase-T products."