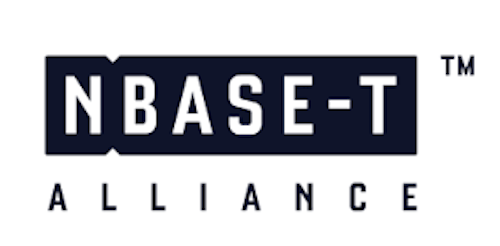 The NBASE-T Alliance, an industry-wide cooperative effort to promote the development of 2.5 and 5 Gigabit Ethernet (2.5GE and 5GE) over twisted pair copper cabling (2.5GBASE-T and 5GBASE-T) for enterprise network infrastructure, has announced the addition of 12 new companies to its rapidly expanding roster. While expanding support in the areas of semiconductors, IP, switching and connectors, the new members also provide critical new support in the areas of cabling and test equipment (for both cabling and systems).
New members officially joining the alliance include Amphenol (NYSE: APH), Applied Micro Circuits Corporation (NASDAQ: AMCC), CommScope (NASDAQ: COMM), Foxconn Interconnect Technology, Fluke Networks, MediaTek (TWSE: 2454), MorethanIP, Panduit, Realtek (TWSE: 2379), Spirent (LSE: SPT), UDE (TWO: 3689) and Zebra Technologies (NASDAQ: ZBRA).

The NBASE-T Alliance is a consortium focused on developing and deploying products that support NBASE-T technology and the NBASE-T specifications. The specifications define the transport of 2.5 and 5 Gigabit Ethernet at up to 100 meters using the large, installed base of copper cabling, such as Cat 5e and Cat 6 found in enterprise networks. The consortium has released version 1.1 of the NBASE-T specification, defining the physical layer implementation.

The alliance Technical Working Group is also working on specifications for PHY-MAC system interface, magnetics and channel characteristics, with input from its Promoter and Contributor members. In addition, individuals from over 25 member companies are participating in standards activities with the IEEE for a 2.5GBASE-T and 5GBASE-T standard (IEEE 802.3bz 2.5/5GBASE-T).

"Having grown to 34 members in just six months, the alliance represents the largest and broadest range of industry stakeholders focused on building consensus for a 2.5GBASE-T and 5GBASE-T standard," says Kamal Dalmia, NBASE-T Alliance president. "As a result, the alliance is not only working toward standardization and interoperability, but is also a step ahead in delivering product solutions for real-world deployment to customers, as was evidenced by our recent multivendor live demonstrations at the Interop trade show."

At the recent Interop conference (Apr. 27 - May 1), the NBASE-T Alliance hosted the 12 new member companies in its booth, showing the real solutions that will enable the enterprise to expand bandwidth on existing cabling infrastructure.

Alliance members showed the three key components of an enterprise network: wireless access points, switches and client devices. Specific products on display included NBASE-T technology enabled wiring closet/campus LAN switches, 802.11ac Wave 2 Wireless LAN Access Points (WLAN APs), Network Interface Controller (NIC) on Personal Computer (PC), Network-Attached Storage (NAS), Field-Programmable Gate Array (FPGA), network and embedded processors and Power-over-Ethernet (PoE) chipsets. Connectivity between these products was based on a wide range of cabling configurations including Cat 5e, Cat 6 and Cat 6A, with lengths extending up to 100m.

"The growing support for NBASE-T technology is a noteworthy force in the networking market as exhibited by the large number of real products that are coming to market and ready to be deployed by end customers," asserts Nolan Greene, research analyst, Network Infrastructure, IDC. "It is clear that within the industry, there is a desire for an enterprise solution that can respond to rising bandwidth demands while leveraging the installed wiring infrastructure."

The NBASE-T Alliance was founded in 2014 and its current board of directors is composed of representatives from Aquantia, Cisco, Freescale, Intel, Marvell, Qualcomm and Xilinx. Learn more at www.nbaset.org.