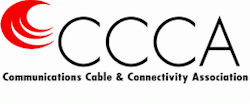 Graybar, Hitachi Cable America, Prysmian Group, and Teknor Apex have become members of the Communications Cable & Connectivity Association (CCCA - Washington, DC), joining the twenty-two other corporations in the work of the organization.
"These four new members recognize the value of the CCCA programs and are interested in joining the efforts to strengthen those programs that support the integrity and health of the industry," commented Eric Lawrence of Berk-Tek, current CCCA board chairman.
CCCA is a non-profit association comprised of prominent manufacturers, distributors and material suppliers who are committed to serve as a major resource for well-researched, science-based information on the technologies and issues vital to the structured cabling industry. The organization addresses quality, performance, non-compliance, fire safety, sustainability and counterfeit issues and how they affect the structured cabling industry as a whole and all those served by using the products. Programs range from the education on dangers of non-compliant and/or counterfeit products, to the most effective use of structured cabling in the data center, to collaborations on best practices for the design of sustainable cabling infrastructure projects.

Thumbnail descriptions of the new CCCA member companies are as follows:

Graybar, a Fortune 500 corporation and one of the largest employee-owned companies in North America, is a leader in the distribution of high quality electrical, communications and data networking products. Through its network of more than 250 North American distribution facilities, it stocks and sells products from thousands of manufacturers.

The Performance Cable Systems & Materials Division of Hitachi Cable America Inc., located in Manchester, New Hampshire, manufactures over 4,000 different cable products with a complete line of high-performance copper and fiber optic cables for the communication industry. Hitachi Cable America, Inc. is a unit of Hitachi Metals, Ltd. which is held by Hitachi, Ltd., Japan (TSE: 6501), headquartered in Tokyo, Japan.

Prysmian Group is a world leader in the energy and telecom cables and systems industry with more than 130 years of experience, about 19,000 employees across 50 countries and 91 plants. Strongly positioned in the high-tech markets, in the Telecom sector the Group manufactures cables and accessories for the voice, video and data transmission industry, offering a complete range of optical fibers, optical and copper cables and connectivity systems. Prysmian is a public company, listed on the Milan Stock Exchange in the FTSE MIB index.

Teknor Apex Company is a diversified material science company using complementary technologies to serve common markets, manufacturing for eight divisions in 9 locations in the U.S., and one each in Singapore, China, Belgium and the United Kingdom. It is a privately held company founded in 1924 and headquartered in Pawtucket, Rhode Island.

The full list of CCCA member companies is now: Accu-Tech; AlphaGary; Anixter; Belden; Berk-Tek, a Nexans Company; Cable Components Group; comCables; CommScope; Daikin America; DuPont; General Cable; Graybar; Hitachi Cable; Leviton; Optical Cable Corporation (OCC); OFS, a Furukawa Company; Panduit; PolyOne; Prysmian Group; Sentinel Connector Systems; Solvay Specialty Polymers; Superior Essex; TE Connectivity; Teknor Apex; The Siemon Company; and 3M.

For more information about CCCA and its programs, visit www.cccassoc.org.