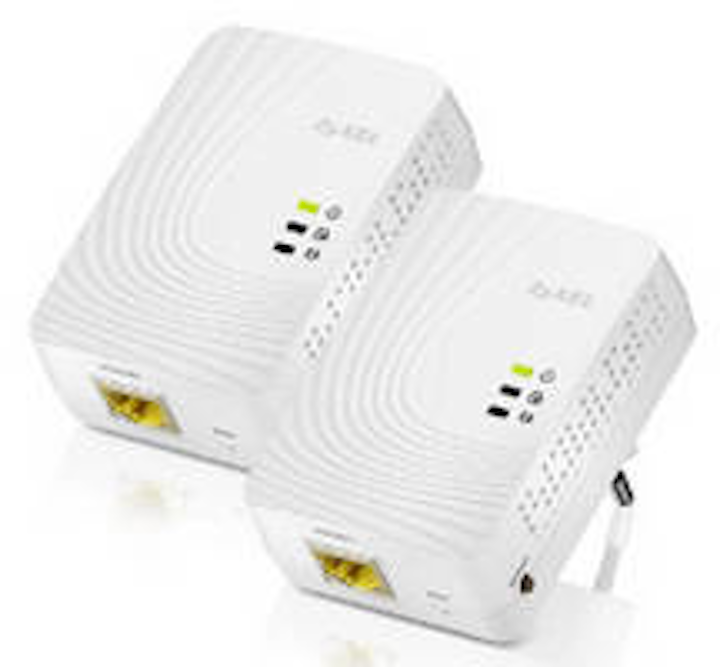 ZyXEL Communications (New Delhi) has introduced a family of 600 Mbps Home Plug AV2 powerline technology adapters that are designed specifically for HD media streaming. Able to provide data transfer rates 20 percent faster than existing 500 Mbps powerline technology, the PLA5200 series adapters feature ZyXEL's proprietary Smart Link Plus technology, designed to counter performance drops due to noisy line conditions or when connected through a power strip.

Related: HomePlug cites growing momentum

The ZyXEL PLA5200 Series powerline adapters make it possible for home users to enjoy simultaneous, lag-free HD media streaming, gaming and Web browsing on multiple devices. Using existing electrical wiring to share Internet connectivity throughout a residence, the adapters' advanced Quality of Service (QoS) capability prioritizes traffic such as HD video streaming, gaming, high-speed Internet access and VoIP services to ensure transmission quality for bandwidth-intensive applications.

"This [technology] is best suited for homes and offices where there is a need for super speed LAN connectivity over electrical wiring, instantly," comments Madhukar Swayambhu, sales head for ZyXEL India and SAARC.

More: ZyXEL offers free Ethernet switch trials

See also: Major features approved for Broadband over Powerline spec

ZyXEL notes that its new PLA5200 Gigabit Powerline Series can reach farther and offer greater coverage than competitive wireless options, and that the technology can be used to eliminate wireless dead spots without users having to install new Ethernet cabling. The company says its SmartLink Plus technology allows the adapter overcome the most common sources of broadband connectivity interference in the home, leveraging ground wire to bypass common noise sources for better performance. The PLA5215 adapters come with the convenience of a pass through plug to free up electrical outlets.

The adapters' Advanced Encryption Security (AES) mode provides users with simple, secure Internet connections. The PLA5200 devices also offer superior power efficiency, with a power-saving mode that saves up to 80 percent on power consumption compared to adapters without this function, according to the company.

Related product: Linksys issues HomePlug AV2 powerline networking kits
More coverage: Report: Broadband powerline seeing targeted growth