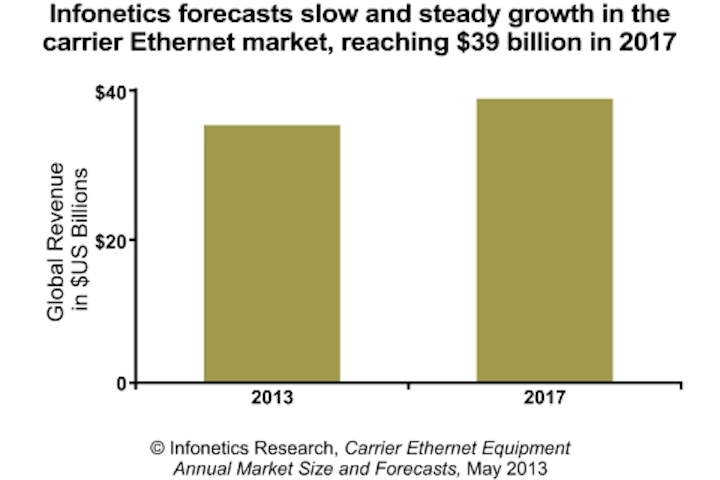 Infonetics Research has released excerpts from its latest Carrier Ethernet Equipment report, which tracks investment, penetration, and use of Carrier Ethernet products in service provider networks. "Carrier Ethernet is now a permanent, inseparable part of service provider networks, and the market has reached a steady state of investment as a result," says Michael Howard, principal analyst for carrier networks and co-founder of Infonetics Research.
He adds, "Though spending on legacy technologies like SONET/SDH and WDM will decline, investment in IP routers, Carrier Ethernet switches, and Ethernet access devices will continue to rise, driven by the move to IP NGN and, of course, growing traffic -- particularly video traffic."

According to the new report, the global Carrier Ethernet equipment market in fact declined 3% to $34 billion in 2012, following a 13% spike in 2011. However, Infonetics' Howard notes, "We see the Carrier Ethernet market growing slow but steady over the next 5 years, reaching about $39 billion in 2017."

See: Carrier Ethernet ups its game with 2.0 specification

The report says that spending on IP edge routers totaled $9.4 billion in 2012, the most of any Carrier Ethernet equipment segment. Globally, the Asia Pacific region currently accounts for the greatest portion of Carrier Ethernet equipment revenue, followed by EMEA [Europe, the Middle East, and Africa]. By 2017, Infonetics expects North America will have passed EMEA to become the second-largest Carrier Ethernet market.

The study forecasts Carrier Ethernet equipment ports to top 95 million worldwide by 2017, with 10 Gigabit Ethernet also growing fast to pass 1 Gigabit Ethernet. The new report provides worldwide and regional market size, forecasts through 2017, analysis, and trends for the Ethernet portion of equipment used in carrier networks, including switches, IP core and edge routers, SONET/SDH, WDM, VDSL, Ethernet access device (EAD), EPON, and microwave equipment, as well as ports by speed.

Companies tracked include Actelis, ADTRAN, ADVA, Alcatel-Lucent, Brocade, BTI Systems, Calix, Ceragon, Ciena, Cisco, Cyan, DragonWave, Ericsson, Extreme, Fujitsu, Huawei, Infinera, Juniper, NEC, Nokia Siemens Networks, RAD Data, Telco Systems, Tellabs, Transmode, Zhone, ZTE, and others.
Related: CE 2.0-certified small cells enable 3G/4G mobile backhaul