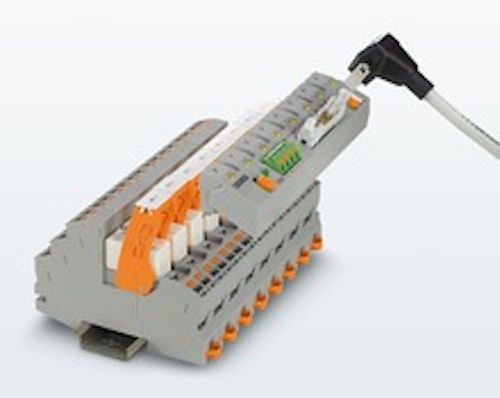 The new RIF-1-V8 system cabling adapter from Phoenix Contact offers rapid and error-free connection of modules from the company's Rifline complete relay system to the control level. The eight-channel adapter links the product characteristics of the relay system with Phoenix Contact's Varioface system cabling.

On the field side, an easy-to-use output block, which can be used in a range of industrial applications, is available to the user. Thanks to proprietary push-in connection technology and the easy potential distribution via jumpers, the relay system can already be wired quickly as standard, notes the company. Technicians can reduce the wiring time even further with the new adapter.

The product can be snapped onto a row of eight RIF-1 modules via the mounting contacts of the plug-in suppressor modules, without need for any tools. The adapters can be flexibly equipped according to switching requirements and, when it comes to servicing, they can be replaced without disconnecting the wiring.

The adapter is equipped with a flat-ribbon connector. With the system cable, the product can be quickly connected to the controller without the risk of polarity reversal.
Find more Cable Protection & Management equipment in our Buyer's Guide