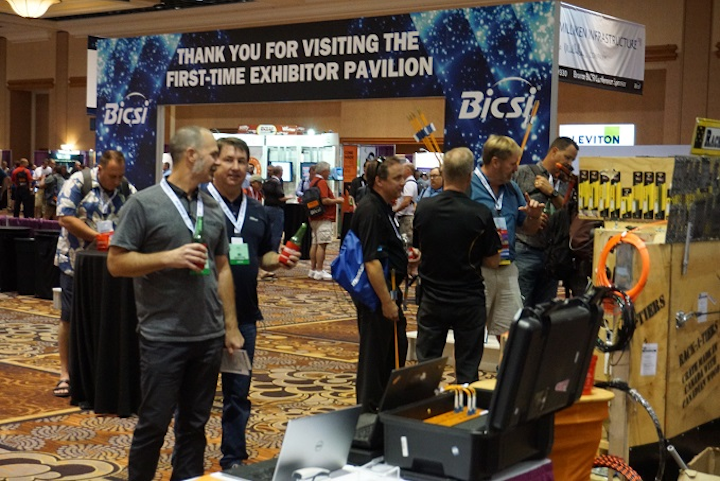 BICSI, the professional association for the information and communications technology (ICT) technical community and industries, reports to have welcomed nearly 750 attendees to Ontario's Toronto Congress Centre for its annual 'ICT Canada—Presented by BICSI' conference (Apr. 8-10).
The three-day event attracted a global audience including representatives from countries including Canada, the United States, the United Kingdom, France, Japan, the Netherlands, Qatar, Taiwan, Turkey and Bermuda.
Beginning early on Monday morning, education took center stage with a series of pre-conference seminars. Session topics included smart building infrastructure, best practices for project estimation and management, the modern workspace, and advanced AV system trends. A special pre-conference seminar 'EduTour' of one of the world's most-renowned, innovative intelligent buildings, in Cisco Canada Headquarters, was also conducted.
After a welcome from BICSI Canadian Region Director Fernando Neto, RCDD, BICSI President Jeff Beavers, RCDD, OSP, CFHP officially opened the conference Tuesday morning, in talk highlighting various aspects of the conference, including its technical sessions, exhibits and networking opportunities.
The morning's general session was then kicked off with an insightful keynote presentation from Wes Johnston, CEO of the Telecommunications Industry Association (TIA). A global technology, media and telecommunications leader, Johnston shared his insight on the future of ICT and how business, government and associations should work together to drive industry innovation. Following his address, the conference exhibit hall opened with 43 companies present to showcase their products and services and network with attendees.
The list of exhibiting companies was as follows:
ADI
Applied Electronics Limited
Arup Canada Inc.
Axis Communications
Brother International Corporation (Canada) Ltd.
CABA (Continental Automated Buildings Association)
Cailabs
Cambridge Sound Management
Canadian Network Installations Ltd.
Chatsworth Products, Inc.
Commwork Information Communication Technologies Corp.
Connectrac
Corning Optical Communications
DASAN Zhone Solutions
Dura-Line Corporation
Extron Electronics
Fiber Connections Inc.
Fiber Instrument Sales, Inc.
Fluke Networks
FSR
Gap Wireless
Hammond Manufacturing
HellermannTyton Canada Inc
Hilti (Canada) Corporation
Hitachi Cable America
Hubbell Canada
HYPERLINE SYSTEMS Canada LTD
Klein Tools, Inc.
Leviton Canada
Middle Atlantic Canada - Legrand
Omnitron Systems
PSI DATA INC
Rack-A-Tiers Manufacturing
Sitehands
Specified Technologies, Inc.
STARLINE 229
Sunbird Software
Superior Essex
TDL Canada
Techni+Contact Canada Ltd.
Toronics Inc.
VeEX Inc.
YFC-BonEagle ELECTRIC Co., LTD.
On Tuesday, the conference continued with technical presentations and networking in the exhibit hall. ICT Canada—Presented by BICSI also saw the debut of the BICSI Tech Innovation Stage, an exclusive presentation stage inside the exhibit hall.
A total of 20 peer-reviewed technical sessions took place at the conference, covering Internet of Things (IoT), intelligent buildings, smart cities, 5G wireless, data centers, advanced AV systems, distributed antennae systems, building information modeling, power over ethernet (PoE), and more.
BICSI full-conference attendees earned BICSI continuing education credits (CECs) and a conference attendance credit for RCDDs. In addition, all technical conference presentations at ICT Canada—Presented by BICSI have been recognized by the American Institute of Architects (AIA) for AIA Learning Units.
Wednesday evening's presentations concluded with a keynote presentation from Phill Nosworthy, founder of Switch L+D. In his keynote address, Nosworthy shared techniques technical leaders can use to unlock dormant potential in themselves and others while creating impactful experiences to transform team performance and achieve outstanding results.
The conference came to a close Wednesday evening when Neto presented the Ross G.H. Cotton Canadian Region Award to Sheri English, RCDD. The award recognizes an individual in the BICSI Canadian Region who has made significant contributions to the advancement of BICSI, its goals and objectives.
Following the award presentation, BICSI Cares, the charitable arm of BICSI that supports children's charities, donated to Camp Jumoke, whose mission is to enrich the lives of children living with sickle cell disease. BICSI Cares collected donations from attendees throughout the conference, and 100 percent of the funds were given to the charity.
Beavers adjourned the conference Wednesday evening, thanking everyone for attending and encouraging them to attend the BICSI Middle East and Africa conference next week, 16-18 April in Dubai, UAE, and the upcoming 2019 BICSI Fall Conference & Exhibition in Las Vegas, Nevada, on 29 September-3 October.
"A big thank you to our exhibitors, presenters and sponsors who make BICSI technical education and product showcases possible," Beavers said. "Working together, we continue to advance the ICT community."