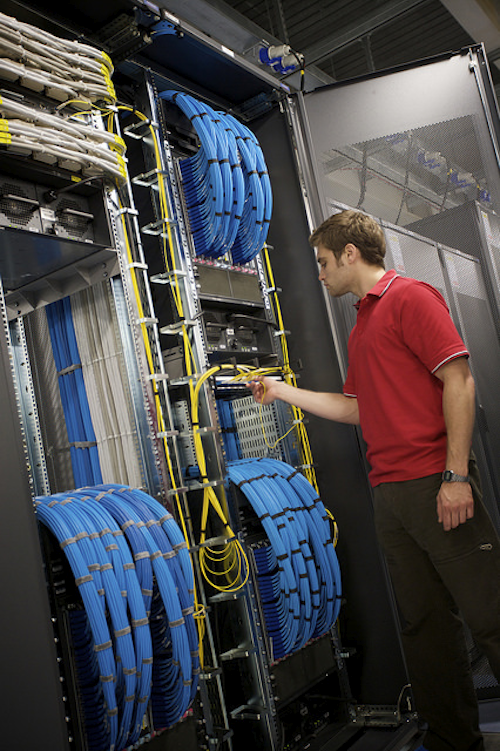 TAMPA, FL -- At the 2017 BICSI Winter Conference & Exhibition in booth #831, CommScope is demonstrating a host of communications network infrastructure systems and solutions that the company says are "scalable, easy to deploy and provide for an agile and flexible migration path [to] all current and future high-speed applications from 10G to 400G and beyond."
As further stated by a company press release, "CommScope...comes to BICSI showcasing its agile, high-density and cloud-friendly solutions for fast and reliable data center infrastructures."
"The world's insatiable demand for data is pushing IT teams to rethink and retool their network infrastructure," commented John Schmidt, vice president of data center market development at CommScope. "By next year, there will be approximately 30 billion connected devices -- from phones to gaming remotes. That is five per person and a lot of demand placed on data centers around the world. Meeting that demand means building for speed, simplicity and savings."
CommScope is a corporate sponsor of BICSI and is a silver sponsor for this year's show. Organizers expect almost 200 exhibitors and nearly 5,000 attendees, mostly made up of designers, engineers, project managers and installers in voice and data, wireless and outside plant disciplines.
As enumerated by the company, CommScope's systems on display at this year's BICSI Winter show include the following:
-- Fiber-optic panels: Ultra-, high- and standard-density panels that simplify management of duplex and parallel ports for dynamic migration and flexibility.
-- FiberGuide: The optical raceway system that protects and routes fiber in central offices, data centers and mobile switching centers.
-- imVision: The automated infrastructure management system (AIM) that gives oversight and control to the SYSTIMAX physical network connectivity solutions.
-- ION-E/UAP: CommScope's industry leading universal wireless infrastructure for in-building wireless solutions.
Additionally, CommScope's LazrSPEED WideBand OM5 – now an addition to the company's flagship SYSTIMAX portfolio of connectivity products – will also be in display in Graybar's booth #901. OM5, most recently designated by the ISO/IEC, enhances the ability of short-wavelength division multiplexing to provide at least four-fold increases in usable bandwidth while maintaining backward compatibility with legacy multimode fiber.
At the show, in a series of presentations, CommScope experts will also share their insights on high-speed migration and preparing for bandwidth expansion:
-- Sean Kelly, field application engineer, will present on the fundamentals of passive optical LAN in the two-day pre-conference seminar hosted by the Association for Passive Optical LAN (APOLAN).
-- Kam Patel, director of Global Data Center Solutions, will talk about taking control of data center cabling at the conference session on Wednesday, Jan. 25 at 9 a.m.
-- Jim Young, global lead for Enterprise Data Centers, will discuss preparing for the road to terabit Ethernet at a CommScope-hosted luncheon Tuesday, Jan. 24, at noon in Room 24-25. The lunch is open to all BICSI attendees.
Young will showcase the "Ethernet Roadmap" created by the Ethernet Alliance, which illustrates twists and turns on the technology path to faster speeds. "We're now at the dawn of the next Ethernet era," said John D'Ambrosia, chairman, Ethernet Alliance. "New technologies like more efficient modulation, transmission schemes and fiber types illustrate just how fast things are changing."
D'Ambrosia added, "With a diverse array of interoperable, multivendor solutions in place, the Ethernet ecosystem is ready to begin the build-out of next generation, reliable, high-speed networks based on those technologies. The Ethernet Alliance is committed to Ethernet's continued success, evolution and expansion through interoperability and educational initiatives; however, we can't do that without the support of forward-thinking members like CommScope. We look forward to hearing more about the many innovations on display at BICSI."
Search the Cabling Installation & Maintenance Buyer's Guide for companies, new products, press releases, and videos: