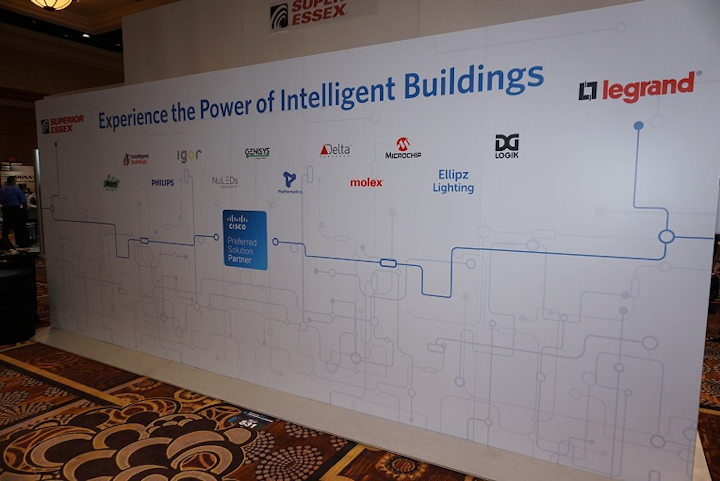 Superior Essex and Legrand, global leaders in cabling and connectivity solutions, teamed at the 2017 BICSI Fall Conference and Exhibition to give attendees a glimpse at the roadmap next generation of building intelligence.
In their shared exhibition booth, the companies showcased recent advances in Power-over-Ethernet communications and structured cabling technologies that the companies note "have vastly expanded the scope and value of the Internet of Things (IoT)" by enabling advanced building controls and analytics and helping to create more efficient and more productive environments.
The BICSI showcase featured the award-winning Superior Essex PowerWise 4-pair Power-over-Ethernet (4PPoE) products, including the debut of the new PowerWise 10G 4PPoE cable designed to support the high power and data demands of next-generation Power-over-Ethernet applications.
Superior Essex and Legrand also featured the nCompass Systems, their co-engineered structured cabling solution, which is optimized to support a variety of digital building and IoT applications. Additionally, in the BICSI Fall panel sessions, the two companies brought together leading innovators in digital building technologies to discuss the features, capabilities and strategies for designing and deploying cutting-edge, IoT-ready building solutions.
"The BICSI Fall Conference is a great opportunity for us and our partners to demonstrate first-hand the next generation of communications technologies and the value that these technologies can bring to a variety of enterprises and industries," commented Will Bryan, Vice President of Technology and Market Development at Superior Essex.
For more information, visit ce.SuperiorEssex.com/PowerWise and nCompass-Systems.com.
Search the Cabling Installation & Maintenance Buyer's Guide for companies, new products, press releases, and videos: