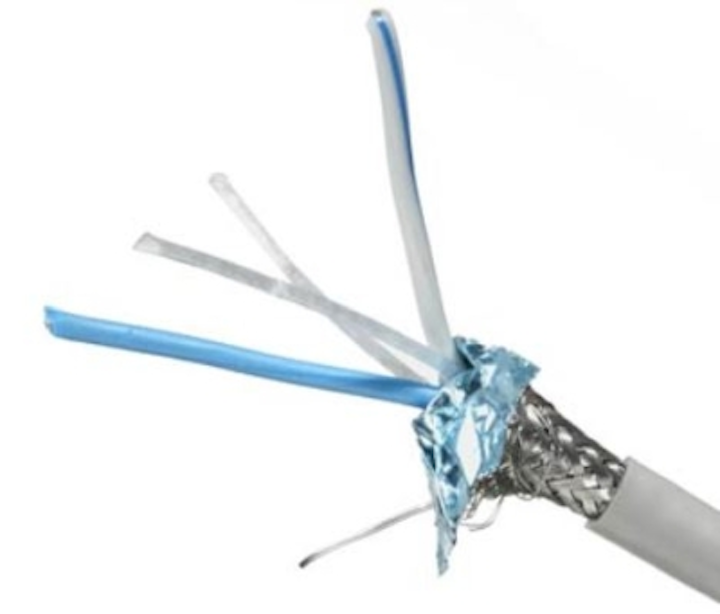 tandards-development groups within the Telecommunications Industry Association (TIA) and the Institute of Electrical and Electronics Engineers (IEEE) are working on a number of specifications that will facilitate the transmission of data via a single twisted copper pair. The ultimate signal-transmission capabilities and media definitions that will result from these efforts will support the transfer of information in environments such as industrial and manufacturing plants, within which machine-to-machine communication is growing.
According to projections in the Cisco Global Cloud Index 2015-2020, published in November 2016, the volume of all data stored will nearly triple in the six-year time period covered, from 1.4 zettabytes in 2015 to 6.2 zettabytes in 2020. Cisco predicts that the percentage of data stored on client devices, including machine-to-machine (M2M) communication, will decline from 88 percent in 2015 to 84 percent in 2020. However, the index projects that of data stored on client devices, M2M will be the fastest growing segment at a 68-percent compound annual growth rate.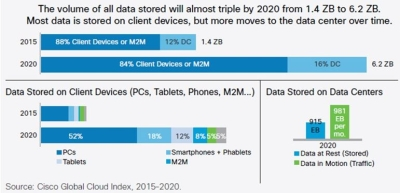 Valerie Maguire, global sales engineer with Siemon, presented this data and more information in a web-delivered seminar on June 21, 2018. In her presentation "Single-Pair Cabling's Emergence into Enterprise Automation and IoT Networks," Maguire also explained that machine-generated data includes: application, server and business process logs, call detail records, and sensor data; internet clickstream data and website activity logs; automotive and industrial data; elevator, lighting control and security data; Fieldbus applications; and monitoring applications such as building energy management systems that analyze HVAC, sensor, occupancy, and other data to improve efficiency.
Automated buildings often are managed by a large number of sensors and actuators that are connected to controllers and a centralized interface, Maguire further pointed out. The physical layer of today's building automation systems can include a 1- or 2-pair shielded cable with 18- to 24-AWG solid or stranded conductors; a 1-pair cable with 16- to 18-AWG unshielded conductors; or a Category 5 unshielded twisted-pair cable. Cable lengths can vary from 100 meters to 1,400 meters. Connector options vary from terminal blocks to LONWorks branded termination modules and RJ45 connectors.
Fieldbus systems commonly facilitate controller-to-controller communication, and Sensor Bus systems commonly facilitate controller-to-sensor communication. Ethernet can be used as a replacement for both of these technologies.
In that vein, the IEEE is developing the 802.3cg set of specifications for 10GBase-T1. Scheduled for completion in mid-2019, the 802.3cg specs will comprise short- and long-reach versions. 10Base-T1S will specify 10-Mbit/sec links up to at least 15 meters, and 10Base-T1L will specify 10-Mbit/sec links up to 1 kilometer.
In its Standards Informant blog, Siemon states, "A cost-effective, low-speed Ethernet application offers many benefits in support of not only industrial and automotive networks, but also intelligent building networks linking automation, HVAC, security/access, lighting, IoT, and other control and actuator-based devices and systems. Single balanced pair cables can be used in place of a wide range of Fieldbus cables … and single-pair Ethernet can enable interoperability when used in place of RS-232, RS-485, CAN, HART, and other proprietary and custom communication protocols."
The 10Base-T1L flavor of 802.3cg "will support optional Type E Power over Data Lines (PoDL) remote power provisioning," the Standards Informant adds. "Four classes of Type E power sourcing equipment will be specified to support up to a minimum of 13.6W over up to 1 km of single balanced pair point-to-point cabling."
Three subcommittees of the TIA TR-42 Telecommunications Cabling Systems Committee currently are working on four separate standard documents that in some manner address single-pair cabling. Specifically, the TR-42.1 Premises Telecommunications Infrastructure subcommittee is developing TIA-568.0-D-2 and TIA-862-B-2; the TR-42.7 Telecommunications Copper Cabling Systems subcommittee is developing TIA-568.5; and the TR-42.9 Industrial Telecommunications Infrastructure subcommittee is developing TIA-1005-A-4.
TIA-568.0-D-2, the second addendum to 568.0-D, will be titled Single Balanced Twisted-Pair Use Cases and Topology. It will include installation requirements and additional guidelines for transitioning from 4-pair to 1-pair cabling. As of TR-42.1's June 2018 meeting the document was in a preliminary (draft 0.2) stage of development.
TIA-862-B is the Structured Cabling Infrastructure Standard for Intelligent Building Systems. Its second addendum, 862-B-2, also will add uses cases, topology, and architecture for single-pair cabling. Additionally, it will provide single-twisted-pair cabling guidelines for emerging IoT and M2M applications that will require higher density, reduced size, and greater flexibility than can be provided by existing technology. It also is in the early-drafting stage.
TIA-568.5 Single Balanced Twisted-Pair Cabling and Components Standard—not yet at the point of Draft 1.0—will incorporate specifications including cables, connectors, cords, links and channels. Components and systems compliant to the forthcoming standard will be appropriate for use in non-industrial networks. The standard will be geared toward what are called "MICE1" environments. MICE is an acronym for mechanical, ingress, climatic, and electromagnetic. MICE tables that exist in the TIA-1005-A standard numerically characterize the network environment's severity for each of the four conditions. The higher the number, the more severe the environment. In practical application, a MICE1 environment is a commercial office space.
During Valerie Maguire's seminar presentation on June 21, she explained that the TIA-568.5 specifications are being developed with the intent of being able to support 10/100/1000Base-T applications. The bandwidth specified is likely to be 100 kHz up to 600 MHz—although that frequency range is not yet finalized. Operation at a frequency as low as 100 kHz may be more significant than it first appears. For other specified cabling systems, including Category 6A, the operating-frequency floor is 1 MHz.
TR-42.7 has developed four channel models in the pre-1.0-Draft stage of development. They are 1 kilometer (using 18-AWG solid or stranded cable with as many as 10 connectors), 100 meters (using 90 meters of 23-AWG solid cable and either 10 meters of 24-AWG cords or 8 meters of 26-AWG cords, and up to 4 connectors), 40 meters (using 30 meters of 22-AWG cable and 10 meters of 22-AWG cords with up to 4 connectors), and 15 meters (using 11 meters of 26-AWG cable and 4 meters of 26-AWG cords with up to 4 connectors).
Completing the TIA-568.5 standard will require TR-42.7 and the overall TR-42 committee to specify a single-pair connector. At the subcommittee's October 2018 meeting, it is scheduled to select from among five proposed single-pair connector variants. The subcommittee's timeline calls for the standard to be approved in October 2019.
As for TIA-1005-A-4, addendum number 4 to the Telecommunications Infrastructure Standard for Industrial Premises, a first draft is pending. The standard will specify cables, connectors, cords, links, and channels using one-pair connectivity in MICE2 and MICE3 environments.
We will continue to follow these developments, and provide updates on cablinginstall.com