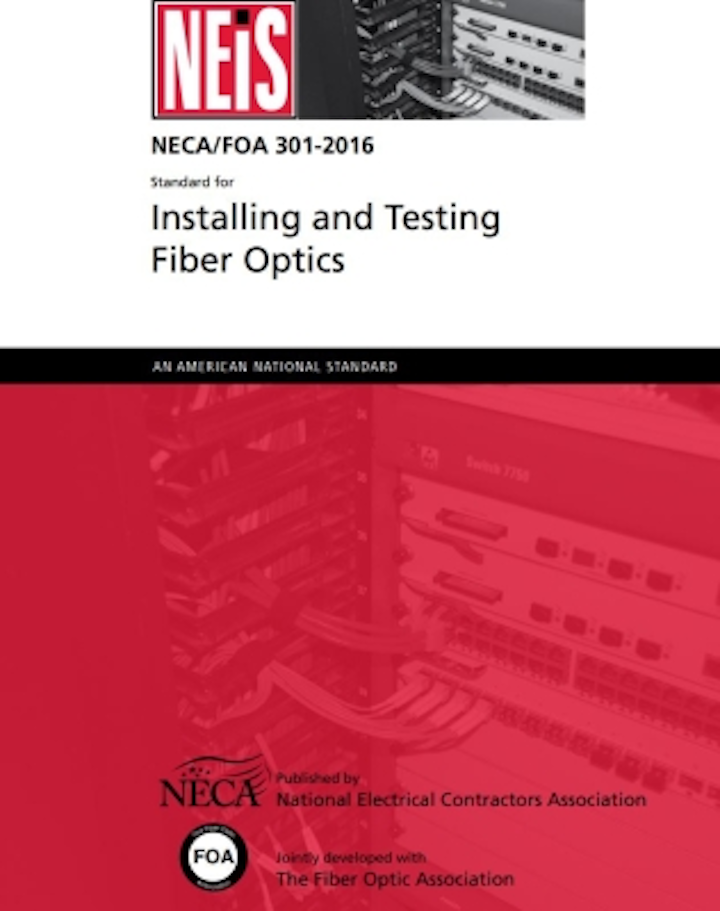 The top-trending stories from cablinginstall.com cover a spectrum of topics in the wired and wireless world—some gazing toward the future and others firmly entrenched in what can help you do your job here and now. Here are the five that got the most attention last week.
Fiber cabling installation and testing standard available for free
The Fiber Optic Association (FOA) teamed with the National Electrical Contractors Association (NECA) to develop NECA/FOA 301 Installing and Testing Fiber Optics. First published in 2001, the standard was revised most recently in 2016. It is intended to be complementary to other appropriate component and testing standard, like those written by TIA and ISO/IEC. In addition to being complementary, it's complimentary. The FOA makes the standard available for free download from its website.
Single-Pair Ethernet is the future
In a column authored for Network World, Ideal Networks' Dan Payerle Barrera explains that the physical-layer infrastructure needed to support many Internet of Things (IoT) applications will be vastly different from what we've commonly seen in enterprise networks. "Sensors … require very little bandwidth compared to typical data applications," he explains. "The lack of bandwidth required for this wave of network-enabled devices has led the IEEE to develop a new Ethernet protocol designed to operate over a single pair of UTP/STP cable."
Corning Optical Communications demos software-defined LAN
Settle in for this 23-minute video from Corning Optical Communications, in which the company's chief solutions architect for its Corning ONE system, Jason Greene, demonstrates the company's software-defined LAN technology as it is deployed in a live, working environment of a Courtyard Marriott hotel.
OFS prevails in patent dispute
OFS recently announced it prevailed in a patent dispute with Dutch company DSM Desotech. The company reported that the United States International Trade Commission (ITC) "cleared OFS … of all allegations by DSM Desotech … that OFS optical fiber and the coating used on that fiber violated Section 337 of the Tariff Act of 1930, as amended. The final determination found that all claims asserted by DSM at the ITC are invalid."
Apple has discontinued its AirPort WiFi router. Now what?
Writing for Makeuseof, Brent Dirks advises what to do now that Apple officially announced the discontinuation of its WiFi routers AirPort and AirPort Extreme. "Both options provided a number of great features," he noted. "Many potential buyers are looking elsewhere for a powerful WiFi router." He lists and details five alternatives. (We'll list them here but you'll have to click through to see the details.) They are the AmpliFi HD, Synology RT2600AC, Linksys Dual-Band Velop, Netgear Nighthawk X10 AD7200, and Eero Home WiFi System.