Premier Products
Handheld fusion splicer; Fire-rated wall pathway; Industrial, residential cables; MORE...
Mar 1st, 2003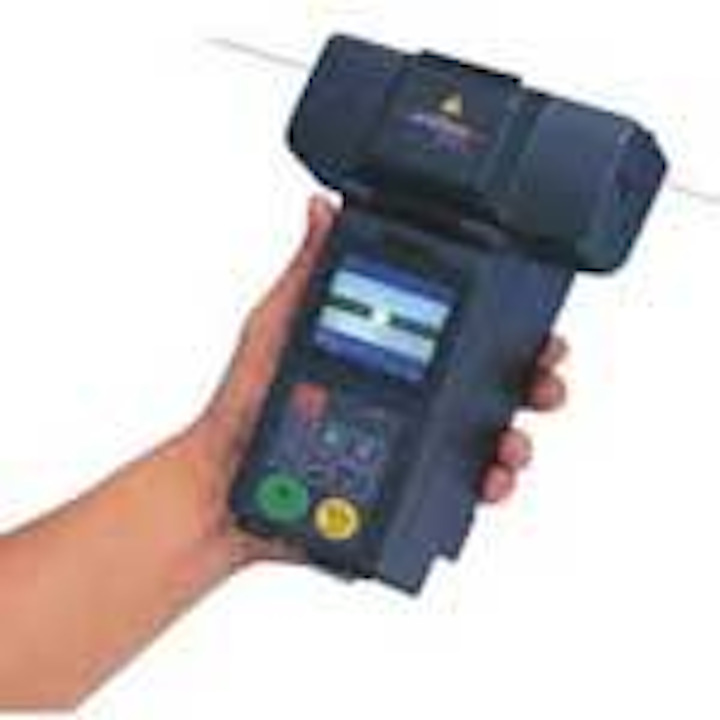 Handheld fusion splicer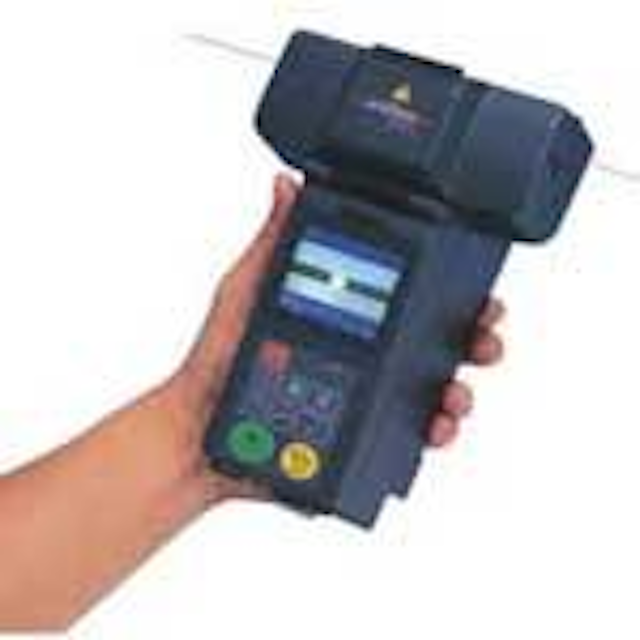 Click here to enlarge image
The S121A mini handheld fusion splicer is one-third the size of the manufacturer's previous splicers, and weighs 980 grams with a 170-gram battery. The splicer automatically aligns and splices fibers with a splice time of 15 seconds. After splicing, the unit performs a tension test to ensure sufficient tensile splice strength. The S121A also includes a 2.5-inch color LCD monitor, which displays a magnified image of the fibers as viewed by the CCD cameras. It incorporates a fiber-holder system similar to the one used with ribbon-fiber fusion splicers, to ensure greater ease and consistency for the user.
A rechargeable Lithium ion battery and recharger are included. An optional DC adapter is also available. An optional heat-shrink oven can be used to apply protection sleeves to the splice, and an optional crimping tool is for non-shrink mechanical protection sleeves. The unit comes with a standard soft carrying case and strap; a hard carrying case is available as an option.
FITEL INTERCONNECTIVITY CORP.
www.fitelconn.com

Fire-rated wall pathway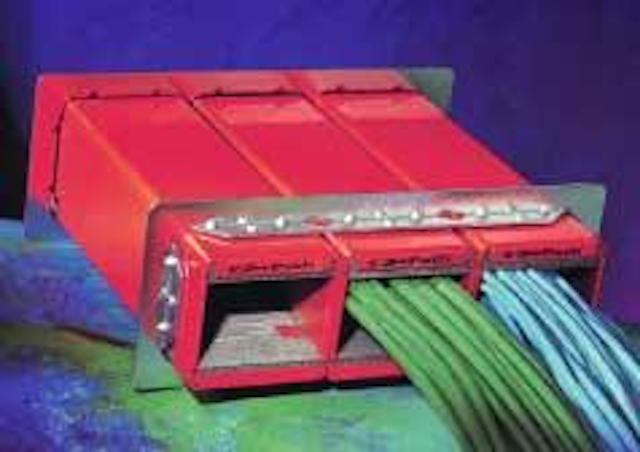 Click here to enlarge image
EZ-Path includes self-enclosed firestopping that automatically adjusts to the cable load. It features the manufacturer's intumescent technology, and carries a two-hour UL system rating. Outside dimensions are 3×3×10.5 inches; single, duplex, and triplex wallplates are available for additional capacity, segregation of cables, and cable management.
According to the manufacturer, the pathway installs in minutes and allows for moves, adds, and changes without removing and re-installing firestopping. The product offers 0-100% visual cable fill.
SPECIFIED TECHNOLOGIES INC.
www.stifirestop.com
Industrial, residential cables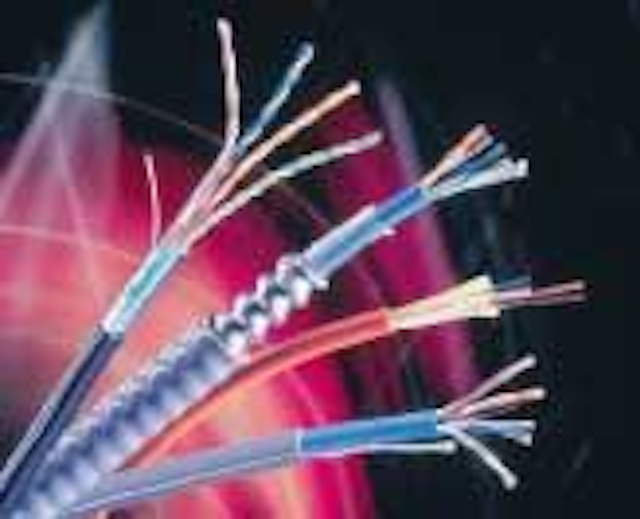 Click here to enlarge image
DataTuff copper and TrayOptic optical-fiber cables are intended for use in industrial networks, and are designed to withstand the rigors of industrial environmental factors. The DataTuff series includes nine twisted-pair designs that meet Category 5e performance standards and feature sunlight- and oil-resistant jackets. Seven of the cables feature the manufacturer's patented bonded-pair technology, and two include unbonded pair designs. The DataTuff line also includes two cables that meet Category 6 performance specifications. The TrayOptic indoor/outdoor optical-fiber series cables include a water-blocking agent, and have passed both IEEE 383 and UL 1581 Vertical Tray Flame Tests. All TrayOptic cables use laser-certified fiber to handle Gigabit Ethernet light sources.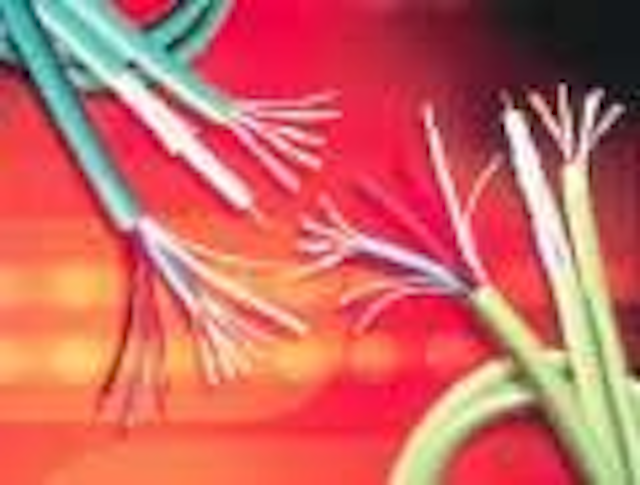 Click here to enlarge image
The new additions to the manufacturer's HomeChoice residential product line include Keypad/Control Cables and Siamese composite cables. The Keypad/Control Cables are designed to interface with all major touch-panel control brands and cable distribution boxes, and a variety of automated systems and devices. The Siamese composite cables feature a simplified jacketing construction. One construction includes one twisted-pair Category 5e and one coaxial cable; the other construction includes a twisted-pair Category 5 cable and one coaxial cable.
BELDEN ELECTRONICS DIVISION
www.belden.com
Cable routing and management tool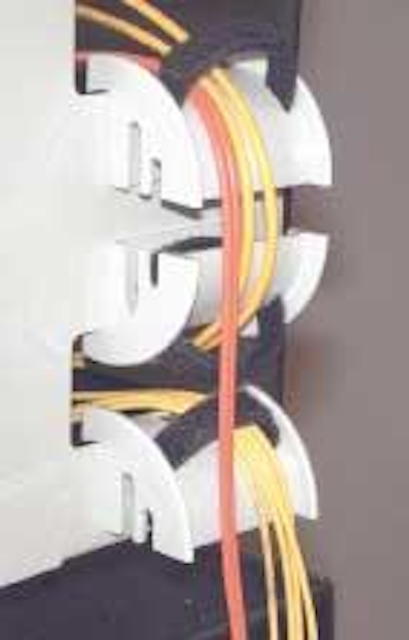 Click here to enlarge image
The FastDrop cable-management system is designed to protect and organize cables, and can be mounted using tabs, screws, or clips. The manager can be mounted either horizontally or vertically. Optional hook-and-loop straps secure cables in place, and two modules can be mounted facing each other to create a 180° return service loop.
DEVICE TECHNOLOGIES INC.
www.devicetec.com