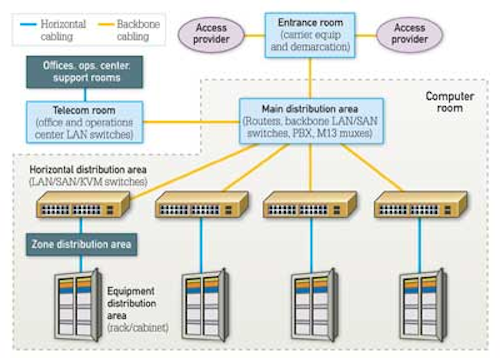 From the February, 2014 Issue of Cabling Installation & Maintenance Magazine
Originally conceived as an efficient architecture for the cube farm, the zone concept is being deployed in environments as mission-critical as the server farm.
By Patrick McLaughlin
The concept of zone cabling, initially documented by the Telecommunications Industry Association (TIA) in the 1990s, was devised as an efficient architecture for bringing connectivity to desktops in an open-office environment. Telecommunications Systems Bulletin TSB-75, which the TIA published in 1996, was titled "Additional Horizontal Cabling Practices for Open Offices." Generally speaking an open-office environment is a modular/cubicle-style set of workspaces.
We have covered the zone-cabling concept as it has evolved in the nearly 20 years since the publication of TSB-75. An article published in 2005 ("Another look at zone cabling," authored by Panduit Corporation's [www.panduit.com] Brett Swett, July 2005) stated, "Zone cabling can be achieved with a consolidation point (CP), a multi-user telecommunications outlet assembly (MUTOA), or a telecommunications enclosure (TE), each of which has its own advantages and requirements. Zone cabling products come in a wide range of shapes and sizes to accommodate various applications and mounting options."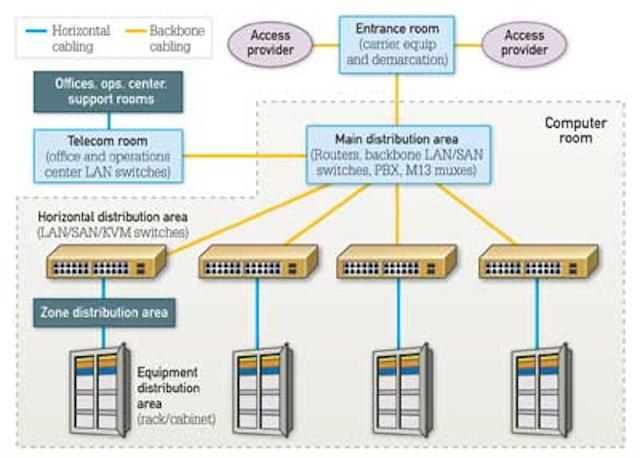 The zone distribution area, specified in the TIA-942 and 942-A data center cabling standards, resides between the horizontal distribution area and the equipment distribution area. Zone distribution areas may be located under access floors, secured over equipment cabinets, or located in a cabinet.
In that article Swett further explained, "A CP is a passive interconnection point in the horizontal cabling located at least 15 meters from the telecommunications room [TR] … The CP is limited to serving a maximum of 12 work areas and must be located in an accessible permanent location tied to the building structure.
"MUTOAs differ from CPs in that they technically are work area outlets, meaning that the horizontal cable is routed directly from the TR to the MUTOA in a jack-to-jack configuration and remains intact when the open office environment is changed. Work area patch cords, sometimes routed through office-furniture pathways, connect network devices directly to the MUTOA."
The TE was a relatively new device in 2005, and Swett noted at that time, "With the update to the TIA/EIA-568-B.1 and 569-B, zone-cabling topology expanded its reach by permitting active equipment to move outside a TR into a TE. … A TE using optical fiber can now extend up to 300 meters from the main crossconnect, and no longer is restricted by the 90-meter copper limitation. … TEs are ideal for situations in which an existing TR cannot cover an entire floor of a building and maintain the maximum horizontal cable distance of 90 meters. For example, a school could use a TE to connect classrooms that are beyond 90 meters from its TR."
A central point made in that article remains true nearly a decade later-the flexibility afforded by a zone-cabling concept can be put to use in more environments than just an open-office "cube farm." Today, building-automation systems, wireless networks and even data centers can capitalize on the flexibility of zone. Notably, standards specifying the design and deployment of cabling systems for these types of applications are recognizing the zone-cabling concept.
Zoned in on automation
One project underway within the TIA's TR-42.1 Commercial Building Cabling Subcommittee is the revision of the standard covering building automation systems cabling. The current standard, TIA-862-A, is titled Building Automation Systems Cabling Standard. When the "B" revision is completed, it very likely will use some form of the term "intelligent building" rather than "building automation." While the revision process is in its relatively early stages and precise details of the 862-B standard will not be solidified for some time, the 862-A standard includes and defines the horizontal connection point (HCP).
In an explanation of TIA-862-A on its Standards Informant blog, Siemon (www.siemon.com) explains, "A zoned structured cabling design consists of horizontal cables run from the horizontal crossconnect in the TR to zone boxes used to house both BAS connections at HCPs, and data and voice connections at CPs. Cables are then patched from the zone box to the equipment and work area outlets. The benefits of a zoned cabling approach include ease of deployment, the ability to facilitate the use of trunking cables, and improved pathway utilization. With zoned cabling, moves, additions and changes (MAC work) cost less and are faster and less disruptive in order to support rapid floor-space reorganization."
Wireless designs
As the throughput capacity of wireless local area networks significantly increases, the performance of the "backhaul" cabling that supports wireless access points becomes increasingly important. Hand-in-hand with that cabling performance is a design scheme that allows a facility to provide adequate wireless coverage for users within it.
A white paper recently published by CommScope (www.commscope.com) takes a comprehensive look at this issue. (We published a modified version of the white paper: "Laying the groundwork for high-performance wireless access," January 2014.) Within that paper, the company explains, "In a traditional network cabling topology, each access point's TO [telecommunications outlet] is directly connected with a horizontal cable to the patch panel in the telecommunications room for that floor. A zone distribution system is an alternative design that may provide easier installation, greater flexibility and potentially lower opex.
"A zone distribution model uses cable runs from the equipment room to specific 'building zones.' A CP within each zone allows fixed cabling to be installed up to the CP; drop cabling then runs from the CP to the TO for each access point. This approach provides additional flexibility in cabling from the CP to the first TO in each cell, as well as providing spare capacity for additional TOs as needed. This strategy is helpful during retrofit installations, where well-placed CPs allow long runs of cabling bundles from the telecommunications room to be fixed into difficult pathways. Once the fixed cabling is in place, installers have more flexibility in running and changing extension cable from the CP to the TO serving the access points and other intelligent building equipment."
Cube farm to server farm
With the publication of the TIA-942 Telecommunications Infrastructure Standard for Data Centers in 2005, the zone-cabling concept made its way into the data center realm. The layout scheme was maintained when 942's "A" revision was published in 2012. The TIA-942 and TIA-942-A standards include a zone distribution area (ZDA) as an optional element of a data center design.
Jonathan Jew, president of J&M Consultants (www.j-and-m.com), played an integral role in the development of TIA-942 and its "A" revision. We asked him about the rationale behind the inclusion of ZDAs in the standards, and he explained, "The ZDA was included in TIA-942 and later TIA-942-A to support 1) areas of the data center where the cabling requirements are not yet known or expected to change frequently, and B) floor-standing equipment such as storage arrays and mainframe computers in which it may not be desirable to install patch panels.
"For the first case-uncertain or fluid cabling requirements-the ZDA is likely to operate as a consolidation point, with equipment outlets/patch panels eventually being installed in the equipment cabinets. For the second case-floor-standing equipment-we envisioned the ZDA housing the equipment outlets/patch panels, with long patch cords being installed from the ZDA to the floor-standing equipment.
"In either case, we wanted to avoid having the ZDA replace the HDAs [horizontal distribution areas], so we specified that the ZDA cannot contain active equipment and shall not contain a crossconnect. The CP is an interconnect. To limit cable congestion in the ZDA, we also specified that no more than 288 coaxial or balanced twisted-pair connections/ports be located in the ZDA.
"ZDAs may be located under the access floor, secured over the equipment cabinets, or be located in a cabinet."
Zone-the cabling concept originally conceived to make MACs easier in cubicle-based open-office areas-has proven itself to be a worthwhile scheme in many cabling environments.
Patrick McLaughlin is our chief editor.
More CIM Articles
Archived CIM Issues