From the January, 2014 Issue of Cabling Installation & Maintenance Magazine
BICSI, IEEE, TIA and more standard-development organizations have turned some attention to security systems and their infrastructure.
By Carol Everett Oliver, RCDD, ESS
In 1996 the first Internet Protocol (IP) camera was introduced into the security and information technology systems (ITS) industries. Within a decade, it was apparent that IP cameras would soon take over analog camera installations and that the network landscape was on the crest of major changes. As these cameras found their way to attach to the data network, using structured cabling and Ethernet protocol, network designers, security integrators, IT and facilities managers realized they needed to collaborate and expand outside of their segmented expertise silos.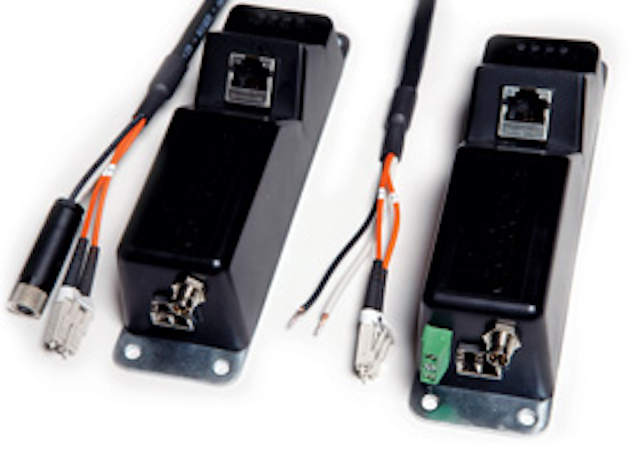 Berk-Tek's OneReach PoE extender system includes a hybrid CL3R-OF copper/fiber composite cable and media converters that can provide PoE out to 4,000 feet and eliminates an A/C outlet at the device end.
I was one of the "Chicken Littles" of the IT industry stating security cameras on the network were just the tip of the IP explosion and that the "sky would soon fall" on the ITS industry if we did not prepare the infrastructure to address the differences of specific requirements for these applications. An IP-converged network would require the development of standards to aid in the design for cabling consistency and application reliability, whether data, security cameras or other building automation systems (BAS). In 2002 the Telecommunications Industry Association (TIA; www.tiaonline.org) was the first to publish ANSI/TIA-862 Building Automation Systems Cabling Standard for Commercial Buildings as a generic guideline for installing structured cabling in a commercial environment.
"When the first version of ANSI/TIA-862 was published in 2002, TIA was before its time. A lot of people were talking about building automation systems, but only a few were actually installing these," states Julie Roy, RCDD, DCDC, ESS, NTS, technical manager for CommScope who serves as TIA committee chair and editor of ANSI/TIA-862.
In 2013 BICSI (www.bicsi.org) and ANSI published ANSI/BICSI-005-2013 Standard for Electronic Safety and Security (ESS) System Design and Implementation Best Practices. This standard provides a reference of common technology and design practices that applies to ESS systems. Today there are additional standards groups looking beyond ESS to incorporate additional building systems and recognizing unique differences in cabling, connectivity and testing practices to aid in the design and implementation of these applications.
Creating standards
There are many standards organization with separate purposes but common goals. ISO/IEC defines standards as: "A document established by consensus and approved by a recognized body that provides for common and repeated use, rules, guidelines or characteristics for activities or their results, aimed at the achievement of the optimum degree of order in a given context." Simply put, when adopting cabling standards and putting them into real practice, the network is easier to maintain, troubleshoot and upgrade. It's all about reliability through consistency and compatibility. In the ITS industry there are three core standards groups—IEEE, TIA and BICSI.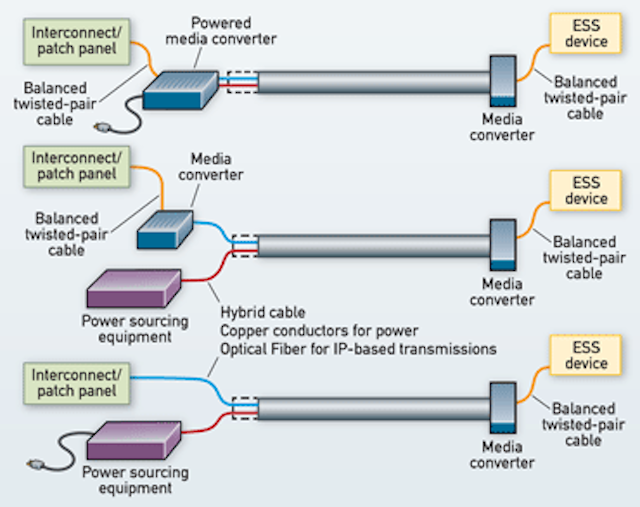 The BICSI 005 standard offers three options for implementing a copper/fiber hybrid cable for extending PoE, which include: 1) an active powered media converter, 2) a passive media converter with an active midspan injector, and 3) a multi-port powered media converter or an integrated PoE switch. (Figure courtesy of ANSI/BICSI 005-2013.)
IEEE (Institute of Electrical and Electronics Engineers; www.ieee.org) standards set electrical and operational parameters for signal transmission. The most notable IEEE standards group is the IEEE 802 LAN/MAN group of standards for computer networking for both wired (Ethernet) and wireless. In the scheme of standards, IEEE working groups assure consistent system configuration and compatible programming communications. In the ESS world, an important IEEE standard through Ethernet protocols is the IEEE 802.3af (Power over Ethernet—PoE) and 802.3at (PoE Plus).
The TIA is "the leading trade association representing the global ICT industries through standards development, policy initiatives, networking, market intelligence and sustainability," according to Herbert V. Congdon II, the TIA's vice president, technology and standards development. The most relevant TIA Engineering Committee for the telecommunications cabling industry is TR-42, Telecommunications Cabling Systems. TIA TR-42 standards are commonly developed in parallel with IEEE operational and application standards to provide specifications for connectivity, cable and other structured cabling components to ensure minimum performance for the system. "TIA TR-42 addresses generic copper and optical fiber cabling systems for enterprise network subsets too, such as commercial buildings, data centers, healthcare facilities, industrial complexes and building automation systems," Congdon adds.
"BICSI standards build upon TIA standards, to provide communication/network infrastructure design and installation guidance for meeting specific industries or applications and address their unique requirements within the installed environment," according to Jeff Silveira, director of standards development for BICSI.
Why BICSI ESS
The convergence of security systems onto the data network places much of the design responsibility on the shoulders of the ITS designers. When IP cameras became attached to the network, BICSI members (and RCDDs) saw the need to differentiate infrastructure design for ESS devices with data/voice (or telecom) systems. The first ESS Design Reference Manual (DRM) was published in 2006 to explain the different applications, including IP cameras, access control, intrusion detection systems, paging and alarms—all jumping on the network. But the ESS DRM was devoid of actual infrastructure design and refers to BICSI's Telecommunications Distribution Methods Manual (TDMM), which is the thoroughly comprehensive resource covering all areas of infrastructure design through construction, installation and maintenance.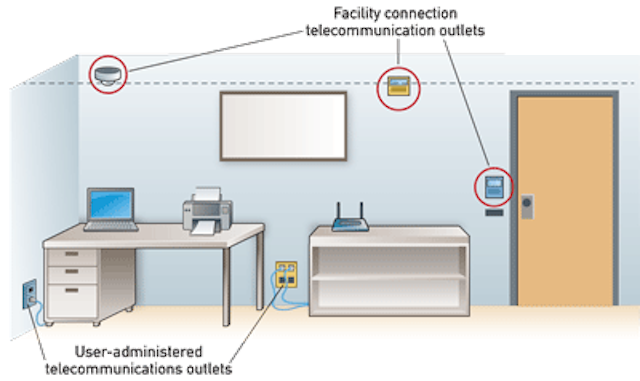 Example locations of user administered and facility connection telecommunications outlets. Courtesy of BICSI (ANSI/BICSI 005-2013)
BICSI looked at other security standards groups to see if the infrastructure design was being addressed. The Security Industry Association (SIA; www.siaonline.org) has several standards committees and subcommittees, but their main purpose is to create documents that address operational requirements. Born out of SIA and ASIS (www.asisonline.org), the two main security associations, was a group of camera manufacturers led by Axis, Bosch and Sony. The group created the Open Network Video Interface Forum (ONVIF; www.onvif.org) for an open standard for communication between IP-based physical security devices. Today many ONVIF-member security-device manufacturers are creating ONVIF-compliant products beyond security cameras. "In addition to a harmonized network infrastructure, it is equally important for these devices to speak the same language, which is the premise of being ONVIF-compliant," states Steve Surfaro, industry liaison from Axis Communications who is also an ONVIF committee member, chair of the physical security council for ASIS International and chapter leader for the BICSI ESS standards group.
The lack of existing infrastructure design standards, together with the lack of telecommunications infrastructure guidelines in the ESS DRM, led the BICSI standards committee to create an ESS standards group to publish a standard to provide installation guidelines for ESS implementation. The BICSI ESS standards group comprised device, cabling, connectivity and test-equipment manufacturers, distributors, system designers, integrators and end users.
"The initial scope of this standard was to address ESS systems infrastructure and utilize the BICSI ESS DRM as a base, but add new content in specific standards-like treatment based on the diverse subject matter expert contributions and ESS professional needs," states Dr. Paulo S. Marin, electrical engineer, IT infrastructure engineer and BICSI-005 Committee chair. "It is primarily a design standard, with installation requirements and guidelines related to implementing a whole ESS system design. From my standpoint the main advantage of the BICSI ESS standard is to fill out the gap between the ESS professionals and the IT infrastructure professionals. So this is the first initiative and published standard as well regarding physical infrastructure for electronic safety and security systems. In addition, it brings a wide coverage of ESS systems including intrusion detection, installation practices, surveillance, fire alarm and so on."
"ESS systems have specific rules on performance, testing, proper design and installation and the BICSI 005 addresses these factors to minimize installation issues that would affect the operation of these devices," states Silveira, BICSI's standards director. "The BICSI 005 document is complementary to all current documents on IP-enabled ESS systems and is expected to be incorporated into future ESS DRM editions."
Currently the third edition of the ESS DRM is available and used as a basis for the BICSI ESS credential.
Cabling recommendations for ESS devices and PoE
The ESS 005 standard contains system requirements, installation recommendations, choice of cabling and connectivity selections and PoE and PoE Plus options. The standard also includes an extensive chapter on telecommunications infrastructure as well as specifics on system considerations for devices for network cameras, intrusion detection, access control and even fire and life safety devices.
In the telecommunications infrastructure chapter, the cabling section only recognizes structured cabling, not previous analog coaxial systems. This section complements the ANSI/TIA-568-C series and covers pathways, spaces, cabling types and unique infrastructure requirements specific to the ESS industry. Backbone cabling media types are consistent with the ANSI/TIA-568-C and provide four options: 1) multimode optical fiber cabling (Om3 or Om4 is recommended in the ESS standards), 2) singlemode optical fiber (OS1 or OS2), 4-pair twisted pair (Category 6 or higher is recommended in the ESS standards), and 4) multi-pair twisted pair (Category 3 or higher).
For horizontal cable, the standard also follows the ANSI/TIA-568-C series recommending the same media, with the exception of Category 3 multi-pair. Additionally, the standard provides a guideline chart for selecting horizontal media based on device type (analog or IP), distance, bandwidth and power and recognizes cable frequencies (outlined by IEEE).
One of the greatest advantages of using twisted-pair cabling for ESS devices is the capability to run power over the copper strands. However, many ESS devices are located beyond IEEE-restricted 100 meters from the telecom rooms and are often located outdoors. Optical fiber offers the ability to transmit over greater distances and immunity to lightning and other outdoor electromagnetic disturbances. Since glass cannot conduct power, the BICSI 005 offers options through the use of media converters and hybrid cables.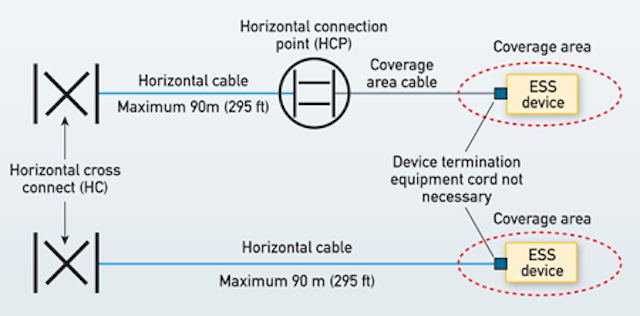 Examples of facility connections using direct attach. Courtesy of BICSI (ANSI/BICSI 005-2013)
The simplest method of providing power at longer distances is the use of fiber-optic cable, and media converters and hardened switches at both ends of the cable run. This method can be costly and also requires AC power (and backup) at both ends for the converters, injectors and/or switches. The three recommended methods in the BICSI 005 standard use a hybrid cable for which the data is sent through the fiber and the power through copper conductors. The distance between the TR or horizontal crossconnect (HC) and the device, as well as the power draw required for the device (meeting PoE or PoE Plus), will determine the gauge size (AWG) of the copper conductors. When using a powered media converter on the HC end, sufficient power can be injected through the copper strands, eliminating the AC outlet on the device end. Also, an additional twisted-pair cable can connect to the far end passive media converter, to extend the distance an additional 100 meters.
Direct attach connectivity
One of the biggest infrastructure differences between ESS and typical data/voice cabling runs is the diverse work-area connectivity. The BICSI 005 standard defines two types of work-area classifications—facility connections and user-administered telecommunication outlets. User-administered outlets are specific to data and voice applications and typical LAN environments and can be interchangeable by the user. For instance, a workstation outlet is identified as being located 18 inches off the floor and specified for a data or voice application—computer, phone, fax, etc. The outlet is identified by RJ-45 connections, to which a twisted-pair cable has been terminated on the backside of the workstation plate. The user then uses a patch cord (or equipment cord) to plug into the outlet for device connectivity.
Facility connections are IP/ESS applications that extend outside of the data and voice scope. These include connectivity to cameras, access control systems, intrusion detection and even wireless access points. When considering where these devices are installed, the locations can vary as they may be terminated on a wall, off the ceiling, outdoors on a pole or on the side of the building. When a design consultant identifies a facility connectivity point, it is planned for a very specific device that will be fairly permanent and not interchangeable. These do not require a jack-to-outlet scenario on the device end, and can use the direct attach methodology.
Direct attach is defined in the ESS standard as "the horizontal cabling on the remote device end directly attaching (or connecting) to the device through a connectorized cable or hard-wired termination, eliminating the workstation outlet, jack and equipment cord." The standard recognizes two direct attach methods in which an equipment cord is not necessary. One topology is a horizontal cable pulled through a horizontal connection point (HCP) from the HC and terminated to the device with or without an equipment cord. This topology was recognized in the ANSI/TIA-862-A because most building automation systems use non-structured cabling from the HC to the device. The other topology is a direct run from the HC and direct attached through a plug at the end of the horizontal cable.
"When Carol [Oliver of Berk-Tek, this article's author] and I introduced a direct attach concept at a BICSI preconference workshop four years ago, we were extensively challenged by the audience as they questioned the reliability of this type of connectivity, especially since there was no formalized field testing procedures as it didn't meet a full channel or permanent link model," states Karl Griffith, director of emerging technology with Graybar. "So together Berk-Tek and Graybar with Fluke and AllenTel, took products for a Category 6 camera infrastructure, including cable, connectivity and test equipment to UL Laboratories to attain a validated test methodology for direct attach scenarios."
UL set up two test configuration models—with and without a HCP. "Today these two configurations are identified as a single connector modified permanent link and the tester companies are now incorporating this into their tester software," Griffith adds. (Reference UL File E349672, Project 11CA44391)
Cabling warranties are provided by cable and connectivity manufacturers, which require permanent link testing. Some manufacturers may warrant the newly defined single connector modified permanent link model for ESS devices. However, in some instances, there are still two trades that become involved in the installation—cable installers and security integrators. "In many instances the cabling for security camera ends at biscuit-block-style connectivity," notes David Fry, project manager, security systems integration for Zenith Systems in Bedford Heights, OH (www.zenithsystemsllc.com). "In that case the responsibility of the camera installation lies in the responsibility of the security integrator from the connectivity to the camera."
Ever-changing infrastructure landscape
While IP cameras were the "low-hanging fruit" to become attached to the network, there are continual changes to the infrastructure landscape and evolving standards are in the works to address these. The shift to a total IP environment includes incorporating building applications such as HVAC and lighting, which will further expand benefits beyond system reliability and Internet access. In addition to a consistent structured cabling layout, more advantages to installing a total IP network are being realized and the term "intelligent buildings" has emerged. "New technology is introduced every day with the goal of saving energy and being more efficient," states CommScope's Roy. "To be ready for deployment, either today or in the future, having a structured cabling infrastructure allows for an easy migration and provides investment protection."
As a result, the next step is in the form of a revision to ANSI/TIA-862. Currently a TIA task group, formed in January 2013 under TR-42, has created a draft, "ANSI/TIA-862-B Structured Cabling Infrastructure Standard for Intelligent Building Systems." Currently the draft of this standard is out for a committee ballot. "The scope of this new draft is to provide minimum requirements for an intelligent building cabling infrastructure including cabling topology, architecture, design and installation practices, test procedures, and components," explains Roy, who chairs this TIA task group. "The cabling infrastructure specified by this standard is intended to support a wide range of systems, particularly those that can utilize IP-based infrastructure."
The published BICSI 005 standard, which focuses on security applications implementation and infrastructure, along with the upcoming TIA-862-B standard, which will expand the scope of common topology for intelligent building systems, will provide network designers, architects and installers with guidelines and tools to systematically design and implement a harmonized network to achieve long-term benefits of total systems integration. To keep up with the changing IP landscape and technologies, keep an eye on how these applications may introduce new installation concepts, such as direct attach, and how evolving standards can provide installation solutions and creative cabling methodologies.

Carol Everett Oliver, RCDD/ESS is channel marketing manager for Berk-Tek (www.berktek.com) and is involved in IP convergence and emerging markets for the cabling industry. She has presented at national conferences and webinars, and has published several articles on the topic. She is BICSI's Northeast Region Director for the 2012-2014 term and was a chapter leader in the BICSI 005 ESS standards group; she also is a member of the ASIS Education Council and SIA.
More CIM Articles

Archived CIM Issues