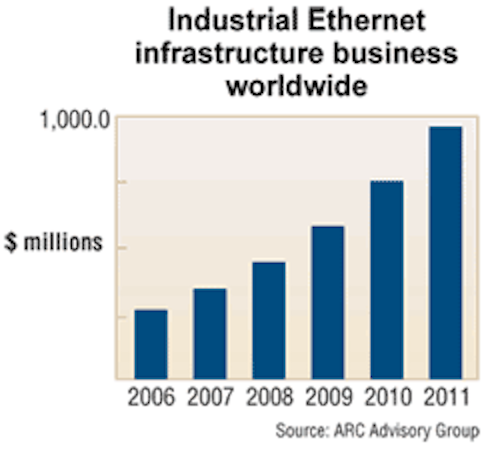 by Patrick McLaughlin
Available in early 2009, the TIA-1005 specifications emerge at a time when market forecasts for industrial networking are being re-examined.
After a good decade of investigation, study, research, and balloting, the Telecommunications Industry Association's (TIA; www.tiaonline.org) TIA-1005 standard addressing cabling systems in industrial environments has been approved for publication. By early 2009, the document will be available for purchase.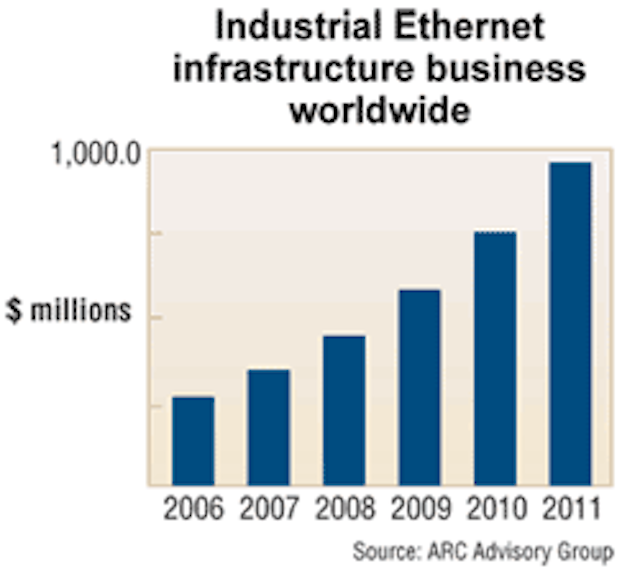 These projections, from ARC Advisory Group's 2007 study on Industrial Ethernet infrastructure, will be updated in 2009. Some market sectors are holding up well in the current economic climate and a few have even exceeded expectations, while others will certainly decline.
Click here to enlarge image
And despite the current global economic woes, the outlook for industrial systems has not fallen to the level of gloom-and-doom that's projected for other vertical markets. "The spending is continuing in such areas as utilities, hydrocarbon oil, and gas," explains Harry Forbes, senior analyst with ARC Advisory Group (www.arcweb.com). "They do not start and stop on a dime."
That fact became evident during the presidential campaign, when skeptics of "Drill, baby, drill" shot back with assertions that we'd be waiting ten years or so before we saw the first results. Petroleum-production facilities, then, continue to spur growth in the industrial-networking-infrastructure market.
A vertical view
Forbes was principal author of the 2007 study, "Industrial Ethernet Infrastructure Worldwide Outlook," which he plans to update in 2009. In the '07 study, Forbes saw the market growing from $260 million in 2006 to $955 million by 2011—a compound annual growth rate of 29%. No one, however, foresaw the current economic situation. And Forbes is not yet far enough into his research to cite specificdata indicating an updated growth rate. Nonetheless,he offers some vertical-market-specific commentary:
"The growth in the automotive sector, for example, will not be as strong as one would have expected," he notes. "Imaging and surveillance are probably doing more." A market segment he unofficially calls "intelligent transportation applications," which incorporates imagingand surveillance, continues to grow.
Within that segment are technologies and applications that have been referenced many times on thepages of this publication, most notably Internet Protocol (IP)-based surveillance. "Cameras have gone from analog to IP, and more rugged infrastructure is needed to put these systems in," at outdoor locations that monitor traffic and urban streets, Forbes says. Perimeter surveillance, by definition an application that must stand up to nature's harsh conditions, is also part of the intelligent-transportation applications market segment.
Just as the applications that continue to drive the industrial-infrastructure market have a ring of familiarity, many elements of the forthcoming TIA-1005 standard will look familiar to users of other cabling specifications from the TIA. The scope of the document includes: "This Standard is based on the ANSI/TIA/EIA-568-B Series of standards and includes appropriateallowances and exceptions to those standards for industrial premises."
The primary differences between 568-B and 1005 "are based on the fact that some industrial technologies have specific requirements that may impact the choice of products to be used," says Julie Roy, RCDD/NTS, principal of C2 Consulting (www.csquaredconsulting.biz) and a member of the TR-42.9 Committee that developed TIA-1005. Roy points out a handful of specific differencesbetween 1005 and 568-B:
The use of two-pair 100-O balanced twisted-pair cable is recognized, although it is not in 568-B.1;
Like 568-B.1, 1005 recognizes both multimode and single-mode fiber; however, plastic optical fiber (POF) ultimately was not included in the standard, even though it is used in some industrial networks, because neither a standardized connector nor approved testing methods are available;
A point-to-point topology is permitted, in addition to a star topology;
A 6-connector channel configuration is permitted, though specific cable requirements must be followed for such a channel to achieve required performance;
The standard allows the M12-4 D-coding connector inaddition to the 8-position modular connector (a potential dilemma of interest, ARC's Forbes notes: "Power over Ethernet requires the RJ-45 connector, so industrial networks using the M12 will not have access to that technology").
One more thing
Before the ink is even dry on the 1005 standard, an addendum to it is in the works. Roy explains: "TR-42.3 was re-quested to work on the pathways-and-spaces portion of TIA-1005. That group is in the process of creating the firstaddendum to TIA-1005. At this time, that addendum is inthe industry-ballot stage."
Although the addendum was created a while ago, Roy says it was "tabled until TIA-1005 was ready for publication. Atthe most recent TR-42.3 meeting in October, the group decided to send the addendum out for industry ballot. Most of the work had been done in the past; therefore, the process should be fairly quick. Hopefully, we will have this addendum available shortly, as it complements the TIA-1005 standard."
Officially called "Telecommunications Infrastructure Standard for Industrial Premises Addendum 1—Industrial Pathways and Spaces," the TR-42.3 group's addendum includes the following as its scope: "This Addendum specifies requirements for industrial pathways and spaces. This includes additional requirements for pathways and spaces as defined within TIA-569-B. Requirements for pathways and spaces unique to the industrial environment and not covered by TIA-569-B willalso be covered, as well as techniques to mitigate mechanical, ingress, climatic, and environmental issues."
The phrase "mechanical, ingress, climatic, and environmental" may be yet another expression that sounds familiar, and for good reason. Its acronym is MICE, and this publication has given time and space to discussing the inclusion of a MICE table in the 1005 standard. Those who purchase the standard will have to look elsewhere for that table—namely, in the 568-C.0 standard.
"The MICE classification table and information is now part of TIA-568-C.0," Roy says. "Since, for example, M1I1C1E1 is equivalent to a controlled environment, such as that found in a commercial premises, the members felt it was more appropriate to have the MICE information in the generic document so it can apply to different types of premises, not just theindustrial environment."
An international framework
TIA-1005 is not the world's only set of industrial-cabling specifications. The International Organization for Standardization delivered its ISO/IEC-24702 standard about two years ago. Some of the ISO's work influenced the work within TIA, but all decisions regarding the 1005 standard were made solely by and within the TIA.
The TIA-1005 and ISO/IEC-24702 standards will lay a framework for what ARC Advisory Group's Forbes still believes is a healthy Industrial Ethernet marketplace. "The embedding of switches in [industrial] devices is becoming more prevalent," he says, echoing the findings of his 2007 study. At the time of the study's release, he said, "Ethernet continues to grow into a greater number of application areas within manufacturing. While Ethernet will never entirely replace device networks, it will continue to pick up more applications over time. We also see a trend for devices to embed some form of Ethernet switching internally, especially in motion-control applications. This may blur the distinction between an industrial device and an Ethernet switch at some point in the future."
PATRICK McLAUGHLIN is chief editor of Cabling Installation & Maintenance.