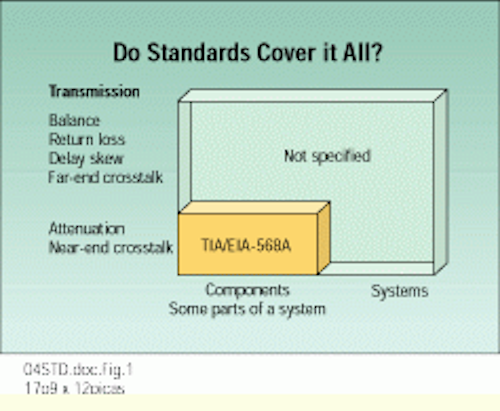 Arlyn S. Powell, Jr.
Once a year, the Telecommunications Industry Association (TIA-- Arlington, VA) sponsors a commercial building cabling standards seminar at which it gathers its TR-41.8 subcommittee chairpeople to report on the recent activities of their task forces and working groups. This year`s seminar, following bicsi`s annual winter meeting in Orlando, FL, included a day-and-a- half of updates on commercial and residential cabling; connecting hardware; open-office and outside-plant cabling; grounding and bonding; and testing.
One of the more significant announcements at this year`s seminar was that a study group has been formed under the organization`s TR-41.8.1 group to establish specifications for extended-performance Category 5 cable and components introduced by a number of manufacturers over the past two years.
Paul Kish, of Canadian cabling manufacturer nordx/cdt and chair of TR-41.8.1 (see "A Primer on the TIA"), heads the ongoing revision of the industry`s core cabling standard, tia/eia-568a, which was released in its "A" version late in 1995. He reported on several significant changes that will be incorporated in the "B" version of the commercial building wiring standard.
"There has been some confusion in the industry," Kish says, "about telecommunications systems bulletins, or TSBs. Several significant TSBs have been adopted recently--TSB-67 on cable testing in the field, TSB-72 on centralized fiber-optic network administration, and TSB-75 on open-office cabling. However, TSBs are only balloted within the TIA, and not the telecommunications industry at large. Therefore, they are not really standards."
To clear up this confusion, the TIA will no longer issue nonbinding TSBs, but will instead issue addenda to the main cabling standard--for example, tia/eia-568a-1. These addenda will be industry-balloted, and so will be binding.
Three addenda were balloted in late 1996, and then were taken up at the first quarterly TIA standards meeting of 1997, held during the winter in Maui, Hawaii. Tia/eia-568a-1 tackles propagation delay and delay skew, which received so much attention in 1996, while the second addendum addresses additional near-end crosstalk requirements for connecting hardware, and the use of solid-conductor patch cords. Tia/eia-568a-3 attempts to clarify the transmission requirements that apply to hybrid, or bunched, cables.
Kish adds that, when tia/eia-568b comes out, it will be completely restructured. "There will be a main document that is intended for system designers and end-users," he says. "It will contain more-specific installation requirements, and installed cabling design and testing requirements will be added. It will also be harmonized with the international cabling standard iso/iec 11801."
More-detailed documents, aimed at component manufacturers, will cover the major cabling media: 100-ohm unshielded and screened twisted-pair, 150-ohm shielded twisted-pair, and fiber-optic cable.
Kish`s most important announcement, however, was that his committee has formed a study group to develop specifications and test methods for enhanced-performance copper cabling. The study group has been chartered to look at unshielded, screened, and shielded media, including the stability and integrity of their shielding; but its priority will be end-to-end channel performance of Category 5 4-pair unshielded twisted-pair horizontal cabling.
Accurate test methods extending up the 300 megahertz, and perhaps beyond, are to be developed for both field and laboratory testing. The study group will also attempt to develop a better cable model for such electrical parameters as near- and far-end crosstalk, noise, and balance, and to determine the effect of differential and common-mode termination on both used and unused wire pairs.
The specifications the study group recommends will also be consonant with the requirements of applications standards groups such as the ATM Forum and the Gigabit Ethernet Alliance.
Kish concludes that "in two years our group will have covered everything, but the next revision of the 568 standard is 18 to 24 months away."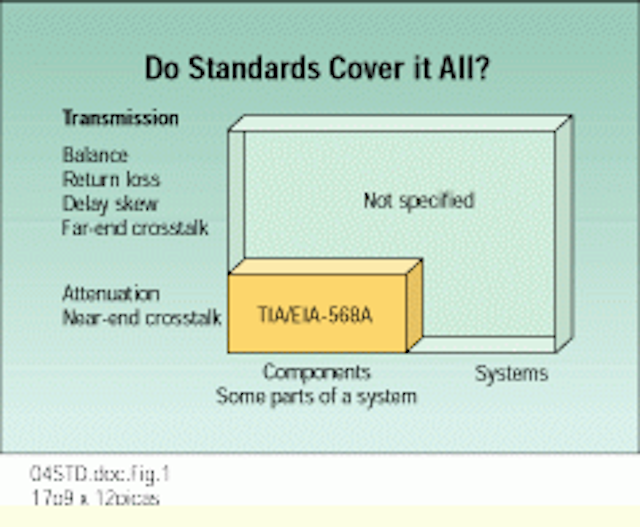 Click here to enlarge image
Commercial building wiring standard tia/eia-568a covers only a portion of the territory that requires specification. Remaining to be dealt with by future revisions of the standard are balance, return loss, delay skew, and far-end crosstalk.