Blown fiber systems attract followers and critics
The decades-old technology still strives for market acceptance and standardization.
Feb 1st, 2004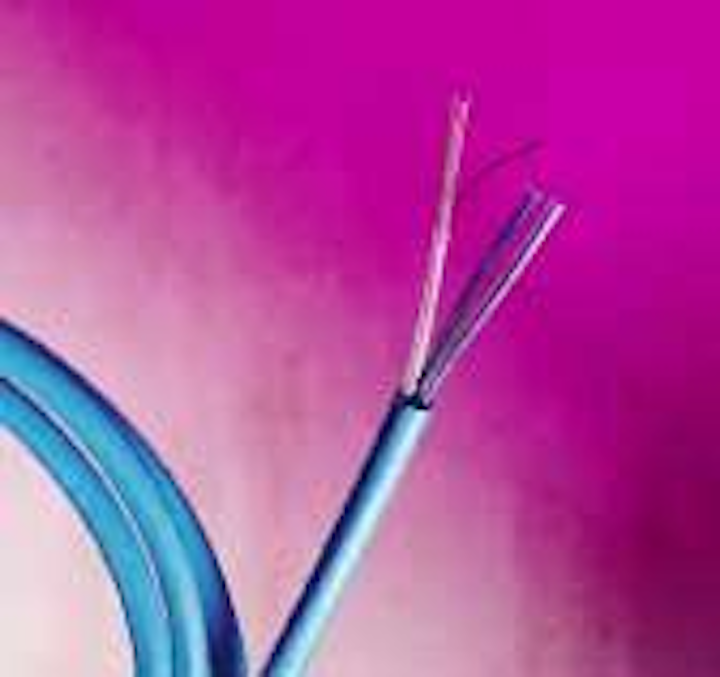 The decades-old technology still strives for market acceptance and standardization.
While blown fiber still represents a very small percentage of the premises marketplace, and proprietary designs and lack of industry standards hold back growth and universal support, advocates see the technology offering key advantages over cabled fiber in many of today's LAN environments.
"A benefit of blown fiber is that it provides a network that can quickly grow and change," says James Swigert, product manager with Pirelli (www.pirelli.com). "Blown fiber allows a flexible infrastructure, in which you can have a certain amount and type of fiber today. If, six months from now, your needs will be different, you can easily change out both the amount and type of fiber."
First installed in the mid-1980s by British Telecom for use in outside-plant (OSP) applications, blown optical fiber made its way to the U.S. and gained attention as a viable LAN infrastructure option. Last month, Pirelli began offering its blown fiber system in the United States.
Blowing ingredients
The concept of a blown fiber system is to install a network of microduct tubes that can then be easily filled with fiber as needed. Blown fiber systems include the fiber itself, microduct tubes for placement, microduct couplings and distribution units, and installation equipment that blows the fiber through the microducts. For premises applications, the fibers are available in standard 50- and 62.5-µm multimode and singlemode types as single fibers or fiber bundles. Both single and bundled blown fibers are compatible with standard tools, connectors, and splicing systems.
Plastic microduct tubes range in size from 5 to 8 mm for premises applications. Tubes are combined in quantities of up to 19 under a common sheath that is available for OSP, or as riser- or plenum-rated for premises applications. Individual microduct tubes can be installed in short lengths and joined using couplings. At distribution units, micro-duct cables are joined and rerouted throughout a facility.
Empty microducts for future use are plugged to prevent dirt and debris from entering the tubes. Before blowing fiber, the microducts are tested to ensure a clear pathway and ability to hold pressure. "Testing for pressure involves putting air in the tube, sealing both ends, and monitoring an in-line pressure gauge for fluctuations," explains Trish Dawson, market development manager for NextGen Fiber Optics (www.blolite.net). "We then shoot a small projectile down the tube to ensure there are no blockages or major diameter fluctuations."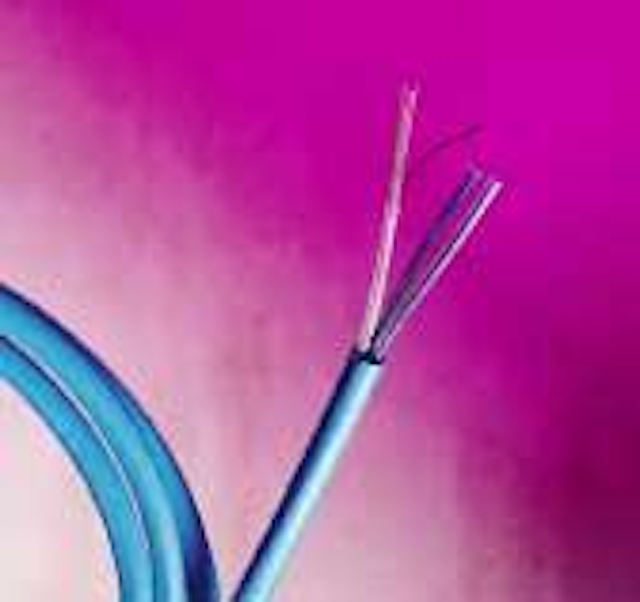 Sumitomo Electric's FutureFLEX multimode 18-fiber bundle contains three nylon-coated subunits of six fibers each surrounded by an aerodynamically designed jacket.
Click here to enlarge image
Typically rented from the manufacturer, blowing equipment is designed to be compatible with each manufacturer's specific air delivery system. Compressed air or compressed bottles of nitrogen are the two common types of air delivery systems, and both offer the ability to adjust the air pressure as needed during installation.
"Both compressed air and nitrogen blowing equipment have been designed to put clean, dry air into the microducts at pressures of about 150 psi," says Dawson. "Once fiber is blown into the microducts, it can later be blown out using the same equipment."
Dispelling arguments
Critics of blown fiber have questioned the system's ease of design, fiber protection, simplified installation, and cost savings when compared to cabled fiber systems. But proponents defy these accusations and highlight the system's flexibility and futureproofing needed for today's LAN environments. "Blown fiber takes the guesswork out of futureproofing and keeps networks in pace with emerging fiber technology," says Bill Beasley, director of product management for Sumitomo Electric Lightwave (www.sumitomoelectric.com). "Unlike cabled fiber, blown fiber eliminates investing in dark fiber and the risk of installing soon-to-be-obsolete fiber."
While the design process for a blown fiber system differs from cabled fiber, proponents maintain that the process is not difficult. "The design of a blown fiber system is no more complicated than a cabled fiber system, and blown fiber can do many things that cabled fiber cannot," says Kurt Templeman, manager for enterprise networks, Sumitomo.
"Terminations or splicing are needed when transitioning a cabled system from plenum to riser to outside plant," Templeman continues. "With blown fiber, the type of microduct tube cable is easily changed with a coupling, and the fiber is blown all the way through the run."
According to proponents, blown fiber is actually better protected than cabled fiber both during and after installation. "Because the blown fiber is not being pulled, there's no exceeding the pulling load, which can damage cabled fiber," says Dawson.
Dawson also points out that microduct is more forgiving than cable and if damaged during construction, can be easily and inexpensively replaced by piecing in new microduct section with the use of the couplings. "Unlike cabled fiber, blown fiber sits in the microduct under no tension, which reduces both crack propagation and attenuation," says Dawson.
Adding new fiber or replacing old in a cabled fiber system can require construction crews, ceiling tile removal, or exposure to secure areas. "Blown fiber is much less disruptive than cabled fiber," says Templeman. "With the microduct already installed, it's just the blowing equipment and a quiet operation to blow in more fiber."
Although each blown fiber system has different manufacturer parameters for blowing distances and installation time, proponents maintain that blown fiber systems are easier to install. The degree of bending, microduct size and length, air pressure, and number of fibers or size of fiber bundle have a cumulative effect on the blowing distance. But in tortuous routes, blown fiber can typically be blown further than cabled fiber can be pulled.
"In a tortuous route, where 8-mm microduct turns 300 tight corners with 90-degree bends of 11/2-inch radius, up to eight single fibers can be blown nearly 2,000 feet," says Dawson. "To pull conventional cable through the same route would require pulling in stages and, therefore, more labor."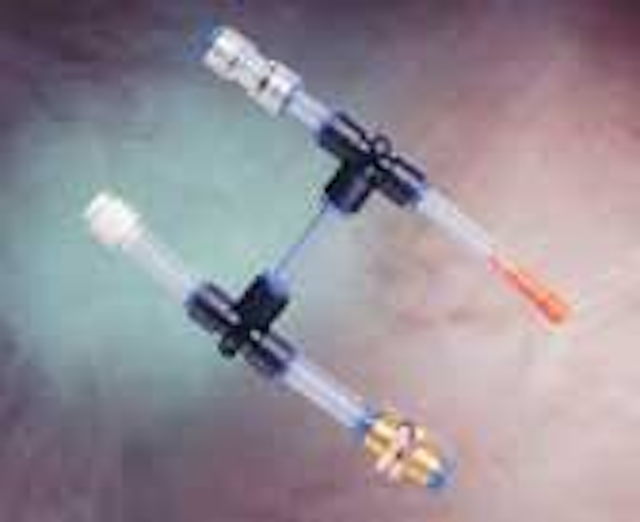 Tube distribution accessories include couplings, caps, and plugs.
Click here to enlarge image
"Installing microduct tube takes the same amount of labor as installing innerduct for cabled fiber," says Templeman. "The big difference is seen during the actual fiber installation. Pulling in the conventional cable takes as much time as installing innerduct, but it takes just a fraction of that time to blow in bundled fiber." According to Templeman, pulling 3,000 feet of fiber requires an eight-hour day with a minimum crew of four people, while 3,000 feet of bundled fiber can be blown in 30 minutes with only two installers.
Opponents have called attention to the fact that blown fiber is not designed for preconnectorized cabling. "In looking at the amount of fiber shipped, the percentage that is preconnectorized is miniscule," Templeman counters. "I've been cabling for over 20 years, and I wouldn't want to bet on my measurements to build a preconnectorized cable."
Microduct tubes are combined in quantities of up to 19 under a common sheath that is available as riser- or plenum-rated for premise applications.
Click here to enlarge image
The material costs of a blown fiber system are typically higher than for a cabled fiber system, unless a lot of dark fiber is being installed. "The only number that matters is the total dollars required to bring up and maintain a network," argues Templeman. "With the very first move, add, or change, it's not even a close call when you compare the costs. Most of our blown fiber customers see a payback in their first project." Proponents also highlight cost savings in terms of fewer connectors, less testing time, fewer splicing points, less fiber, and overall labor efficiency.
Corning Cable Systems, however, does not support blown fiber in LAN applications and has published white papers on the matter. "We don't see the economics of it," says David Hall, marketing manager for private networks at Corning Cable Systems (www.corningcablesystems.com). "Adding more fiber in the future requires repetitive service calls to first verify the integrity of the microduct tubes and then blowing in the fiber. If you add up the total costs over the lifetime of the infrastructure, blown fiber will be more expensive."
Taking opposition
Hall emphasizes the additional material expense of a blown fiber system, such as fan-out kits recommended for termination, microduct tubes and connectors, blowing equipment, and distribution units. "More up-front planning is required with a blown fiber system, which also means more money and time to figure out where the tubes should be installed while hoping you've anticipated correctly," says Hall. While blown fiber proponents have highlighted reduced splicing and lack of innerduct, Hall notes that innerduct and splicing are not commonly used in today's LAN environments.
Hall admits that once the tubes are installed, more linear feet of fiber can be installed faster with a blown fiber system, but adds that it's a two-step process, and that installing the tubes takes more time than installing a traditional cable. According to Hall, because blown fiber systems are proprietary, system components are not likely be in stock at national distributors, which can create inconvenience for installers and end users. "Because contractors must have specialized training to install blown fiber systems, there's also less competition and end users may experience higher costs," says Hall. "Proponents of blown fiber systems state that fiber costs will decrease over time, but as long as these systems remain proprietary to a single manufacturer, no incentive exists for lowering prices, thus, savings will not be realized."
Blown fiber proponents, however, refute the argument that system components lack availability. "There has been overwhelming interest in blown fiber systems by distributors, and we have major national and regional suppliers that currently stock products," says Templeman of Sumitomo. "Along with our team of over 150 contracting companies, our distributors meet the growing demand for our blown fiber system."
While proponents tout the futureproofing capabilities of blown fiber, Corning Cable Systems continues to recommend installing singlemode and spare fibers as the best way to futureproof a system. "We have software today that predicts how many spare fibers should be installed and what the mix should be, and we've never had anyone tell us that they wished they hadn't put in spare fibers," says Hall.
Hindering growth
For premises applications in the U.S., there are two main proprietary blown fiber systems. "The various systems are not designed to work together, and microducts have specific properties optimized for a specific manufacturer's fiber," explains Chris Pegge, director of sales, NextGen Fiber Optics. "The components must be installed as a system, which is the only way to guarantee the performance."
The fact that these systems are proprietary, and standards bodies have not yet embraced the technology, have contributed to blown fiber's small percentage in the commercial marketplace. Customers tend to select technology that is backed by industry standards and can be acquired from multiple sources. "Once we have industry standards that blown fiber systems can be built to, we'll see more competition and a broader deployment," says Pegge. Although standards bodies are currently reviewing blown fiber technology, Pegge believes it could take another 5 to 10 years to see specific standards established. "In the meantime, we'll see more proprietary systems hitting the market, which will help improve deployment and awareness of blown fiber as a viable option," says Pegge.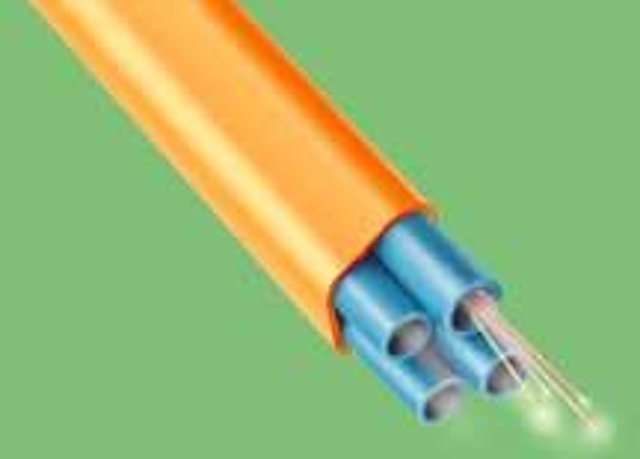 Twelve single fibers can be blown into one microduct simultaneously.
Click here to enlarge image
Opponents say lack of standards is the foremost issue for not supporting the technology. Corning Cable Systems' position is that industry standards provide the lowest cost, multi-source infrastructure with guaranteed performance for customers without locking them into one supplier.
Manufacturers of blown fiber systems have acquired NEC and UL approval for safety and flame retardance, and have guaranteed their systems to meet optical performance levels under EIA/TIA. "We've spent a lot of time on specifications and guidelines, and we know what works and doesn't work," says Templeman of Sumitomo. "We've put our systems through the paces from a testing perspective against the same applicable standards as conventional cables."
Fitting applications
Regardless of proprietary designs and a lack of standards, some markets have thoroughly embraced and installed blown fiber systems. "Blown fiber's popularity is growing in the education, medical, government, and military markets specifically," says Pegge. "Colleges and universities are attracted to blown fiber technology because it's less disruptive to the campus, allows them to spread out their spending, and offers an easily upgradeable system."
Says Pirelli's Swigert, "Blown fiber has gotten a lot of attention in fiber-to-the-home deployments. But there definitely are applications for it in LAN systems, particularly in campus environments, or any in which you can expect a lot of changes."
Adds Templeman, "Government facilities, hospitals, and airports are up and running 24 hours a day, have many secure areas, and frequent MACs. With very short windows for working on the network, blown fiber offers these facilities a quick project turnaround with minimal disruption." The military has also embraced blown fiber technology for use on Navy vessels, where confined spaces clogged with obsolete cables and disruptive upgrades are a concern.
Today, several manufacturers offer microcables for OSP, which are optimized for jetting into microducts, and others market blown fiber systems for both OSP and premises applications in the European marketplace where blown fiber has been more widely accepted and installed. In addition to microcable, OFS (www.ofsbrightwave.com) offers singlemode cabled fiber units for OSP applications, which are similar to bundled fiber units.
"We can take the technology we have now and adapt it for the premises market, but our current focus is in the OSP arena," says John Keesee, marketing product manager with OFS. "Even in the outside plant marketplace, there's a reluctance to use a product that's different than what they're used to; it's a shift in technology, and people are often uncomfortable with that. We still recommend this technology over cabled fiber."
Weighing the choices
Opponents, however, remain skeptical.
"Our customers are smart, savvy people. If they can find a way to do something quicker, cheaper, and more efficiently, they will," says Hall. "If blown fiber is everything that proponents say it is, then why is it not a dominant force with more traction in the LAN?"
"Some believe that because it doesn't look like what they're used to seeing, it must not be good. We subject our blown fiber system to all types of testing and standards," counters Templeman. "The system truly provides maximum flexibility and futureproofing, and its performance and cost benefits have been proven in most applications."
Betsy Ziobron is a freelance writer covering the cabling industry, and a regular contributor to Cabling Installation & Maintenance. She can be reached at: bziobron@comcast.net