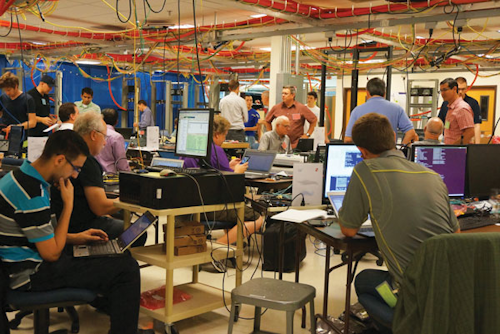 Ethernet Alliance hosts largest 40G/100G Plugfest to-date
The Ethernet Alliance's latest interoperability test event was held from June 22-25 at the University of New Hampshire InterOperability Laboratory (UNH-IOL) in Durham, NH. The consortium said its largest-ever multi-vendor plugfest represented a complete testing ecosystem for 40 Gigabit (40G) and 100 Gigabit (100G) Ethernet. Additionally, a technical feasibility event on 25 Gigabit per second (25 Gbit/sec) technologies was held to assess the state of these technologies, and provide input into standardization and development to optimize future interoperability of the 25 Gigabit Ethernet (25GbE) family.
"Ethernet's continued growth and expansion into new markets and applications is driven by its intrinsic interoperability. The seasoned level of maturity of 40G and 100G Ethernet dictates the need for a broad-scale testing event of this magnitude. These are real technologies being deployed in real-world situations every day," commented John D'Ambrosia, chairman, Ethernet Alliance, and chief Ethernet technologist, Dell. "As demonstrated by the 25-Gbit/sec technical feasibility testing, interoperability is something that the industry considers from the very beginning of any Ethernet standardization activity."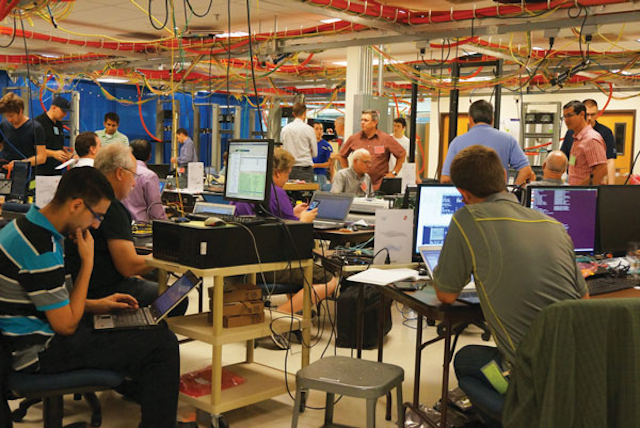 Dating back to its inception, the Ethernet Alliance notes that it has worked with the UNH-IOL to host interoperability test events aimed at advancing Ethernet technologies. The latest, largest interoperability event hosted by the Ethernet Alliance to date brought together 23 companies representing a diverse array of 40/100G Ethernet technology vendors, including cabling, chip, connector, optics, system, and test equipment manufacturers.
The plugfest event provides a rigorous environment enabling the testing of 40 GbE and 100 GbE operation over hundreds of different scenarios, including the various optical and copper solutions that define these two families. Further, as the IEEE 802.3 25 GbE project is nearing entry into the next development phase, the event's broad testing agenda enabled valuable input to be obtained from vendors for that phase, says the consortium.
Adjustable-length screwdriver for cabling technicians
Klein Tools recently introduced its Adjustable Length Screwdriver, which features a shaft that adjusts from 4 to 8 inches in length. "The shaft is removable and reversible with a different tip on each end," Klein said when announcing the product. It added that electricians and cabling technicians "can carry fewer tools with this versatile multilength, multi-tip screwdriver."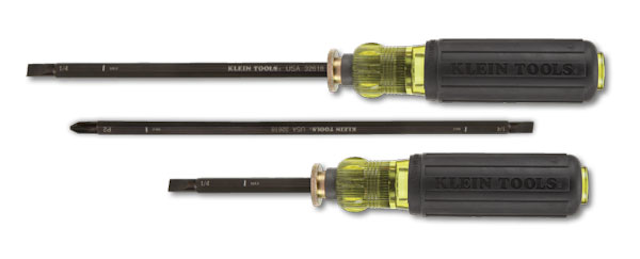 The company further explained that a proprietary system securely holds the blade in place - "as durable as a traditional Klein fixed-blade screwdriver," it said. Additionally, a cushion-grip handle maximizes comfort and torque, the company added.
"Klein is constantly researching and identifying ways to make the job easier" for electricians as well as cabling technicians, stated associate product manager David Bower. "We created a screwdriver that easily adjusts to multiple lengths and provides different bit tips to minimize the number of tools needed to get the job done."
NFL Films contracts Toner Cable for wireless communication install
Toner Cable Equipment recently won a contract to install equipment that will facilitate wireless communication between the Mt. Laurel, NJ headquarters of NFL Films and sporting venues. According to Toner, it will supply, install and commission two satellite earth stations at the New Jersey home of NFL Films. "This turnkey system will include 100 percent of the antennas' foundation, installation, and commissioning," Toner Cable said.
Describing the wireless communication systems, Toner explained the satellite earth stations are a customer-owned, 3.8-meter satellite earth station, and a motorized 5-meter DH earth station. "The 5-meter earth station will include a de-icing system that will ensure optimal signal reception all year long," the company said. "The two new earth stations will enable NFL Films to receive additional video content and expand their current satellite earth capabilities."
Tripp Lite adds PoE+ to PDU, Ethernet switch 1U combo
Power protection and connectivity products specialist Tripp Lite has expanded its line of space-saving PDU Ethernet Switch Combos.
Merging a PDU and unmanaged network switch into a single 1U device, the device models in this product line generally offer 12 outlets and 24 Gigabit Ethernet ports. Eight of the ports on the line's new PoE+ (Power over Ethernet) model have the capability to provide up to 30 watts of power each for devices such as VoIP phones, wireless access points and surveillance cameras. The PoE+ model also includes two SFP ports for optical network uplink to additional units.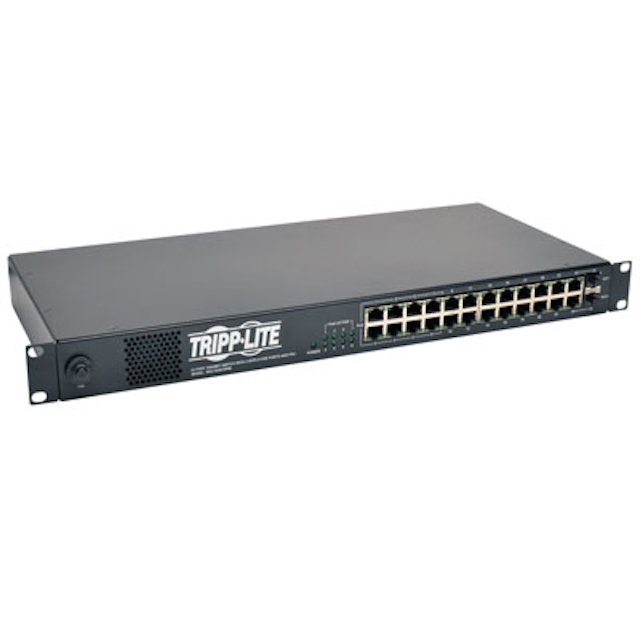 "Our newest PDU Ethernet Switch Combos give IT managers additional options to get the features they need for their specific application," comments David Posner, Tripp Lite's product manager. "With Power over Ethernet, users have enhanced functionality without compromising the space-saving 1U design."
Tripp Lite notes that all of the PDU Ethernet Switch Combos incorporate green Ethernet technology, which turns off inactive ports and detects the length of a connected network cable and adjusts power consumption accordingly. The switches are positioned for server rooms, network closets, applications using wall-mount network cabinets and any environment where rack space is at a premium.
Zayo significantly expands Nashville fiber-to-the-tower footprint for new wireless customer
Zayo Group Holdings, Inc., a global provider of bandwidth infrastructure, announced the expansion of its fiber-to-the-tower (FTT) footprint in Nashville, TN, in a project commissioned to serve an anchor wireless service provider. This is Zayo's first FTT sale in Nashville, which will extend its existing 120-route mile network to provide this FTT service to 147 new towers. Additionally, the company says it is pursuing opportunities to leverage its Nashville network to provide dark fiber service to small cell nodes.
Zayo's FTT solutions and extensible network, which includes approximately 8,000 towers nationwide, are addressing wireless carriers' requirements for scalable, high-capacity infrastructure. In addition, Zayo will be able to leverage its Nashville network to provide service to second tenants on the 147 towers and to provide additional lit and dark fiber services that leverage the 350 route miles of newly constructed network. "Zayo continues to support our customers' requirements for network capacity that can scale as they grow," said Dave Jones, senior vice president of Zayo's mobile infrastructure business. "We expect additional services to be provided on this network which will increase the yield over time. We've had significant interest in both small cell deployments and additional FTT services to these 147 towers."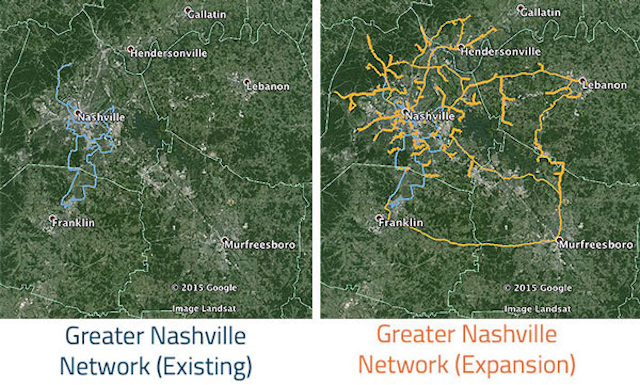 According to a financial press release from the company describing the expansion, the underlying wireless customer sale (closed in the June fiscal quarter) has a contract term of 20 years and is expected to generate an initial unlevered cash flow yield of approximately six percent per annum on $39 million of expected capital investment, based solely on the initial anchor sale. Zayo estimates the unlevered cash flow yield on the incremental small cell opportunity to be 17 percent per annum, highlighting "the attractive follow-on economics."
Nashville, long known for its thriving music industry, has experienced significant growth in healthcare, technology and automotive industries. Zayo says that the fiber network expansion will significantly enhance its ability to deliver high-capacity connectivity to businesses, school districts and other government entities in the broader metropolitan area.
Reelex signs four new licensees for its tangle- and twist-free cable packaging
Reelex Packaging Solutions, which provides and licenses the Reelex tangle- and twist-free package for wire and cable, recently announced that in the first half of 2015 it signed four new licensees. Timothy Copp, Reelex vice president of business development, stated that never before in the company's history has it signed as many as four licensees in the first half of a year. He said he attributes improvements in the global economy, as well as a successful anti-knockoff education effort, as catalysts for the first-half success of its cable packaging technology.
The four new licensees are The Siemon Company, Sandmartin Electronic, Zhaolong (Zhejiang Zhaolong Cable), and ZTC (Zhangjiagang Twentsche Cable).
"Our ongoing anti-counterfeit campaign is aimed at increasing recognition of knockoff versus genuine Reelex," Copp said. "End users are becoming more aware that products in genuine Reelex packaging are far less prone to tangles, knots and damage to the product, and are demanding that their suppliers provide them with products in stress-free packaging. This, in conjunction with our technology being protected by patents and trademarks, we believe is having a positive effect in expanding the use of Reelex versus knockoff alternatives."
Reelex technology is a proprietary method of coiling wire or cable into a precision-wound figure-eight pattern, the company explained. By employing this cable packaging approach, the coil dispenses from the inside out, without twists, tangles or inertia, it added. "Licensees sign an agreement to use Reelex packaging technology via specialty coiling equipment designed and manufactured by Reelex Packaging Solutions," the company explained. "Licensees are also obligated to print the Reelex trademark on genuine packages containing Reelex technology."
Uniden, Apple jointly launch wireless DVR video surveillance system
Uniden America Corp. recently unveiled the Uniden Wireless DVR HDD (WDVR), an integrated wireless DVR video surveillance system "designed specifically" for DIY small business and homeowner applications. The Uniden WDVR launch also marks the first collaboration between Uniden and Apple, as it is the first Uniden product to be sold through the Apple Online Store.
The WDVR is billed as "the only wireless DVR video surveillance system that offers simple and fast setup with state-of-the-art intelligent security capabilities to monitor homes or businesses from the palm of users' hands. Users simply mount the wireless cameras, plug in the system, and download the free mobile app to view live video within minutes." Featuring two all-metal, IP66-rated outdoor, dual-motion-sensor cameras with built-in microphones, and a one terabyte hard drive system that holds 120+ days of video recording capacity, the system delivers video surveillance via wireless camera transmission for digital AV signals up to 500 feet, complete with LED night vision.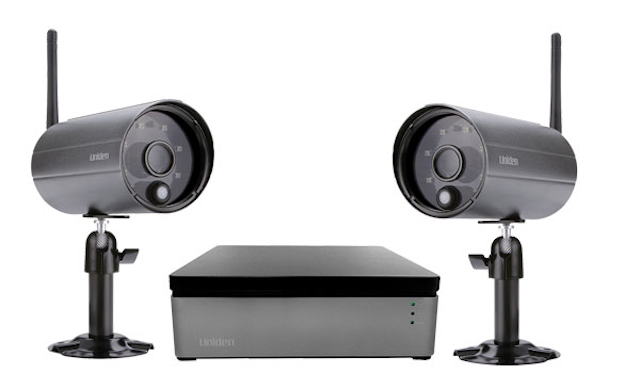 The Uniden WDVR app can be downloaded from either the Apple App Store or Google Play Store to activate and watch live video, review footage, and receive customized alerts while on the go. App compatibility includes Apple iOS 6.0 and OS X 10.8, as well as Android 4.0. The app gives users live viewing of the system's four camera channels, with the option to view all channels simultaneously in quad-view or one-at-a-time in full-screen mode.
The app also enables full control of system settings, including recording parameters, video resolution and quality, as well as an option to receive push notifications and email alerts of motion detection events. Other key features of the WDVR system include: VGA-quality video recording and streaming; passive infrared dual motion sensors; built-in microphones for audio reception; and enterprise-grade security with 256-bit AES and SSL encryption.
GE, Cisco unveil test bed fiber-optic infrastructure for 100-Gbit/sec Industrial Internet
GE recently announced its creation of a prototype network installation employing some of the world's highest-speed fiber-optic lines to support the company's Industrial Internet initiative. As a founding member of the Industrial Internet Consortium, GE's software scientists and developers have created and demonstrated an industry test bed that will transfer data at 100 gigabits per second to support seamless machine-to-machine (M2M) communications and data transfer across connected control systems, big infrastructure products and manufacturing plants.
Industrial Internet Consortium member Cisco also contributed expertise in building the test bed project, as well as Internet2, which provides the infrastructure to give the network its national reach. The fiber-optic network was featured during demonstrations at the Industrial Internet Consortium's Summer Conference.
"As founding members of the IIC, Cisco and GE are collaboratively working on innovation test beds, reference architectures and standards infrastructure for Industrial Internet applications. GE's new fiber link and continued test beds are crucial to advancing our efforts around the Internet of Things and to our ability to rapidly generate valuable customer insights through our industry solutions," said Cisco's Tony Shakib, VP, IoE vertical solutions group.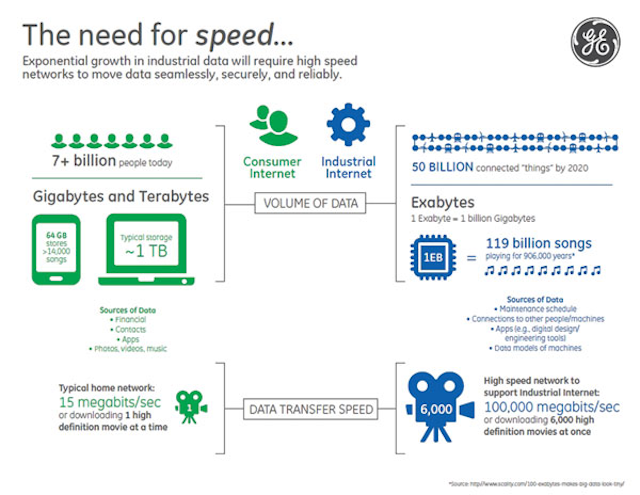 Overall, GE says the project's "disruptive innovation demonstrates industry success in creating viable test beds through the Industrial Internet Consortium Working Groups."
"A software research focus for GE has been to advance the real-time connections between large scale systems and to develop sophisticated control systems that increase the performance and efficiency of our products," commented Colin Parris, vice president of GE software research. "These high-speed networking lines enable accelerated data movement and an increase in data volumes within Industrial Internet products and services. This ability will greatly accelerate needed advancements in these areas, and in collaboration with the Industrial Internet Consortium, help advance industry standards."
As pointed out by a GE press release: "A typical Internet connection for home computers or mobile devices can transfer data at speeds of 15 megabits per second, or the equivalent of one full quality, high-definition movie at a time. These speeds pale in comparison to the high-speed networking lines installed at GE's Global Research Center that deliver speeds of 100 gigabits, or 100,000 megabits per second. That's the equivalent of downloading not one, but more than 6,000 movies at a time.
"While computer-processing speed has improved substantially over time, every user has experienced the long wait times of downloading large files on a home computer or mobile device. Downloads can sometimes take several minutes to complete. Imagine giving an industrial machine a command that has data sets with 1,000 times a standard movie file size. With the new 100 gigabit lines, industries can instantaneously connect and control machines located thousands of miles away. Through the Industrial Internet, GE is harnessing major advances in software, data analytics and now networking to connect people, data and machines in ways that take product development and services to the next level.
"The use of high-speed networking lines will be critical. For example, GE will now be able to connect to its manufacturing plants and have full visibility and control of the operation in the plant, which makes them brilliant. This 100-Gb capability also extends to the wireless edge, allowing GE to provide more data and analytical results to mobile users through advanced communication techniques."
Concert Technologies earns BICSI Authorized Design Training Provider status, offers project management course on-site
Concert Technologies recently announced it has been awarded the status BICSI Authorized Design Training Provider (ADTP), saying it is one of six BICSI ADTPs nationwide. "As a BICSI ADTP, Concert Technologies is a recognized provider of BICSI's ICT design and project management training," the company explained. Concert Technologies will provide BICSI-authorized trainers in a classroom environment to offer the BICSI PM 110 course. "Upon completion of this course, individuals will be well prepared to take the Registered Telecommunications Project Manager (RTPM) exam at a nearby testing center," the company said.
On its website, BICSI describes the PM 110 course, and the knowledge it provides, as follows: "Project management is a discipline that encompasses planning, organizing, and managing resources to achieve successful completion of specific project goals and objectives. Project management has become an important part of the information and communications technology (ICT) community. Becoming a successful ICT PM requires knowledge of the project management process and the telecommunications process (e.g. codes, standards, installation methods, telecommunications design)."
The overview continues, "This intensive five-day course covers the entire cycle of a project with an emphasis on construction projects as they relate to ICT design and installation projects. Project areas covered in class include project initiation, project safety, human resource management, project scheduling, communication management, risk management, quality management, cost management, procurement management, change management, project closing."
Dennis Mazaris, president and chief executive officer of Concert Technologies, commented, "As an added bonus to the PM 110 curriculum, our training center is located in the same Martinsburg, WV facility as our global technology rollout operations center, allowing our students an inside look at the management of technology infrastructure projects. To offer this training program is in alignment with our dedication to continuing education and career advancement in the industry."
TIA VP Montgomery awarded for standards work
The Telecommunications Industry Association (TIA) recently announced that its vice president of technology and standards, Stephanie Montgomery, has been selected by the American National Standards Institute (ANSI) as a 2015 recipient of the Meritorious Service Award. ANSI annually bestows the Meritorious Service Award to individuals in recognition of outstanding contributions to the United States voluntary standardization system, TIA said.
Montgomery currently manages TIA's standards efforts, which include the TR-42 Engineering Committee that develops cabling standards. In total, the TIA's engineering committees have developed more than 1,000 standards. Montgomery oversees the establishment of committee procedures; the implementation, development and advancement of new programs; and overall promotion of TIA standards programs. In addition to leading the TIA's standards operations, Montgomery specializes in overseeing the development of standards in the areas of M2M as well as mobile and point-to-point communications.
She will be honored at the 2015 ANSI Leadership and Service Awards ceremony on Wednesday, September 30.
"I have known Stephanie Montgomery since she joined TIA in 1994 and she could not be more deserving of this award," said John Siemon, vice president and chief technology officer of The Siemon Company and long-time leader in cabling standards development. "Stephanie's many accomplishments are a natural byproduct of her professional abilities. The admiration and respect she has earned are a direct result of exceptional interpersonal skills that inspire excellence in others and contribute greatly to success of projects and activities she has undertaken in support of TIA members like me."
Adam Drobot, chairman of Open Techworks and chair of TIA's Technical Committee, added, "The TIA Technical Committee congratulates Stephanie for the well-earned recognition that ANSI has bestowed on her. This award echoes her many contributions and dedication, recognizes her skills, and indicates continued excellence in standards from TIA. We are pleased that ANSI has seen fit to make this singular award of Meritorious Service to Stephanie and we see further important contributions ahead."
TIA chief executive officer Scott Belcher commented, "Stephanie truly embodies the spirit of the Meritorious Service Award. In her 21 years of service to TIA she has built a reputation for excellence as an individual advisor and leader of standards development. She is well-respected by TIA member companies, her colleagues at TIA and the engineering community. This award is truly a well-deserved tribute to her dedication to advancing standardization and innovation within the information and communications technology industry."
Multi-plug OSP test cord
Westek's OSP Combi-Cord is a multi-ended test cord that allows technicians to access various types of terminal and connector blocks with one cable. The company says the product enables more productive circuit testing by providing technicians with four different test plugs on a single, 1-foot test cable.
According to Westek, manufactured to the highest industry standards, the OSP Combi-Cord enables easy testing of POTS, ADSL and VDSL lines, and works with all major test sets and tone generators. Protective dust covers are included for RJ11, 5 pin (L4 463A) and L3 (526) connectors, with an RJ11 looping plug also available.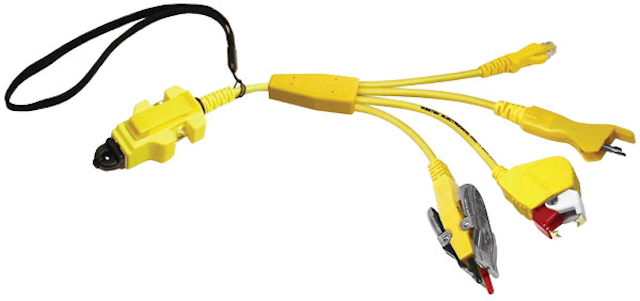 Having four different test plugs on a single cord reduces truck rolls and the necessity of carrying of multiple test access cords, notes the company. Further cost savings may result from replacing four test cords with one multi-connector test cord.
Molded in bright yellow to prevent misplacement, the OSP Combi-Cord is designed to fit most tool pouches. Other key features include test clips for easy butt set access, a 7-inch lanyard for weight relief, and a belt clip for easy transportation.
Cable conveyance for passive optical LAN
Snake Tray recently introduced PON Snake Tray, an application-specific cable conveyance system that brings fiber from optical line terminals (OLTs) to optical network terminals (ONTs) in passive optical LAN systems. "Our patented hand-bendable system is specifically designed to protect and secure the fiber cables in an easy cable-management system that installs in seconds," the company said.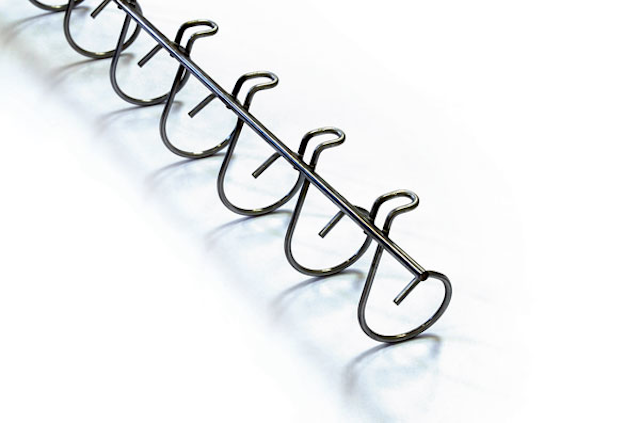 PON Snake Tray "protects and secures fiber cables while maintaining the proper bend radius for optimal cable performance," Snake Tray continued. "The universal built-in mounting rings can be installed either on a ceiling or wall. Cables easily load from the side to save on installation time."
PON Snake Tray nests together, facilitating easier shipping and material handling, the company also noted. The conveyance system is available in 8-foot sections, with a standard metallic finish or color-coded powder-coat finish
Fiber-optic cable installation tools for aerial, underground projects
General Machine Products Company recently introduced reel-handling accessories for the aerial and underground placement of fiber-optic cable. "These components - The Pole Mount Spindle, the Reel Buck, and the Reel Caddy - are uniquely engineered to make fiber-optic cable installation safer and more productive," the company said. "All of the accessories feature durable steel construction for years of rugged use, and a bright powder-coat finish for safe visibility and corrosion protection."
The Pole Mount Spindle "features a tough ratchet binder that employs a 2-inch-wide web that provides a secure, yet temporary, attachment to the pole," the company explained. "The unit is engineered to accommodate the specific requirements of FiOS/VATS cable reels." Two sizes are available. One can support reels 9 inches wide and a 1.5-inch spindle diameter. The other can support reels up to 24.5 inches wide and a 2.5-inch spindle. "The 'small' pole mount spindle weighs 11.3 pounds and the 'large' pole mount spindle weighs 24.2 pounds," GMP added.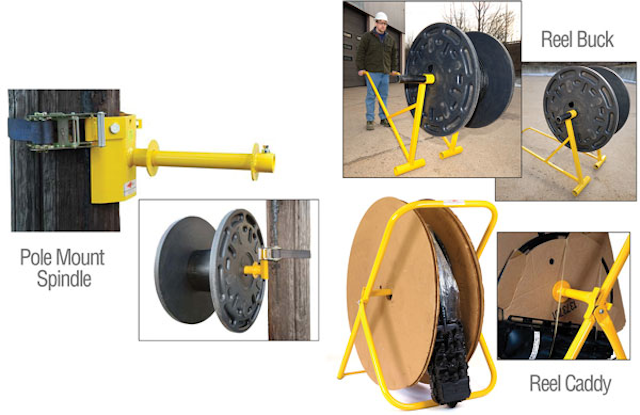 The Reel Buck "can support any utility reel up to 36 inches wide and up to 50 inches in diameter," GMP said, noting that larger sizes are available. Utility reels supported include the Corning line of FlexNap cable drums, the company said. "It can also handle a load capacity of up to 1200 pounds. The unit's frame is constructed of durable two-weld, rectangular steel members. It is designed to withstand the rigors of outdoor use and is treated to resist weather corrosion. The unique and versatile design allows it to act as a reel transporter and a reel stand," GMP said.
It also explained that to transport reels, users stand the reel up on both flanges and slide the spindle bar through the reel. Then, attach both handles so that when they are lifted, the reel becomes the 'wheel' similar to a wheelbarrow. "The sturdy frame allows one person to easily maneuver reels around a jobsite," GMP noted. "Once the reel is in place, flip the handles over the reel so that they serve as a sturdy base to support the reel above both flat and uneven ground. The raised base allows cable to be pulled off easily and securely in one direction."
The Reel Caddy can be used to support and dispense drop cable. GMP said the product "is lightweight and folds flat for compact storage. It is fabricated from durable, painted steel tubing that will provide years of dependable service. The Reel Caddy supports reels up to 30 inches in diameter and easily accommodates Multiport-type deployments using cardboard or plastic reels. The Reel Caddy is also quick and simple to use, requiring only one hand to set up. The unit is lightweight and folds flat for compact storage."
Delphi acquiring HellermannTyton for $1.85B
Delphi announced on July 30 that it has reached an agreement to acquire HellermannTyton Group PLC for $1.85 billion (£1.07). It said HellermannTyton's board has recommended the transaction. Upon completion of the deal, which Delphi expects to happen late in 2015, HellermannTyton will become part of Delphi's Electrical/Electronic Architecture segment.
Delphi is a giant in the automotive connectivity business. In a statement, it said the acquisition "expands Delphi's product portfolio within the connected vehicle solutions market and will help capitalize on the connected car megatrend. It also further strengthens Delphi's leading position in the electrical architecture market."
Kevin Clark, Delphi's president and chief executive officer, stated, "With consumers now demanding more connectivity in their vehicles, electrical architecture is the enabler to that added vehicle content.
"HellermannTyton positions Delphi to provide customers with an even broader portfolio of highly engineered and customized connection systems and cable management solutions."
Software optimizes conduit bending
Greenlee added to its portfolio of conduit bending solutions when it introduced BendWorks, a software program available for Autodesk Revit and Revit MEP. The company says the program "helps designers optimize conduit runs more efficiently [by combining] electrical trade knowledge and Greenlee bending parameters to ensure error-free and export-ready conduit runs for prefabrication or on-site bending."
BendWorks' programming "splits conduit runs to produce the fewest cuts and segments, reducing scrap," Greenlee said. "The process continues as couplings are added to the models, and segments are uniquely labeled for traceability on the jobsite. Error-checking is performed for each conduit segment, and export data may be transferred to a programmable Greenlee bender, or instructional files can be printed for operators to have a step-by-step outline for non-programmable benders."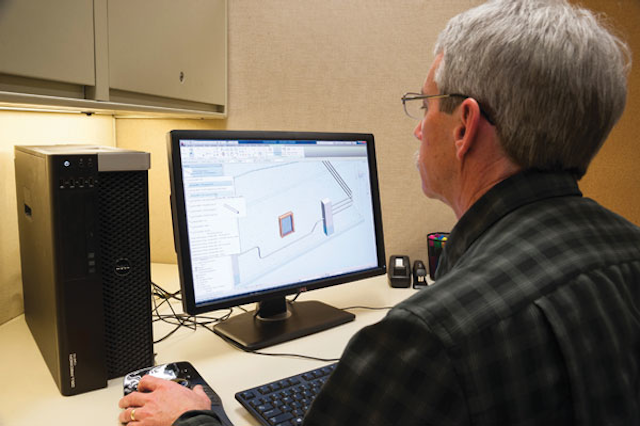 The company added that the software package offers an extensive toolset for CAD designers, allowing selection of various conduit types and sizes to create new runs or convert existing runs that automatically fit parameters specific to the following Greenlee benders: 555, 555C, 555CX, 555DX, 853, 854, 855, 854DX, 855GX, 881, 882, and the 1005 AutoBend 3D.
In its announcement introducing BendWorks, Greenlee estimated that applying the conduit bending software package will increase design productivity by 15 percent, reduce scrap by 15 percent, decrease rework by 25 percent, and lower inventory by 10 percent.
Berk-Tek introduces TEK Center Certification
Berk-Tek recently introduced the TEK Center Certification, which it explained can be applied to technical documents, test reports, and other related materials that are developed in the company's TEK Center. "Only after very extensive analysis and review by highly trained and experienced engineers can a deliverable earn the TEK Center Certification," the company said.
Mike McCarty, vice president of information technology and application system labs for Berk-Tek, commented, "We felt it was important to our customers and prospective customers to highlight the exceptional quality of the TEK Center's work. Our TEK Center employs only the best and brightest, and the results of their work are often used by standards bodies when shaping future technologies for our industry. We are extremely proud of their accomplishments."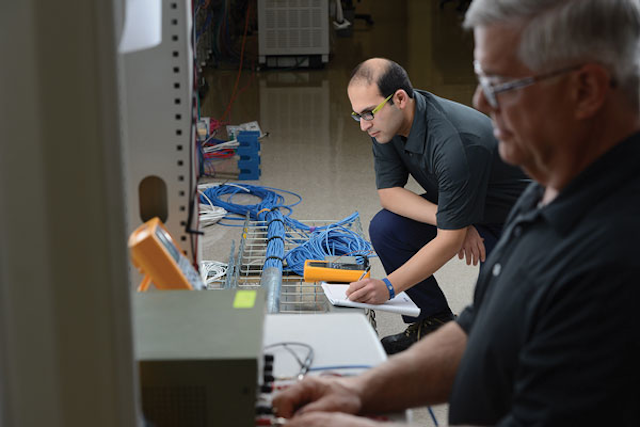 Launched in April 2015, the TEK Center extends the heritage of "the core group of people and the tremendous capabilities that both Berk-Tek and Nexans have invested in over the years," Berk-Tek said when announcing the TEK Center Certification. "One example of their work includes development of the six-around-one bundle testing for Category 6A alien crosstalk testing. This worst-case test procedure that has been adopted by the industry was invented by those that now work in the TEK Center," the company said.
In addition to this type of research, the TEK Center tests competitive products and solutions for comparison to those that Berk-Tek develops. Jim Frey, director of marketing for Berk-Tek, explained the dynamics of this type of testing and test results. "We want those reviewing the TEK Center's competitive comparisons to have complete confidence that the information presented is both accurate and is presented in a neutral format," he said. "The TEK Center's policy is to never badmouth competitors, but rather present the comparison information in a neutral format, and allow whomever the reader is to draw their own conclusions."
InSite Wireless acquires Capital Tower's assets; appoints CEO to lead DAS, small cells unit
InSite Wireless Group, LLC, a privately owned tower and wireless infrastructure company, announced that industry veteran Richard M. Grimes, former chief executive and co-founder of Capital Tower Group, LLC (CTG), will join InSite as chief operating officer for its DAS and small cells group. InSite has also acquired specific DAS and telecommunications assets of CTG.
"We looked closely at the quality of leadership at CTG, as well as their deal portfolio, and it made sound business sense to bring both of those assets into our growing company," said David E. Weisman, president and CEO of InSite. "This acquisition avails us of a top-tier senior executive in Rich Grimes, whose reputation in the industry is excellent. It also adds several DAS locations to InSite's portfolio, and an influx of new business opportunities."
Richard Grimes has more than 20 years of experience in senior leadership positions in wireless telecommunications infrastructure design, development and project management at strategic venues throughout the U.S.
In carrying out his new responsibilities, Grimes will be based out of InSite's Western Region office in Pasadena, CA, in addition to operating out of their headquarters in Alexandria, VA. "It's rarely an easy decision to give up the autonomy of having one's own business, but when a company with the reputation of InSite looked to combine interests, it presented a very compelling opportunity," commented Grimes. "It's very motivating to join a team that has been providing industry-leading wireless infrastructure services to strategic venues throughout the United States."
General Cable sells Asia Pacific operations
General Cable Corporation announced it reached an agreement to sell its Asia Pacific operations to MM Logistics Co. Inc. for cash considerations of approximately $205 million, which the company said includes a preliminary estimated net cash of $30 million available at closing.
General Cable's Asia Pacific operations included businesses in Thailand, China, New Zealand, and Australia. The company offers a combination of communications, power, and specialty cable in these regions. It said it expected the deal to close in the third quarter of 2015.
John E. Welsh III, chairman of General Cable's board, explained, "We are pleased with the continued execution and positive momentum we have achieved in our divestiture program that we originally announced last October. This agreement to sell our Asia Pacific operations represents another significant step to simplifying our geographic portfolio and reducing organizational complexity. We remain focused on the divestiture process for our businesses in Africa, which are advancing according to plan. We are also optimizing our business, reducing costs, and driving efficiencies in our core markets in North America, Latin America and Europe as we continue to execute our restructuring program."
Executive vice president and chief financial officer Brian J. Robinson added, "We previously completed the sale of our interests in Phelps Dodge International Philippines Inc., Keystone Electric Wire and Cable [China], and Dominion Wire and Cables [Fiji], which together represented approximately $88 million of cash proceeds. Upon completion of the sale of our operations in Thailand, China, New Zealand and Australia for an estimated $205 million of cash consideration, the company will have generated approximately $293 million of cash proceeds from its divestiture program, which is consistent with our previously communicated expectations."
MM Logistics Co. Ltd. did not issue a statement about the deal. According to its website, the company supports oil and gas exploration and production activities onshore and offshore. The company's stated mission is, "to be a regional total solutions provider in the petroleum exploration and production industry."