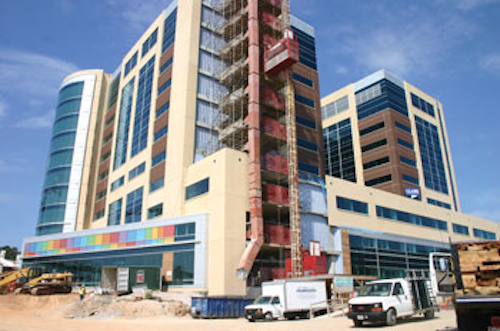 From the February, 2015 Issue of Cabling Installation & Maintenance Magazine
Inova Health System's Fairfax, VA medical campus is undergoing a six-year, $850-million upgrade, including the construction of a new network incorporating numerous IP applications.
By Carol Everett Oliver, RCDD/ESS
At your latest medical appointment, did the doctor walk in holding a paper folder containing your health records? The answer should be, "No!" Whether you were at a hospital or a family doctor's office, or even your dentist, the doctor most likely pulled up your records on an office PC or smart tablet. The Centers for Disease Control and Prevention (CDC) recently published studies that state almost 80 percent of all physicians now employ electronic medical records (EMR)--doubling the rate since 2009 when EMR adoption was enacted in the American Recovery and Reinvestment Act. The Health Information Technology for Economic and Clinical Health (HITECH) Act was part of the ARRA stimulus that initiated incentive payments to early adopters of EMRs.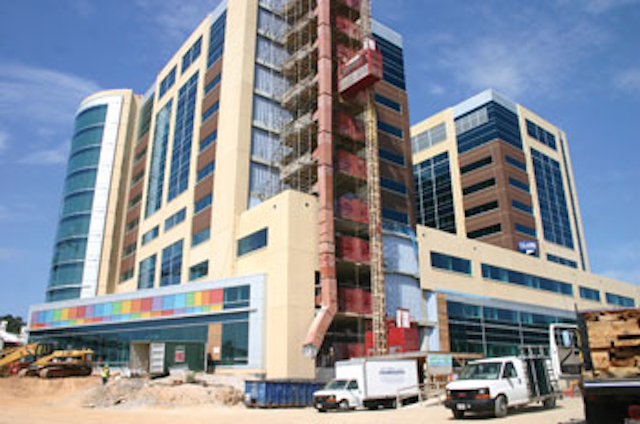 The Inova Women's Hospital/Inova Children's Hospital (IWHICH) is the most expansive construction undertaking within Inova Health System's Fairfax, Virginia medical-campus expansion. When completed in 2016, IWHICH will be a 12-story, 660,00-square-foot hospital with 308 patient rooms, a 108-bassinet NICU, 8 operating rooms, 33 labor-delivery suites, a 13-bed labor-delivery triage, and a 48-bed high-rise prenatal unit.
In addition to compliance with government initiatives, there have been numerous healthcare facilities that have become fast supporters of EMR for its many patient benefits including recording patient history, providing reminders for appointments, ordering prescriptions, early disease diagnosis and accessing lab and radiology tests. The healthcare industry has become one of the biggest drivers of Internet Protocol (IP) convergence to expand beyond digital patient records to include critical applications such as security, access control, patient monitoring and equipment tracking. All of these applications are the tip of the iceberg for IP explosion.
To be able to offer these IP-enabled services to patients, many medical facilities are upgrading their networks, which has led to numerous "forklift" improvements in their infrastructures. One such facility is the Inova Health System's Fairfax (Virginia) Medical Campus. For almost 60 years, Inova's mission has been to improve health through excellence in patient care, education and research. They have been recognized since 2000 by U.S. News and World Report as one of the Best National Hospitals and Best Regional Hospitals, and have received the highest "gold" recognition honor from the Joint Commission accreditations. They are now focused on a master plan that will optimize their care and services through aggressive renovations and new construction.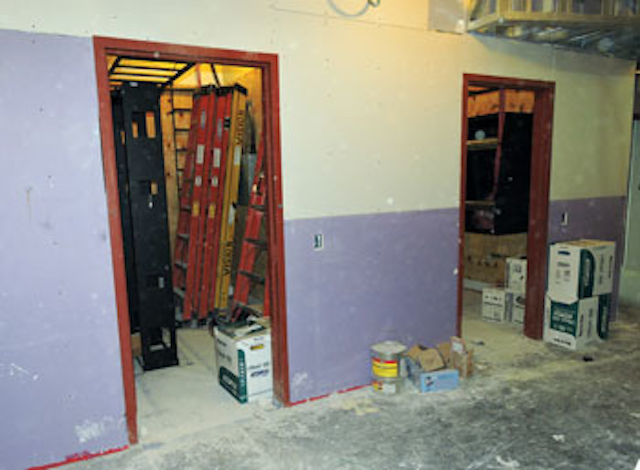 The IT and low-voltage rooms were set up in separate, side-by-side locations and contain their own technologies that provide communications to end devices.
Inova is investing $850 million to expand and upgrade many of the different facilities at their Fairfax Medical Campus, the flagship of Inova Health System campuses. Core to this construction is a new network to incorporate the many IP applications that go beyond EMRs. "Not only does integration provide more-efficient services to the patients and staff, but consolidation of network equipment drastically saves on hardware equipment costs, and for network operation budgets, this is one fo the biggest advantages of IP convergence," states Matt Odell, RCDD, director of technology for S2N Technology Group, LLC, the Bethesda, MD-headquartered general contractor for this project. S2N designed, selected and oversaw the installation of the infrastructure, consisting of copper and fiber cabling solutions from Berk-Tek Leviton Technologies (www.berkteklevitontechnologies.com).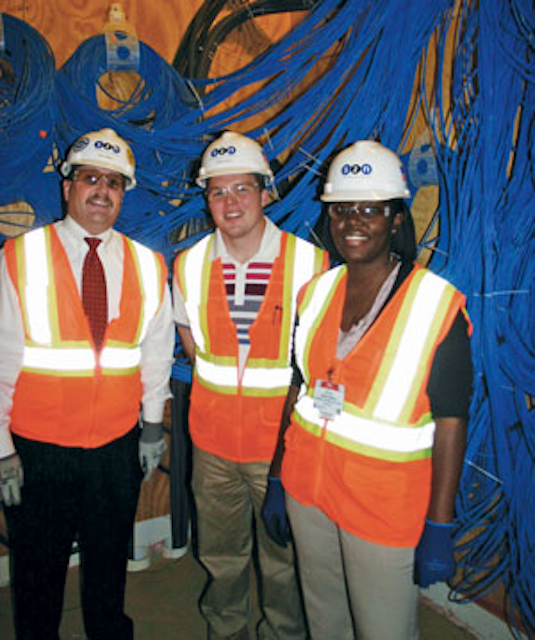 (Left to right) Matt Odell, RCDD, director of technology for S2N Technology Group; Kyle Lott, project engineer; and Ekua Gilbert-Baffoe, LEED AP, senior project manager inside one of the IT rooms before cable termination.

Large and intricate project scope
The multi-year Fairfax Campus project, which broke ground in 2010 and is scheduled for completion by early 2016, will allow Inova to offer the highest level of services to all patients in a world-class environment. This multi-faceted venture encompasses renovations to existing hospital towers, new parking garages and a central utility plant. But the most expansive construction undertaking is the new combined Inova Women's Hospital/Inova Children's Hospital (IWHICH), a new 12-story facility replacing an existing 50-year-old building. When completed, this 660,000-square-foot hospital will include: 308 patient rooms (192 for women's services and 116 for pediatric services); a 108-bassinet neonatal intensive care unit (NICU); 8 operating rooms for women's surgery; 33 labor/delivery suites; a 13-bed labor and delivery triage; a 48-bed high-rise prenatal unit; and an antenatal testing center. "This is where most families in Northern Virginia come to have their babies, and it is listed as the fifth most highly sought-after women's hospital in the U.S.," notes Odell.
Support structures for this project included the construction of an 8-story parking garage that accesses both the main hospital tower and the new IWHICH building. Supporting both the hospital and other structures is a standalone central utility plant (CUP) that provides all the utility controls to these buildings. "We had to design and install a small network and telecom room in that facility to monitor the security cameras and access control system, so we pulled 1,700 feet of Berk-Tek's 12-strand ArmorTek armored loose-tube optical fiber cable from the devices in CUP to an IT room located in IWHICH," Odell explains.
"We integrated all of the IP applications together on a parallel backbone, but we kept the core enterprise data separated from the other hospital systems," states Ekua Gilbert-Baffoe, LEED AP, S2N Technology Group, who is the senior project manager and has been onsite at Inova for the past two years since the beginning of the infrastructure installation. "The enterprise network is terminated in the IT rooms and the other systems are terminated in adjacent low-voltage rooms. The enterprise network supports the data, voice, fetal and physiological monitoring and the other disparate low-voltage systems, including the electronic security system, infant protection system [IPS], building automation system, nurse call and real time location system [RTLS]," Gilbert-Baffoe further explains.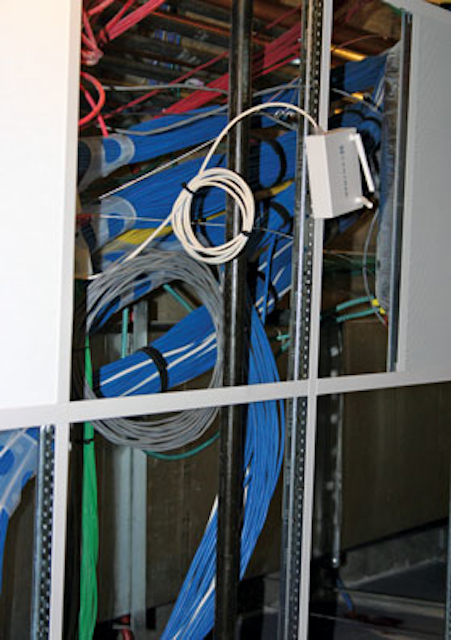 The cable pathways were shared with other hospital services in the drop ceiling. S2N specified color cording for the following applications: white for voice, blue for data and patient TV, red for security, green and gray for nurse call/RTLS/paging, black for A/V, and yellow for physio monitoring.
The IT and low-voltage (LV) rooms were set up in separate side-by-side locations and contain their own technologies that provide communications to their end devices. "There are 23 sets of these IT and LV rooms," states Gilbert-Baffoe. "The low-voltage services are on a totally separate budget structure; and, since each of these systems have unique operating systems that need to be monitored and adjusted by the manufacturer or specific integrator, it makes sense to keep them separate from the core IT network," she adds.
The infant protection system and asset tracking system at Inova are critical IP-enabled, low-voltage applications tied together through the network. "As you can imagine in a hospital, especially with babies and pediatric patients, they are highly concerned with patient safety. In fact, according to the National Center for Missing Children, more than half of newborn or infant abductions have been from healthcare facilities," notes Gilbert-Baffoe. "But through awareness and an increase in the deployment of efficient IP security systems, there has not been a reported case in two years," she adds. "At this facility we are installing an intricate integrated infant protection system that is tied into the security and access control systems. For example, the newborn babies are tagged with a unique identifier on their umbilical cord for tracking purposes. The IPS is connected to the access control and security system so that if a baby is taken to an area outside of the specified assigned unit, the doors are locked, elevators shut down, security cameras are on and alerts go off," she further explains.
"The RTLS is being installed as a step-by-step process as it is not just for tracking equipment but also tracking patients and staff, and could aid in billing," states Odell. "The first step is tracking nurses and time stamping when they enter and leave a patient's room. The next step is asset tracking of medical equipment and computers on wheels. The last phase or RTLS utilization is the ability to track patient care and tie each procedure to the billing process. That is work still in progress, but all of these applications can be integrated into the network," he adds.
Healthcare cabling standards
One of the biggest issues for infrastructure design and deployment has been the lack of consistent cabling practices in today's healthcare facilities. The impact of multiple IP technologies, combined with various integrated cabling systems, has caused the information and communications technology (ICT) industry to create consortiums of infrastructure manufacturers, healthcare IT professionals, network designers and contractors to collaborate on creating documents for best cabling practices. In the last four years these groups, through standards bodies TIA and BICSI, have published two standard documents that provide recommendations for best cabling practices in the healthcare environment.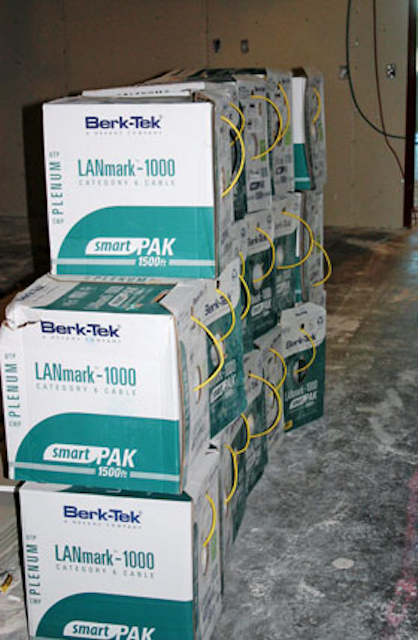 Berk-Tek's LANmark-1000 cables in their unique 1,500-foot SmartPAK boxes saved on labor and scrap at the Inova IWHICH jobsite.
At Inova's new facilities at Fairfax, the design and installation of the network were carried out according to specific internal standards of the hospital's IT department, as well as incorporating the TIA and BICSI industry standards that provide guidelines for integration onto the infrastructure--ANSI/TIA-1179 Healthcare Facility Telecommunications Infrastructure Standard and ANSI/BICSI 004-2012 Information Technology Systems Design and Implementation Best Practices for Healthcare Institutions and Facilities.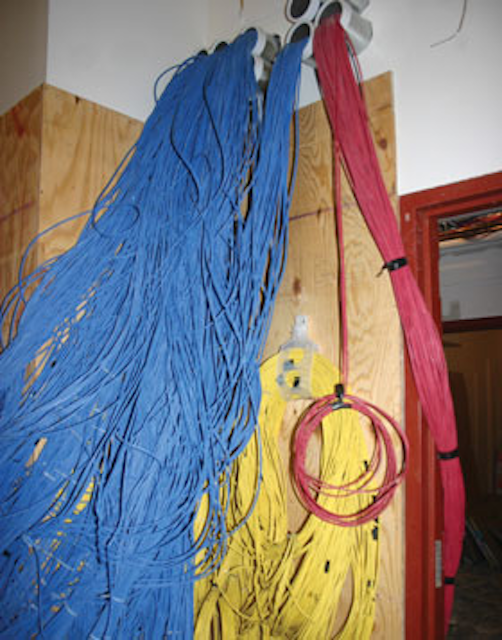 Berk-Tek's LANmark-1000 cables in their unique 1,500-foot SmartPAK boxes saved on labor and scrap at the Inova IWHICH jobsite.
"The difference between the two healthcare standards is that TIA is the nuts-and-bolts of cabling, providing basic infrastructure installation guidelines for pathways, telecom room sizes and equipment, and cabling types. The BICSI standard addresses the different physical layout of areas to allow for all the unique 'non-traditional' systems," states Todd Taylor, RCDD/NTS/OSP, director of low voltage/IT design for Enfinity Engineering, who also served on the TIA committee and currently chairs the BICSI Standards Committee. "Healthcare is one of the most challenging environments to recable since most facilities operate on a 24/7 schedule and there are a lot of stringent government regulations to follow, such as infection-control requirements," he says. "As we all know, technology moves faster than standards, so the TIA committee wanted to create a standards document that people could use and would address the latest technology, bandwidth and network speeds. For example, the TIA standard recommends 100-percent growth allotment in the telecom rooms for additional systems, specifies larger pathways to accommodate all the cabling for all those IP applications, and identifies the highest grade of cable to be installed in new facilities--Om3, Om4 or singlemode fiber in the backbone and either fiber or Category 6A copper cabling in the horizontal," he explains.
"BICSI furthered the TIA-1179 standard with a complementary document that references the TIA for cabling, but it addresses the individual unique systems found in the healthcare environment--such as nurse call, patient monitoring, medical imaging, RFID, DAS and even clock systems," states Taylor. "For example the TIA standard provides specific outlet densities for the different areas such as an operating room versus a patient room, and the BICSI standard addresses the room layouts and details the different interface requirements for non-traditional ICT systems that are outside of a typical enterprise or office environment," he clarifies.
The BICSI standard has two categories of criteria: mandatory and advisory. Mandatory applies to protection, performance and compatibility; it specifies the minimum acceptable requirements. Advisory, or desirable, is presented to enhance the performance of the infrastructure and the contemplated applications.
"Working together, these two standards provide the network designer and system integrator with layouts and cabling best practices for the pathways, spaces, and room layouts to aid in the planning and installation phases," notes Taylor.
Mixing standards for Inova
In addition to the industry standards, many healthcare facilities, such as Inova, have their own internal IT documents that they follow for their infrastructure design. The reasoning is to assure a semblance of consistency. It is very difficult when technology changes as they have to make sure that all of their systems are compatible with the existing infrastructure. At Inova's facilities, S2N followed the Inova IT infrastructure documents, as well as incorporating some of the recommendations by existing TIA and BICSI standards.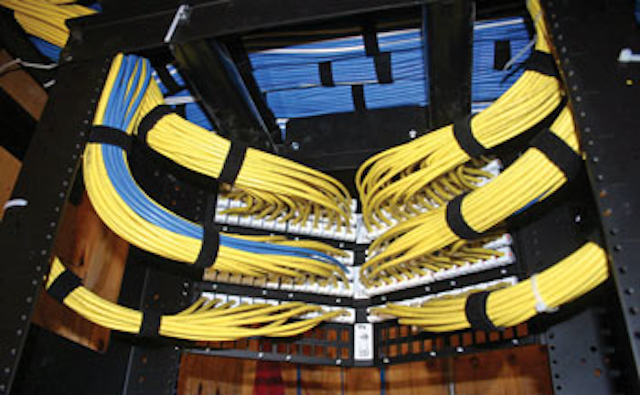 LANmark-1000 Category 6 horizontal cables are connected with Leviton eXtreme Cat 6+ QuickPort connectors loaded in Leviton 72-port high-density Cat 6+ QuickPort patch panels in the telecom rooms.
"The BICSI healthcare standards recommend separating the core data and voice from outside services and systems," states Odell. "This can be done by separating the termination fields in the same telecom room, dividing the telecom room or even putting the two in different rooms. At the new IWHICH facility, we are physically separating the IT and low-voltage systems in adjacent rooms, so that unauthorized outside vendors cannot touch the hospital's main IT network."
Vision Technologies, a cabling contracting firm out of Glen Burnie, MD, won the bid for the installation of the data and voice systems as well as the IP-enabled physio monitoring system for the IWHICH building. Many of the other low-voltage systems were installed by specialty contractors, such as IST for the electronic security system, McRoberts for the infant protection system (IPS), and CTSI for the audio-visual, nurse-call, overhead paging and RTLS.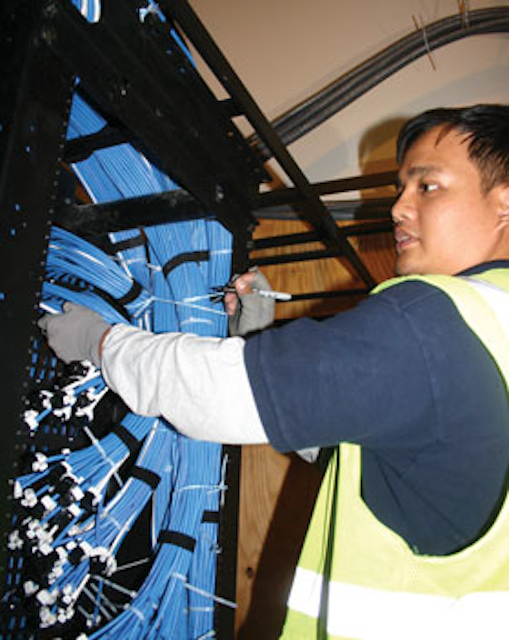 Irish Mira, installer with Vision Technologies, punched down Berk-Tek LANmark-1000 Category 6 cables to Leviton eXtreme Cat 6+ QuickPort connectors.
Due to the large footprint of each of the 10 main patient floors, from ground through 10 (excluding the 7th floor), there were two sets of IT and low-voltage rooms per floor to assure that no runs of twisted-pair copper distances exceeded the 100-meter limitation. "These telecom rooms were stacked and pretty much cookie-cutter design," notes John Murphy, project foreman for Vision Technologies. "Each of the 23 IT rooms on these floors consisted of three racks--one for data and voice terminations, one for physio monitoring and the third for active equipment and future expansion. The other adjacent and stacked 20 rooms for other low-voltage services are the same size and contain three racks for the equipment and are accessible to each separate service vendor."
The second floor houses the NICU and has the most varied services; as a result it has the most cable runs--a total of 2,000 drops. On that floor there are also two separate telecom rooms, but due to the unusual layout of the NICU, these were not stacked below the standard equipment rooms on the upper floors.
Critical cabling care
"We were faced with many different room types and workstation requirements at IWHICH and we tried to follow the general TIA outlet guidelines as well as using past experience in healthcare infrastructure planning," states Odell. "Prior to this, my biggest single healthcare project was planning and managing the IT network for the new Johns Hopkins Hospital in Baltimore, a 1.6-million-square-feet facility consisting of two 12-floor towers. It took five years from breaking ground through commissioning," he notes. "There were many cabling challenges in the planning and installation and during that time, I was part of the TIA healthcare standards subcommittee. TIA-1179 recognizes that the work areas in a healthcare environment are fundamentally different than work areas within a typical office facility. Part of that standard defines and differentiates workstation densities for 11 categories found in a healthcare environment, such as operating rooms as high-density, patient services as medium and waiting rooms as low, to name a few," he explains.
"Trying to follow the TIA outlet-density guidelines for the Johns Hopkins hospital indicated that an operating room would typically have more than 14 telecom connections. However, each wall in the operating room was a headwall and also contained booms with communications ports, which together quadrupled the outlet numbers," observes Odell. "Although there are fewer rooms at Inova and each room is specific to patient needs through one headwall, the number of ports in many areas surpasses those at Johns Hopkins," he adds. At IWHICH, a typical patient room has 8 drops, but NICU patient rooms have 14 drops, and NICU procedure rooms have 26, pediatric rooms have up to 22 and the ORs have 28. In total there are more than 13,000 horizontal drops of Category 6 cable.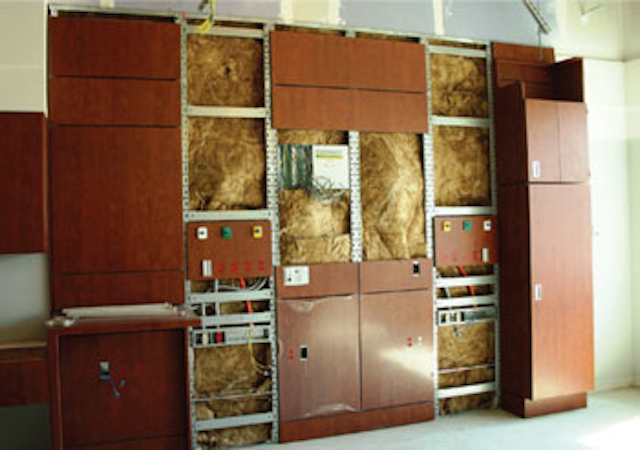 A typical headwall in an IWHICH patient room, with multiple cables for multiple systems.
"Inova selected the Berk-Tek Leviton Technologies cable and connectivity solution, which was selected through presentations by manufacturers, even though Inova was previously hard-spec'd with a specific cable and connectivity manufacturer," states Odell. "Burt Jackson from Capitol Network Solutions, and John Wright of Leviton brought in a lot of products and let Inova IT and the S2N team examine the hardware. It helped to facilitate some 'whiteboarding' of the install," he adds.
Even though the TIA healthcare standards recommend installing the highest-bandwidth UTP cable for new installations, which is Category 6A, Inova's internal specifications call for Category 6 copper cable as their horizontal cable to the devices. "We are still living in a one-gig world on top of dealing with very tight and crowded pathways, including booms and columns, so Category 6 was a better fit," states Odell.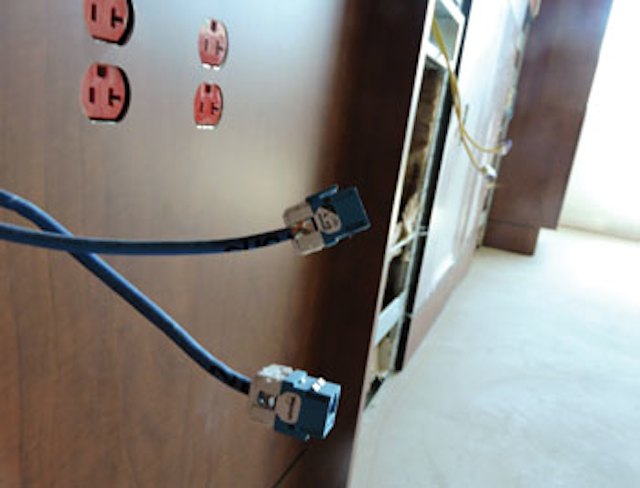 Two Berk-Tek LANmark-1000 Category 6 cables were terminated to Leviton eXtreme Cat 6+ QuickPort connectors at each data location.
The TIA healthcare standard recommends that the cable and corresponding ports be color-coded to differentiate between the applications. This makes moves, adds and changes much easier and quicker. Because specific colors are not identified in the standard, S2N specified a unique color coding for the following applications: white for voice, blue for data and patient TV, green and gray for nurse call/RTLS/paging, black for A/V, red for security, yellow for physio monitoring, yellow cable with purple jacks for fetal monitoring, and blue cable with gray jacks for a small portion of specialty data drops located in the NICU.
"We recommended an enhanced Category 6 cable, Berk-Tek's LANmark-1000, which exceeds the TIA-568 standards for Category 6 electrical performance," states Burt Jackson, principal of Capitol Network Solutions. "LANmark-1000 is recommended for healthcare environments, especially for running multiple IP applications as it is backed by third-party test results, and has undergone in-depth stress tests performed at the Nexans lab. Together with the Leviton connectivity, the channel performance also exceeds the IEEE documentation for 1000Base-T systems, and we are able to provide a limited lifetime warranty for the Berk-Tek Leviton CX6100 enhanced Category 6 end-to-end system."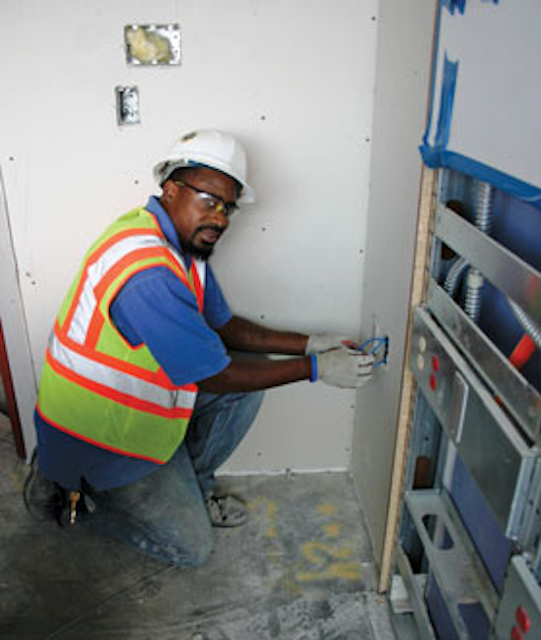 Vision Technologies installer Ron Wheeler pulls cable into the wall outlet in a patient room.
In previous Inova facilities, the voice and data connections in the telecom rooms were separated and terminated into 110 blocks. With this new configuration, all the Berk-Tek cable is connected with Leviton eXtreme Cat 6+ QuickPort connectors, which use a patented retention force technology that protects tines from damage and adds longevity to the connection. The connectors are loaded in Leviton 72-port high-density Cat 6+ QuickPort patch panels in the telecom rooms.
"When completed there will be more than 3 million feet of Category 6 cable, which converted into miles exceeds the distance from the Fairfax campus to Philadelphia," observes Murphy. "For this quantity of cable we would either request the cable on reels or multiple 1,000-foot boxes. However, we used Berk-Tek's new 1,500-foot box option, called SmartPAK, which makes great sense to me as it drastically cuts down cable scrap and there are fewer boxes on the jobsite," he adds. "With the typical 1,000-foot boxes, we usually end up with at least 30 feet of scrap per box. With SmartPAK there are more pulls per box and even if we end up with 30 feet of scrap per box, in total there would be less overall scrap, as it has 50-percent more cable per box. For a job this size, we are also looking at 500, 1,500-foot boxes on the jobsite versus 750 if we had ordered the 1,000-footers. In addition to cable-scrap savings, there is a lot of labor savings, especially transporting from the dock to the floors to pulls," Murphy adds.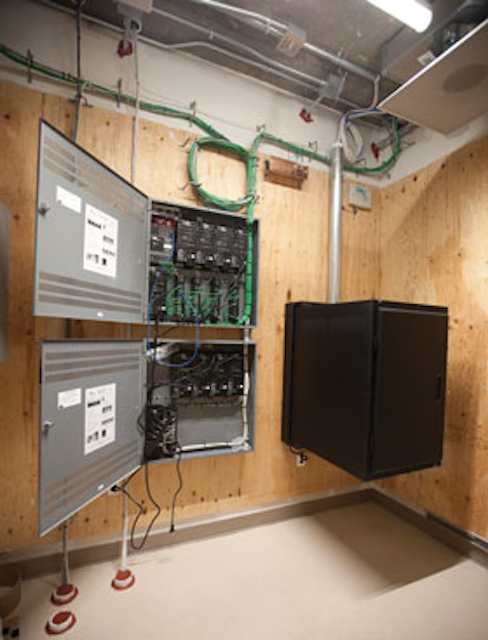 Low-voltage rooms in the North Tower contain many termination configurations depending on the specific applications, such as a master control panel and an A/V telecom enclosure pictured here.
Ron Wheeler, jobsite installer for Vision Technologies, adds, "The Berk-Tek 1,500-foot cable boxes are not much heavier than the 1,000-foot boxes and not much bigger, but it sure adds up to a lot less cardboard scrap as we are using a lot less boxes."
Good prognosis
"Right now there is a bevy of reconstruction and new construction happening on the Fairfax campus that extend to major upgrades of many other divisions such as their critical-care wing, cancer and research institute, security command center, and heart and vascular institute," states Odell. "In addition, there are also several other feasibility studies on other Inova campuses for future projects."
By 2016, Inova should be on time and on target with their mission to improve the health of the diverse and expansive communities that it serves with excellence in patient care, education and research through the completion of these upgrades. Their vision to reinvent hospital-based care increasing value to the patients should be realized with all the benefits of an updated network running multiple IP applications. "Through electronic records, IP convergence and by following established communications industry standards, infrastructure obsolescence and the adoption of dead-end technologies can be avoided. Simplicity and efficiency become the hallmarks of a more-sustainable infrastructure, resulting in overall lower costs of operation and administration. These are exciting benchmarks for Inova and the healthcare industry," notes Odell.
Carol Everett Oliver, RCDD/ESS, currently serves as BICSI's Northeast Region director. She has authored numerous articles and is a frequent presenter at industry events.
More CIM Articles
Archived CIM Issues