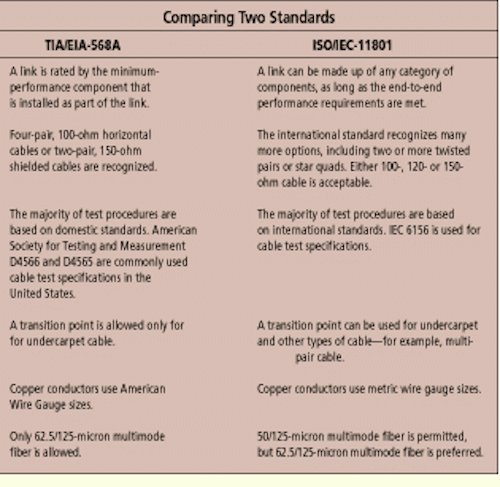 George Lawrence, AMP Inc.
Paul Kish, Northern Telecom
The 11801 standard of the International Organization for Standardization (ISO--Geneva, Switzerland) and the International Electrotechnical Commission (Geneva, Switzerland) covers generic cabling for customer premises and will soon be published as an international standard. The 568 telecommunications cabling standard for commercial buildings, issued by the American National Standards Institute (New York, NY), the Telecommunications Industry Association (Arlington, VA) and the Electronic Industries Association (Arlington, VA), along with its subsequent supporting technical systems bulletins, was used as a starting point in the early 1990s to develop this international document.
In the intervening years, the United States Technical Advisory Group has been instrumental in forwarding many technical contributions that have been incorporated into the final version of ISO/IEC-11801. It is vital that manufacturers, installers and end users have an in-depth understanding of both this document and the US standard from which it was derived. Although the two documents are intended for the same applications, the cabling industry should be aware of a number of important differences between them.
Users of these documents should note the following points:
- Cabling and connecting hardware that complies to TIA/EIA-568A will generally meet the international ISO/IEC-11801 standard requirements.
- Meeting the requirements of ISO/IEC-11801 does not imply compliance with TIA/EIA-568A, the revision of the original ANSI/EIA/ TIA-568 standard.
- The TIA/EIA-568A requirements are more restrictive than those in the international standard. For example, the US document does not permit all the cabling options that ISO/IEC-11801 does. A short link consisting of both Category 3 and Category 5 components may be classified as Class D, which is the equivalent of Category 5 using the international standard, but it would be classified as Category 3 using TIA/EIA-568A.
- The terminology in both documents is based upon commonly used local terms. What is known as a horizontal crossconnect in North America is referred to as a floor distributor in Europe.
Both documents contain valuable information for commercial premises cabling, and global suppliers, installers and network managers should be acquainted with their similarities and differences.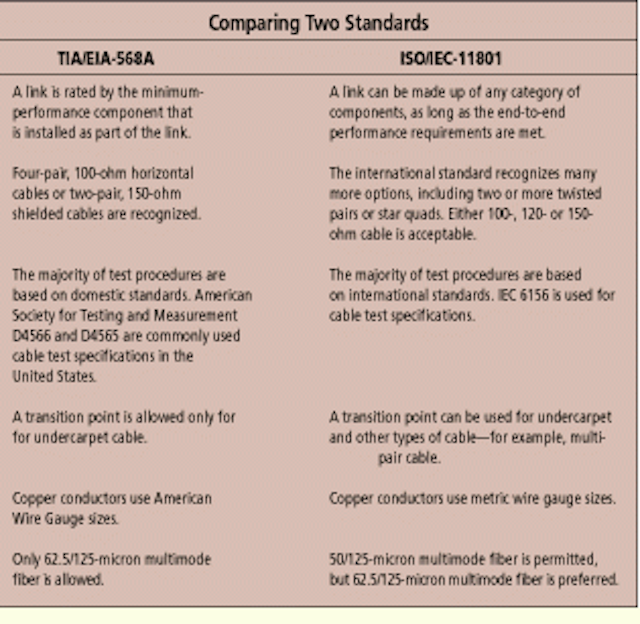 Click here to enlarge image
George Lawrence of AMP Inc. is chairman of the U.S. Technical Advisory Group for the ISO/IEC JTC1/SC25 Working Group 3, which formulated ISO/IEC-11801. Paul Kish of Northern Telecom is chairman of the TIA`s TR-41.8.1 ad hoc working group on telecommunications cabling for commercial buildings, which developed TIA/EIA-568A.