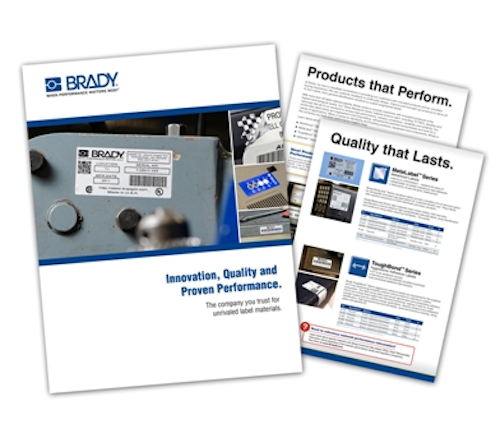 Seven new label brands from Brady "are geared toward applications where high performance, durability, industry compliance and adherence to specifications are requirements," the company says. The new lines include the company's most-popular materials, grouped by their performance features.
The new brands include the following.
WorkHorse harsh-environment labels
MetaLabel metalized labels
ToughBond aggressive adhesive labels
Defender tamper-evident labels
UltraTemp high-heat labels
CleanLife removable labels
VisAlert indicating labels
Along with the new brands, Brady has initiated a series of icons meant to visually inform customers of label materials' attributes. Chemical, abrasion, temperature and indicating features are among 13 different icons.
Dana Ray, marketing manager with Brady, says the new label brands "display the breadth and depth of label material offerings Brady has, so our customer can pick the right product. We determined that organizing these products into easy-to-shop brands would help create an unrivaled buying experience."