Five years after initial publication, revisions are underway for the TIA's data center cabling specification.
Jonathan Jew, J&M Consultants
ANSI/TIA-942, one of the Telecommunications Industry Association's (TIA; www.tiaonline.org) best-selling standards, is undergoing revision. All American National Standards Institute (ANSI; www.ansi.org) standards must be reaffirmed, withdrawn, or revised every five years. Since ANSI/TIA-942 was published in 2005, it was readily apparent that it needed to be revised. The revision to TIA-942 will be named TIA-942-A.
ANSI/TIA-942-A will be a Premises Standard (middle column) in TIA's new standard scheme. That means information that applies to multiple types of premises including data centers will be found in Common Standards (left column), while information specific to data centers will be found in 942-A.
New TIA cabling standards scheme
Because TIA-942 was published after the restructuring of the TIA-568 series cabling standards, TIA-942 needed to be modified to fit into the new TIA premises telecommunications cabling standards scheme. In this new scheme, common information that applies to multiple types of premises is in common standards, and information specific to a particular type of premises is in premises standards such as TIA-942. Component standards deal with the specification of components and are intended primarily for component manufacturers. This scheme is meant to improve ease of use, efficiency, and ensure consistency between standards.
Some of the changes that will be made in TIA-942-A to incorporate it into the new scheme include the following.
Reference the generic telecommunications cabling topology, terms, and environmental classifications described in TIA-568-C.0.
Move content regarding bonding and grounding into the draft TIA-607-B standard, which provides much more information regarding telecommunications grounding and bonding. Because bonding and grounding are important for all premises, it is appropriate for this content to be in a generic rather than a premises standard.
Remove content regarding labeling in computer rooms and instead refer to TIA-606-A Addendum 1, which was published in late 2008 and deals specifically with computer room and equipment room administration. Eventually, TIA-606-A will be superseded by TIA-606-B, which will incorporate the addendum and extend the concepts in TIA-606-A to administration outside computer rooms and equipment rooms.
Move content regarding racks and cabinets to the draft TIA-569-C standard (because cabinets and racks are used in all types of premises).
Replace power and telecommunications cabling separation distances with a reference to the more-detailed information being developed for TIA-569-C.
Move content regarding outside plant pathways to the draft TIA-758-B outside plant standard.
Incorporating TIA-942 addenda
TIA-942-A will incorporate the contents of two addenda to TIA-942.
In an early draft, TIA-942-A includes the addition of the intermediate distribution area (IDA) and intermediate crossconnect (IC) to serve the needs of larger data centers.
TIA-942-1 Data center coaxial cabling specifications and application distances. Addendum 1, published in 2008, provides additional specifications for coaxial cable connectors used for T-3, E-1, and E-3 circuits. It permits longer horizontal cabling from the main distribution area (MDA) for coaxial cable used for these circuits, and provides revised circuit distance guidelines for T-1, T-3, E-1, and E-3 circuits in data centers using the new component specifications.
TIA-942-2 Additional guidelines for data centers. Addendum 2, which was approved in late 2009 and should be available now, provides additional guidelines on a wide variety of subjects, the most important of which are revisions to improve energy efficiency. The addendum accomplished the following.
Specified a wider range of temperatures and humidity in data centers based on revised guidelines published in 2008 by the American Society of Heating, Refrigeration and Air Conditioning Engineers (ASHRAE; www.ashrae.org).
Specified a three-level lighting protocol to reduce energy usage.
Added Category 6A to supported media and specified it as the recommended media for balanced twisted-pair cable.
Added guidance to check with equipment manufacturers regarding radio sources (wireless LANs, cellular telephones, handheld radios, etc.) in computer rooms and entrance rooms.
Updated data center Tiering reference guide.
International standard influence
The recently approved ISO/IEC 24764 international data center telecommunications cabling standard will likely influence some of the changes that will be made in TIA-942-A because it is desirable to harmonize with international standards. The ISO/IEC standard may have an impact on several aspects of TIA-942-A, including terminology, maximum horizontal cabling lengths, cabling types, and connectors.
Terminology.The ISO/IEC 24764 standard, published by the International Organization for Standardization (ISO; www.iso.org) and the International Electrotechnical Commission (IEC; www.iec.ch), only deals with telecommunications cabling and is primarily based on the European data center cabling standard CENELEC EN 50173-5, which was published in 2007. Both the ISO/IEC and CENELEC (www.cenelec.eu) standards use terminology that is different from that found in TIA-942. For example, what TIA-942 calls the horizontal crossconnect (HC) located in the horizontal distribution area (HDA), the ISO/IEC and CENELEC standards call the zone distributor (ZD). Because ISO/IEC 24764 does not deal with spaces, there is no equivalent in that standard for spaces such as the MDA or HDA.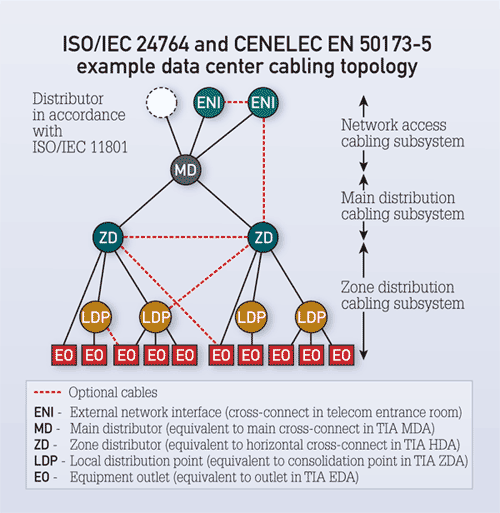 While harmonization between TIA and international standards is an ideal, one should not expect all the terminology used in the ISO/IEC 24764 and CENELEC EN 50173-5 standards to be included in TIA-942-A.
It is unlikely that TIA-942 terms will be changed to match the ISO/IEC terminology. However, it is expected that terms for parts of the infrastructure not named in TIA-942 will be adopted in TIA-942-A. Examples are the equipment outlet (EO) and external network interface (ENI).
Maximum horizontal cabling lengths. The ISO/IEC and CENELEC data center standards permit various maximum cabling lengths for zone distribution cabling (horizontal cabling) based on the type of cabling employed. Balanced-pair zone distribution cabling is limited to a maximum of 100 meters, but optical-fiber cabling lengths are only dependent on the channel-length restrictions for the cabled optical fiber category used (i.e., 300 meters for OF-300 channels, 500 meters for OF-500 channels, and 2,000 meters for OF-2,000 channels).
TIA-942 has only two exceptions to the normal rule that horizontal cabling is limited to 100 meters, as follows.
1. Up to 300-meter horizontal optical-fiber cabling originating from the MDA in data centers where no HDA is present.
2. Up to 300 meters horizontal 75-ohm coaxial cabling originating from the MDA.
TIA-942-A will probably remove horizontal cabling distance restrictions for optical fiber other than the application-dependent restrictions specified in TIA-568-C.0. Removing such restrictions will permit more flexibility in designing optical-fiber networks such as storage area networks.
Cabling. ISO/IEC 24764 specifies a minimum of Class EA (Category 6A) for all balanced-pair except network access cabling—cabling originating from the entrance room. TIA-942 permits the use of Category 3 through 6A for both backbone and horizontal cabling, but recommends Category 6A. TIA-942-A will probably eliminate the use of one or more of the lower Categories of cables for balanced twisted-pair horizontal cabling.
ISO/IEC 24764 specifies a minimum of OM3 (50/125-micron 850-nanometer laser-optimized multimode fiber) for all multimode optical fiber in data centers.
Connectors.Unlike TIA-942, which specifies no particular connectors, ISO/IEC 24764 specifies the following connectors. LC and MPO for multimode fiber at the EO and ENI; LC and MPO for singlemode fiber EO; Angled LC connector for singlemode fiber at the ENI
TIA will probably recommend but not require the use of LC and MPO connectors.
Other new content
TIA-942-A will include a new section on energy-efficient design, including recommendations regarding the design of telecommunications cabling, pathways, and spaces to improve energy efficiency. This content will be in addition to the energy-saving measures provided in TIA-942 Addendum 2.
To handle large data center topologies, TIA-942-A will add a new space named the intermediate distribution area (IDA), containing a new second-level backbone distributor named the intermediate crossconnect (IC). Practical experience has shown that very large data centers may require this second-level distributor. For example, a large data center could include several computer rooms, each of which could have one or more IDAs to act as central points of administration for the room. For an example data center using this setup, see the figure titled Draft TIA-942-A Example Data Center Topology.
The potential changes described in this article are being considered by TIA TR-42.1, the subcommittee responsible for TIA-942-A. Please note, though, that many of them may not make it into the final publication. Also, there will be other modifications to TIA-942 that I have not described here. Because we are at the beginning stages of the revision, it is difficult to tell what those modifications will be.
If all goes well, TIA-942-A could be published sometime in 2011.
Jonathan Jew is president of J&M Consultants (www.j-and-m.com).
More CIM Articles