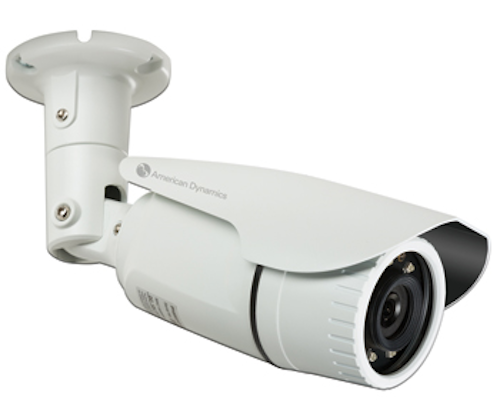 From the July, 2014 Issue of Cabling Installation & Maintenance Magazine
Illustra 610 Mini-Bullet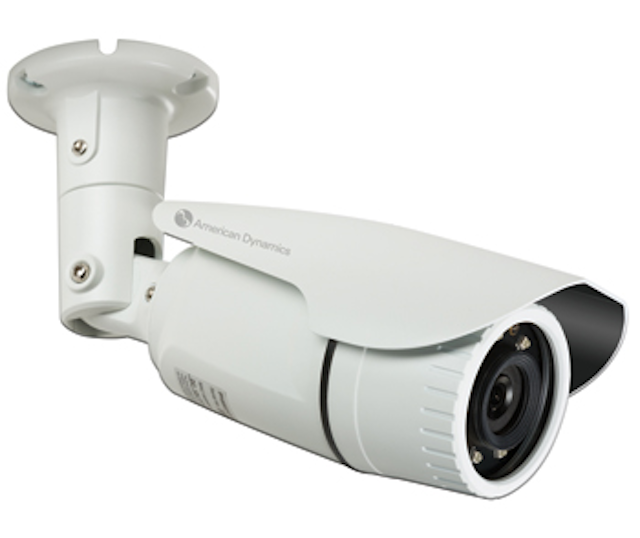 The Illustra 610 Compact IP Mini-Bullet camera from American Dynamics provides video quality with a small framework, its manufacturer says, making it appropriate for situations in which the camera needs to blend into the environment. With 1080p resolution for crisp, clear, high-definition video, the camera provides various viewing angles, including a horizontal view and a corridor mode to capture video in narrow hallways or other areas where the traditional landscape format will not do.
Using a built-in infrared light-emitting diode, the camera delivers video surveillance in a variety of lighting conditions. Its wide dynamic range minimizes the impact on surveillance video caused by glare and high-contrast scenes. Multiple streams of H.264 and MJPEG compression ensure excellent image clarity with controlled bandwidth use. The SD/SDHC card slot enables several days of recording to be stored on a memory card. The embedded motion-detection sensor sends alerts to an operator or an email to any address or handheld device.
American Dynamics
www.americandynamics.net
Baluns for IP-over-coax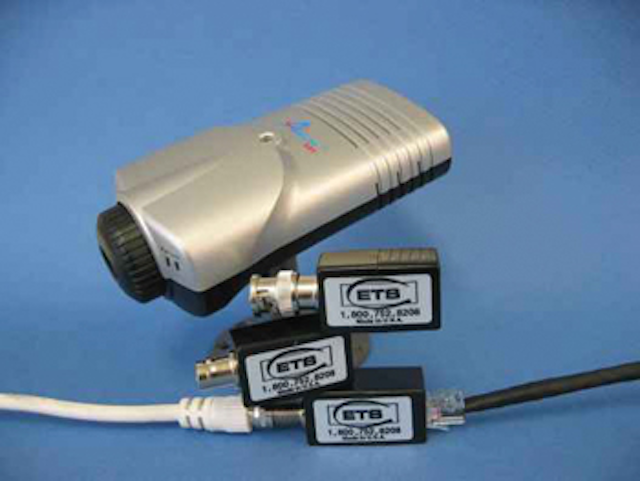 Energy Transformation Systems has expanded its line of baluns for IP-over-RG coaxial cabling installations. "Most legacy CCTV systems use 75-ohm RG59 coax, or similar types, so the EIP-XX series of baluns offers a low-cost and dependable method of using already-installed coax to connect IP cameras in a security system," the company says. "With impedance-matched ETS baluns, a single run of coax cable up to 150 meters replaced two-pair UTP and exceeds 802.3 10Base-T specifications with highly improved near-end crosstalk."
The company adds that typical facilities using legacy cable include airports, subways, banks, casinos, hospitals, schools, parking structures, museums, stores, malls and residences. The multiple configurations of baluns can accommodate specific IP-camera connectivity requirements, "substantially reducing the costs and complexity of system upgrades," ETS concludes.
Energy Transformation Systems
www.etslan.com
IP-over-coaxial transmitter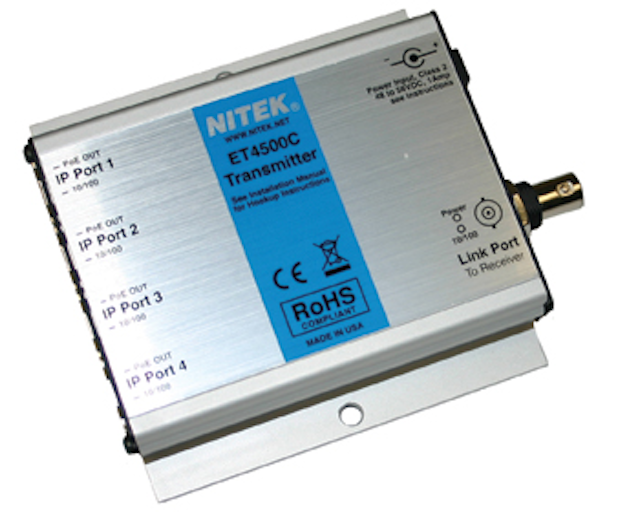 The ET4500C from Nitek is a four-port IP-over-coaxial transmitter with Power over Ethernet capability. Part of the Etherstretch product family, the ET4500C is capable of transmitting 100 Mbits/sec while supplying PoE to the connected edge devices, the company notes. "The ET4500C expands the capabilities and allows additional IP edge devices to use previously installed coaxial cable, which is perfect for migrating to a new IP camera system," the company says.
"In addition to being ONVIF-compliant, it has an extreme operating temperature that ensures the ET4500C is environmentally hardened-making it a perfect solution no matter where it needs to be deployed," Nitek adds. The ET4500C and other products in the Etherstretch product line are manufactured in adherence with ANSI/TIA guidelines, the IEEE's 802.3af and at specifications, as well as RoHS requirements.
Nitek
www.nitek.net
SNB-6010 discreet remote head camera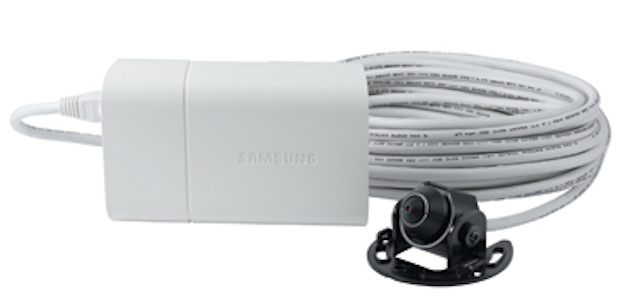 The SNB-6010 camera from Samsung Techwin is designed for automated teller machine (ATM) and retail applications, but the manufacturer points out it also is a highly effective solution for any video-surveillance project in which a small-sized camera is required, including covert surveillance applications. Samsung Techwin points out the camera's processing unit houses its digital-signal-processing chipset and Ethernet connection, and is supplied as a separate unit that can be installed in a secure location to prevent would-be attackers from gaining access to the video stored on an SD card.
The SNB-6010 can capture 1920x1080 images in real-time when the lighting level is as low as 0.05 Lux, the company points out. Its wide dynamic-range feature, with performance greater than 120 dB, enables the SNB-6010 to accurately produce images in scenes that simultaneously contain very bright and very dark areas, Samsung Techwin says. Its multi-crop feature enables users to highlight and crop areas of interest so the camera sends only the images within that area at a preferred resolution and frame rate.
Samsung Techwin
www.samsungsecurity.com
IK-WR14A 2-megapixel dome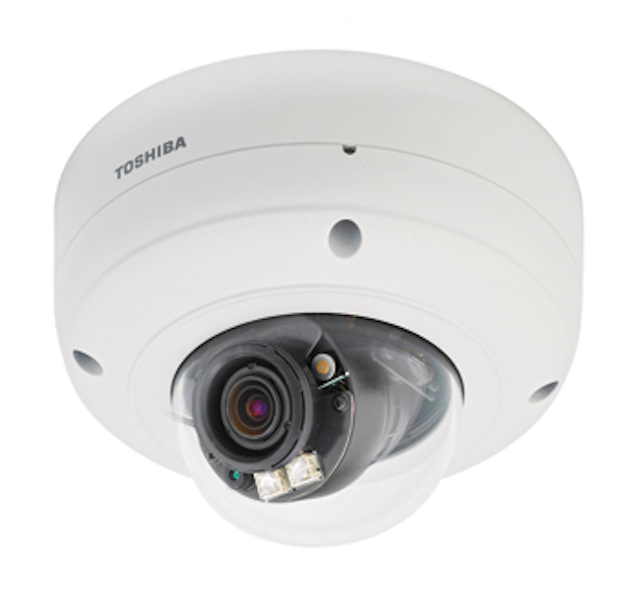 Toshiba's IK-WR14A, a 2-megapixel IP network dome camera, reduces upfront installation time by up to 50 percent by incorporating a remote optical zoom, one-touch remote focus, and a cable-management system based on Power over Ethernet, the manufacturer says. Once installed, the camera captures 1080p full HD resolution video at 30 frames-per-second in outdoor as well as indoor lighting conditions.
Explaining the camera's ability to cut down installation time, Toshiba explains, "Upfront installation time of an IP video camera can take 30 minutes or longer, with the most time-consuming, labor-intensive task being the initial focusing of the optical lens. On standard IP cameras, two technicians are required-one to physically adjust the lens to a different position in a trial-and-error fashion, and another to view the results on a remote monitor. The IK-WR14A features a unique remote optical zoom and one-touch auto focus system that permits the lens-focusing process to be completed remotely on a laptop computer by a single technician."
Toshiba
www.toshibasecurity.com