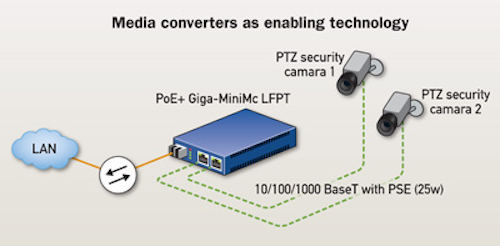 From the April, 2014 Issue of Cabling Installation & Maintenance Magazine
In many cases, media-conversion technology can play an important role in successful deployment.
By Susan Stanley, B&B Electronics
Internet Protocol (IP) cameras and video-surveillance equipment have proven invaluable in the security industry, and they've begun to appear just about everywhere. Whether they're installed in universities, shopping malls, sports arenas or residential neighborhoods, IP cameras have proven their worth again and again. A single person viewing a bank of monitors can replace a small army of roving watchmen, dramatically cutting security costs. But IP cameras can only do their jobs if there's a way to get their data where it needs to go, and there are numerous challenges that must be overcome, which I list and describe here.
Range--Copper Ethernet cable has a range limitation of 100 meters. That's adequate in the home or small office, but it's rarely enough for a security system. IP cameras may need to be installed anywhere from parking garages to pipelines. Copper Ethernet cable won't do the job.
Environmental concerns--Many IP cameras will need to perform in harsh temperatures. To control costs, reduce truck rolls, and meet the need for uptime, their Ethernet connections must be rugged and resilient enough to do the job well outside of the safe, climate-controlled information technology (IT) closet. Many cameras will require associated heaters, increasing the need for power at the installation site.
Bandwidth--All IP cameras require a lot of bandwidth. Even simple systems call for 100 Mbits/sec. High-definition cameras require even more. There is an increasing demand for flexible solutions that assign IP addresses to individual cameras, allowing for direct management and monitoring of each camera location using software-based management systems.
Remote management--The more complex the network becomes, the greater the need for centrally located remote monitoring, management and testing tools like Simple Network Management Protocol (SNMP), Remote Network Monitoring (RMON1), and Operations, Administration and Management (OAM).
Single-box solutions--An IP camera is just one node on the network, and modern networks may include any mix of copper, wireless and fiber. This calls for media conversion at interfaces between all of the different systems. To keep things manageable, it's useful to deploy single-box, multiport devices that can provide multiple conversions for cabling and connected devices. This simplifies network topologies, saves space and reduces the number of possible failure points.
Power--Network topologies may require that cameras function in locations that lack a nearby power source.
The fiber-optic solution
Fiber-optic cabling systems can address several of the challenges outlined above, and also provide other benefits to an IP-surveillance deployment.
Range--Copper Ethernet's 100-meter range is dwarfed by fiber's capabilities. Multimode fiber provides ranges of up to 2 kilometers. Singlemode cable can cover 100 km. With its long range and massive bandwidth, fiber can connect an IP camera virtually anywhere.
Single-box solutions--Traditional Layer 2/3 fiber switches like those from Cisco or Juniper provide SNMP, RMON1 and OAM, But there are intelligent, multiport fiber media converters (like B&B Electronics' IE-iMcV-MultiWay, applications of which are described later) that can also provide the necessary troubleshooting capabilities, which makes them a cost-effective alternative.
Provisioning power with PoE--IP cameras are typically installed in inconvenient locations. You'll see them on top of light poles, for example. They'll need a power supply and, as many IP cameras will also have a copper interface, they'll need media conversion as well. Power over Ethernet (PoE) fiber equipment can make the necessary media conversion while using the copper Ethernet connection to provide PoE power to the connected device.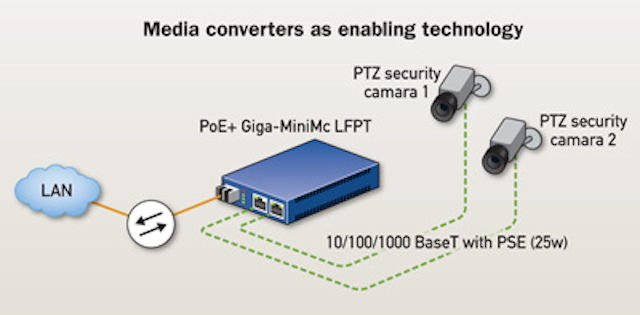 Depicted here in an application, B&B Electronics' Giga-MiniMc media converter is an unmanaged PoE+ device with two 10/100/1000 copper ports and one SFP fiber port. The SFP fiber port allows the user to make an installation future-ready, easily facilitating a migration from 100 Mbits/sec to 1 Gbit/sec. Multiport Gigabit PoE switches can eliminate the need for a more-expensive device at the central office or customer-premises equipment.
PoE technology lets power sourcing equipment (PSE) devices inject power over an existing copper wire (Category 5e cable or better) concurrently with the Ethernet data stream. It will power IP surveillance cameras, as well as Voice over IP phones, that lack a nearby power outlet. The 802.3af and 802.3at standards for Power over Ethernet ensure compatibility and functionality among equipment vendors. PoE will provide up to 15.4W of power to a device, and PoE+ will support up to 25.5W. This works because a copper RJ45 cable has four wire pairs; two support the data stream and the other two are available for PoE. A PoE copper port's ability to carry power will not impact or reduce the efficacy of the data stream.
By combining fiber, PoE and capable media converters, there's no reason you can't put your IP cameras anywhere you need them to go.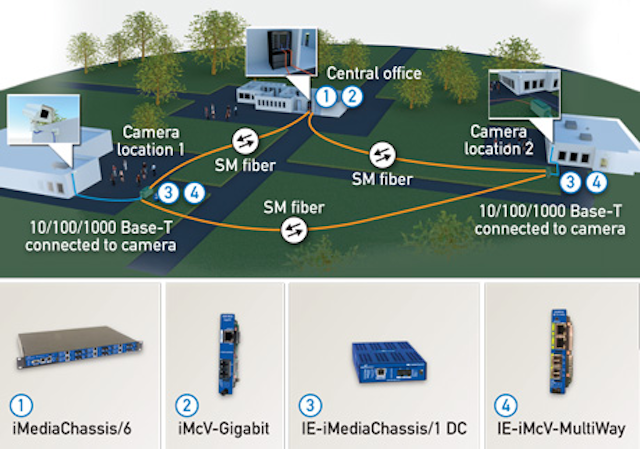 A city in Brazil deployed media converters as part of a video-surveillance upgrade within its transportation department. At each camera location, the department installed a four-port IE-iMcV-MultiWay converter. An extended-temperature, DC-powered chassis that (along with the media converter) was housed in a NEMA enclosure made the installation even more rugged.
The two case studies I will now describe are examples of how media-conversion technology has enabled successful deployment of IP surveillance systems in challenging environments
City transportation department
A transportation department in Brazil wanted to upgrade its system with IP video surveillance cameras. The cameras would be placed in outdoor locations, which would expose them to weather and temperature extremes. The central headquarters would need to monitor and manage the cameras at ranges of up to 30 kilometers, and the communications would need to be highly secure.
The city had already installed fiber-optic infrastructure. This existing fiber could provide the cameras with long-range Ethernet connections, but the data from the copper Ethernet ports on the cameras would have to be converted for fiber-optic transmission. At the other end of the connection, the central office used chassis-based media-converter infrastructure. So the transportation department preferred a chassis-installable, DC-power solution.
The transportation department installed Gigabit copper-to-fiber media converters in an existing six-slot chassis. This connected two central office services to the fiber-optic network.
At each of the camera locations the department installed a four-port, IE-iMcV-MultiWay converter with SNMP and rugged temperature specs. To make the installation even more rugged, they used an extended-temperature, DC-powered chassis, and housed the chassis and converter in a NEMA enclosure at the base of the pole that elevated the camera. A copper line connected the IP camera at the top of the pole to the IE-iMcV-MultiWay in the NEMA enclosure at the bottom. The IE-iMcV-MultiWay converted the data for transmission to the central office via the fiber-optic infrastructure.
GbE converters connect, power toy manufacturer
When a successful European toy manufacturer outgrew its facilities, it built a brand new campus that included new office, manufacturing and warehouse space. As copper Ethernet cable has a range limitation of about 100 meters, the manufacturer used multimode fiber to network the three new buildings. Multimode fiber not only provided the necessary range, but also added immunity to electromagnetic interference (EMI), speeds of up to 1 Gbit/sec, and high security. As the facility received daily visits from toy-sales representatives and other outsiders, security was an important consideration.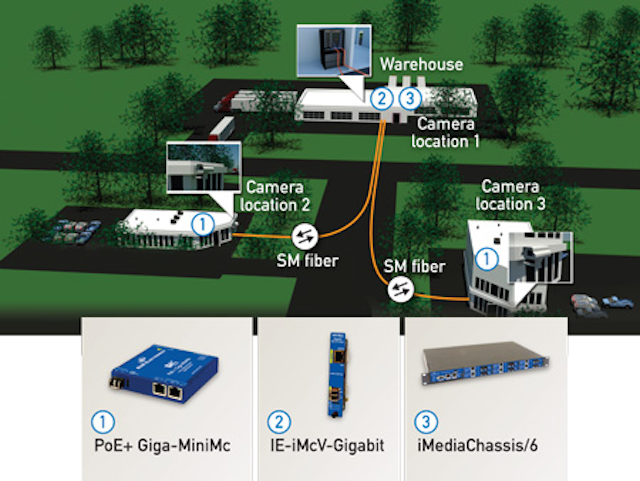 A toy manufacturer in Europe took advantage of media converters when expanding its facilities to include separate manufacturing, office and warehouse space. Establishing 24/7 video surveillance for the entire campus was a priority, and was made practical by the media-conversion technology deployed.
The owner also wanted to establish 24/7 video surveillance for the campus. But the outdoor IP cameras had 100-Mbit/sec copper interfaces, and the campus network infrastructure used fiber. Additionally, most of the IP cameras would need to be installed in locations that were a long way from any power outlets.
Standard copper-to-fiber media converters could convert the signals from IP cameras, but they would not solve the power problem. And because the cameras would be outdoors, the company needed equipment with extended temperature specifications and the ability to observe and report faults on remote copper and fiber connections.
The manufacturer chose B&B Electronics' PoE+ Giga-MiniMc with a diagnostic feature called Link Fault Pass Through (LFPT). The compact converter includes two 10/100/1000-Mbit/sec PoE copper ports and an SFP (Small Form Pluggable) fiber port. While concurrently supporting the Ethernet data stream, each of the Ethernet ports also can inject power (up to 25W) to the remotely connected IP cameras. To prevent damage to connected equipment, the converter will only provide as much power as the equipment actually draws. That eliminated the need to run dedicated power lines out to the camera locations.
The SFP fiber ports support 100 Mbits/sec or 1000 Mbits/sec, which makes the installation future-ready. The factory only requires 100-Mbit/sec connectivity to meet its current needs. But if, at a later date, they wish to upgrade the system to Gigabit, the PoE+ Giga-MiniMc with LFPT easily transitions from multimode to singlemode fiber. The hot-swappable SFP transceiver is the only component that would need to be changed.
Technology features
The PoE+ Giga-MiniMc with LFPT Gigabit converter includes LEDs for the copper ports, indicating link/activity and duplex transmission. The LEDs adjacent to the SFP fiber port indicate power, link, speed and fault. The terminal block on the back of the device supports DC power, and an external AC adapter is also included with the product. The converter is built for extreme temperature ranges of 0 to 70 degrees C. As an unmanaged device, the converter is easy to install.
There are three DIP switches--one for LFPT on each of the copper ports, and one for PoE reset. LFPT is a troubleshooting feature that combines TX (copper) and FX (fiber) LinkLoss. The PoE Reset DIP switch enalbes the converter to turn off the copper port's output power if the link state is lost on the fiber segment. These features alert a network manager when faults occur, and provide the ability to reset remote devices from the central office.
Susan Stanley is training manager with B&B Electronics (www.bb-elec.com).
More CIM Articles
Archived CIM Issues