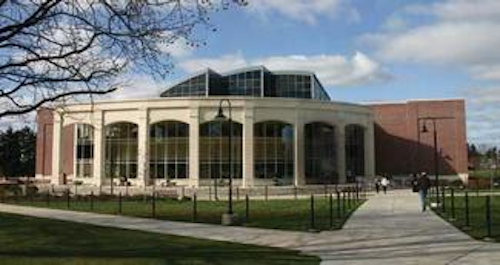 At this Pennsylvania university, anything that can be put on a network is up for consideration.
Kutztown University is a public university with a personal feel," states Mitch Freed, assistant vice president of Information Technology Services at the Pennsylvania school. "Anything and everything that can be put over the network is being looked at by Kutztown University."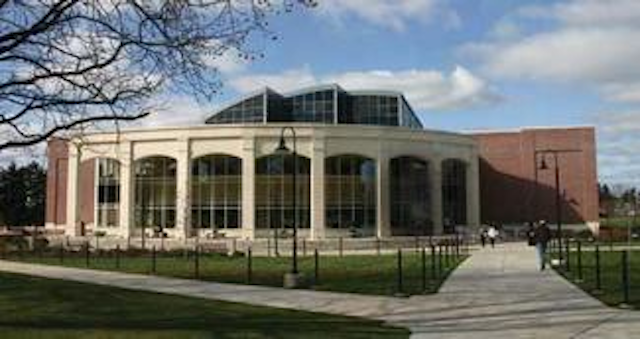 The Academic Forum building at Kutztown State University is designed with the most advanced IT services, with all data, voice and video and building automation systems running over a common network through a fiber-optic backbone.
Click here to enlarge image
Explains Kevin Schukraft, manager of network technology, "We call it the 'i' concept, as we are trying to introduce the 'i' for Internet Protocol (IP) so that within the next five years, many current stand-alone applications will be IP-based and attached to the network." As a result, on-going construction and re-construction includes constantly updating the university's IP offerings and upgrading network services. This includes all data, voice, access control, security cameras, point-of-sale at the dining hall, laundry facilities, and building automation services being managed through one main network.
Of the 14 universities that make up the Pennsylvania State System of Higher Education (PASSHE), Kutztown University is one of the largest and most technologically advanced campuses. When school is in session, the student population of more than 10,000 doubles the number of residents in the town of Kutztown. The university is comprised of five colleges— Visual and Performing Arts, Business, Education, Liberal Arts and Sciences, and Graduate Studies—and is accredited by numerous state and national agencies for its academic programs, athletics, and advanced services.
In the last two years, Kutztown has added two new buildings within their 325 acres—the Academic Forum building, which combines student services and lecture rooms, and most recently, the expansive F. Eugene Dixon Residence Hall. These two facilities were designed with the most advanced IT services—all data, voice and video and building automation systems—running over a common network through a fiber-optic backbone, with horizontal cabling from Berk-Tek, a Nexans Company. Installing a reliable structured cabling solution today assures that any IP-addressable network device can be added in the future. The enhanced Category 6 structured cabling solutions for voice and data are warranted as a NetClear GT3 solution from Berk-Tek and Ortronics/Legrand, which guarantees reliability through 25 years.
Lessons in pre-planning
Dixon Hall, a residential hall for more than 800 students, was the largest state-funded capital project within PASSHE. This six-story facility is a triangular "C" shape with three angled wings. The expansive building layout and the requirement for numerous ports for access to the IP services (data, voice, video, security, access control, vending machines, laundry, etc.) impacted the network design. To maintain the horizontal cable distance limitation of 100 meters for Ethernet over UTP, the cabling infrastructure required three stacked TRs per floor (one per wing per floor). The MDF was located in Dixon Hall's basement, with homeruns of fiber to all the TRs for the backbone.
"With a project of this scope, we wanted to make sure that before the foundation was even poured, that all trades got together with IT and facilities to agree on the layout and location of IP services," states Schukraft.
Once the drawings were finalized, the cabling installation project went out for bid to the electrical contractor. "Because our cabling standard is Berk-Tek and connectivity from Ortronics/Legrand, we require that the cable installers must be OASIS-certified from Berk-Tek or CIP-certified through the NetClear warranty from both Berk-Tek and Ortronics/Legrand," adds Schukraft. West Side-Hammer Electric (Bethlehem, PA) Communications was selected as the electrical contractor, who selected Connect-tek (goconnect.com) as the cable installer.
Ceiling challenges
"This was a fully engineered job," states Luke Cunningham, president of West Side-Hammer Electric. "We held coordination meetings with all the trades, and the university made sure that everyone understood their role in this project. We needed to make sure that every cable had its space and clear pathway, especially since the ceilings were very tight and contained a lot of systems and cabling for all the services."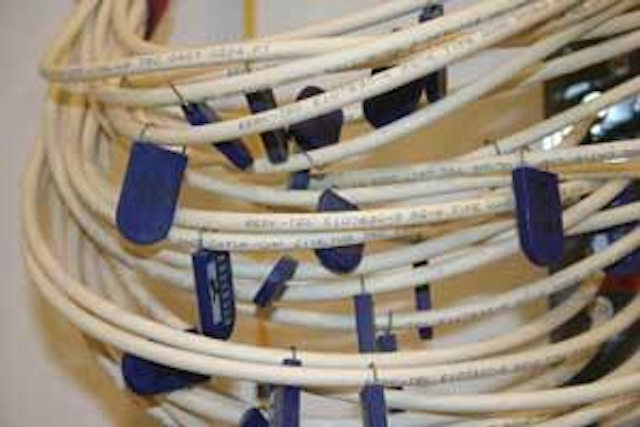 Berk-Tek's RG-6 plenum quad-shielded coax was installed for CATV and CCTV. In the TR, the coax termination is located on a wall panel, separated from voice and data but connected over the same fiber backbone.
Click here to enlarge image
Cunningham adds, "Because of all the pre-planning, it was a well-coordinated job, and that is what made everything go smoothly. We spent a lot of time up front to make sure that everybody knew where everything was going, by whom, and when. And once it was on paper, it was golden."
The student rooms are different sizes and layouts—from single rooms to four-person suites, so the cabling requirements are different following the room style. "Although with a structured cabling layout, I could interchange voice and data cabling on the ports and patch panels, I prefer to keep my voice cabling separate," says Randy Moyer, Connect-tek project manager for the cabling installation. "People are used to losing data connections, but once someone loses their voice, it is not acceptable."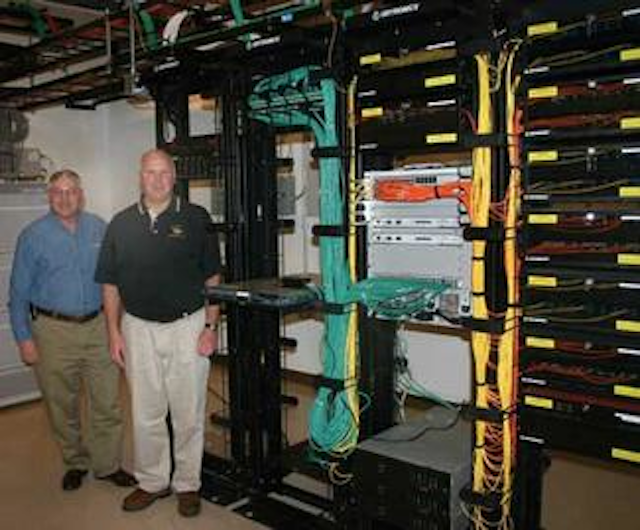 Randy Moyer (l) project manager for installer Connect-tek, and Kevin Schukraft, manager of network technology at Kutztown State University, have helped bring the latest IP technologies to the dorms, classrooms, and even laundry rooms of the Pennsylvania campus.
Click here to enlarge image
Connect-tek installed Berk-Tek's LANmark-6 cable (white) for voice and LANmark-2000 enhanced Category 6 (green) for data. In addition, they added emergency locators outside of the residence hall and eventually throughout the campus. Two of Berk-Tek's LANmark-6 OSP (outside plant) data cable runs were made to these emergency call boxes, which are also connected to the network.
"We have been specifying Berk-Tek for over 15 years—first with the LANmark-350 Category 5e, then migrating to LANmark-1000 Category 6—and for the past two years, we've selected LANmark-2000, which is an above-the standards enhanced Category 6, as our network standard," explains Schukraft. "The Berk-Tek products are consistently reliable and there hasn't been an issue as long as it is installed properly, which makes the NetClear warranty through certified and trained installers so critical."
To each room and common area location, the LANmark-2000 plenum cable ran through the raised ceilings down the hallways, and conduit ran from the hallways down through the walls and terminated to Ortronics TracJack double-gang boxes with eight TracJack Category 6 ports. Even though only two cables were run to each location, the additional ports allow for future cabling services. In the common areas, additional cable runs terminate in the outlets to allow multiple users.
For video, Connect-tek installed Berk-Tek's RG-6 plenum quad-shielded coax cable with Ortronics TracJack F-connectors to each "headboard" and common areas for CATV, in addition to the security cameras.
In each TR, the data and voice cabling is terminated to Ortronics Clarity6 48-port Category 6 patch panels. All the passive (patch panels) and active equipment are housed on two Ortronics' Mighty Mo 6 cable management racks with vertical and horizontal cable managers to keep the cabling neat and organized. Multiple lengths of patch cords were ordered to minimize the cable slack. In the TRs and MDFs, it is customary for spare cables to be looped in the racks or left hanging on walls. But, because neatness matters, Connect-tek traversed cable in the cable tray to provide extra cable when it is needed while keeping the cable off the walls. The racks also have ample room for future services and terminations in the TR.
Each closet is connected to the MDF with a fiber-optic backbone. Berk-Tek's 24-strand premise distribution fiber-optic cable, including 12 multimode and 12 singlemode fibers, provides 10 Gigabits to each TR. At present, only four strands of each are being used, allowing eight strands (four of each) for future-proofing.
The coax cable is terminated separately to a wall panel for the video feed, while the backbone for the video runs over the fiber optic cable between TRs.
The MDF contains four Mighty Mo 6 cable racks to house all of the termination and active equipment, and is designed to provide ample room for expansion.
"The only major change to the original architect's drawings was in the location of the racks in the MDF," says Moyer. "The original design had them close to the air ducts and right below the water lines, and it was a simple change to move them away from the wall and into the middle of the room."
Centralized cabling
"IP has drastically changed the face of the network," states Schukraft. "It is very important to have an efficient monitoring system in place." Anything and everything that has an IP address is connected to a Nagios (www.nagios.org) network monitoring system. Through the Nagios software, instant insight into network devices allows IT to fix problems before the users know that they even exist.
"Nagios basically 'sees' all the electronics through the switches, and if there is a problem, we receive notification via e-mail, pager, or cell phone, which allows us to respond immediately and remotely," Schukraft adds.
Each IP device is connected to a control box, which is usually segmented by device and application type. For example, the access control boxes serve only the access control devices; laundry room card swipe boxes are designed for that sole purpose. This is known as a "one card system," where all the devices are accessible by the same card but programmed for different functions.
All Ethernet cable (enhanced Category 6) runs from the control boxes to the switches in each IDF, which is connected through a patch cord to the Nagios server terminal. Each IDF is connected to the MDF, and each MDF is tied into the data center in the administration office, which tracks and records all transactions.
For video, such as CCTV, analog cameras are terminated to DVRs, which are also tied to the network. The software in the DVR allows remote access to the monitor stations.
Continuing education
The Academic Forum building, which includes large classrooms and lecture halls with advanced network-based A/V capabilities and POS services in a dining area, was the first new facility at Kutztown University to incorporate total networked services. Following the Academic Forum construction, Dixon Residence Hall expanded the use of IP device technology and proved to be a model for campus-wide IP convergence. The success in completing the project on time was due to the pre-planning, led by the IT department with the outside services and "best practices" during the cabling installation.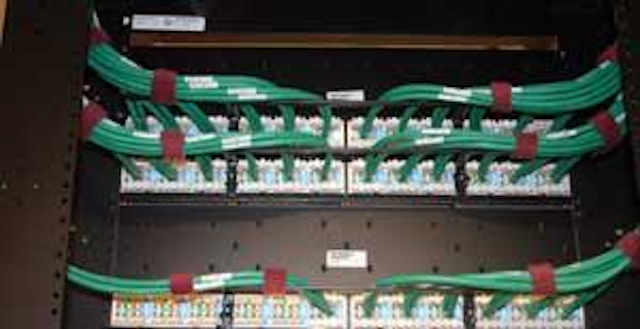 In the TRs in Dixon Hall, Berk-Tek LANmark-200 enhanced Category 6 cable for data services was terminated to Ortronics Clarity6 48-port patch panels. Multiple lengths of patch cords were used to minimize the cable stack.
Click here to enlarge image
"Dixon Residence Hall set the bar high for IP applications over the network, and will be a model for implementing all facilities for Kutztown University," says Freed. "And, we pride ourselves in selecting and working with highly-qualified vendors who become an extension of our staff to make this possible. We are currently studying the feasibility of recabling the older buildings to be sure that we can incorporate additional network devices while assuring at least 1 Gbit to each workstation outlet for efficient and reliable IP-based communication."
CAROL EVERETT OLIVER, RCDD, is marketing analyst at Berk-Tek, a Nexans Co. (www.berktek.com).