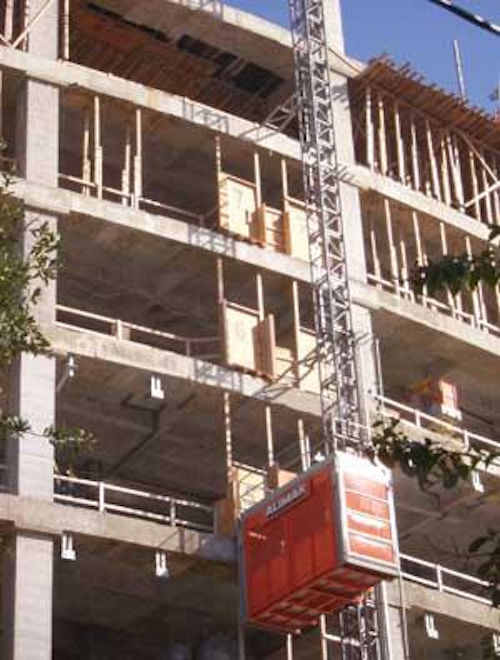 The TIA committee drafting a standard for cabling hospital and health care environments will tackle many issues, including pathways and spaces.
A task group within the Telecommunications Industry Association's (TIA; www.tiaonline.org) TR-42.1 Commercial Building Cabling Subcommittee is nearly ready to turn over a document of specifications for cabling health care environments, including hospitals. The document ultimately will become the Healthcare Facility Telecommunications Infrastructure standard, and by the time it is published will be the culmination of years of research and effort.
The Health Care Task Group's beginnings date back to 2003, "when the first requests for a standard on health care facilities filtered into TR-42.1," recalls Herb V. Congdon II, PE, market manager with Tyco Electronics' AMP Netconnect (www.ampnetconnect.com), who chairs the task group and is chief editor of the document. "After some cursory market surveys, the subcommittee concluded it was a worthwhile project and launched a task group."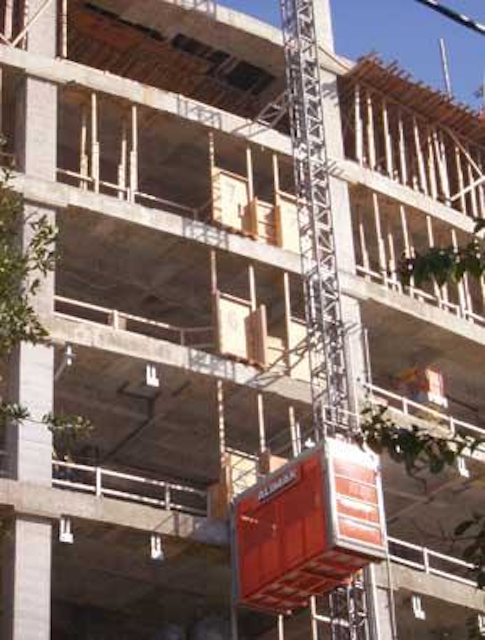 When designing a health care facility, it's more about building enough pathway space from the get-go instead of adding later.
Click here to enlarge image
Congdon explains that at just about the same time, TR-42.1 began work on the TIA/EIA-568-C series of standards. Because the simultaneous development of that series and a health care facilities standard could result in duplication of effort, the Health Care Task Group remained inactive until 568-C.0 was published. Late last year, the task group was reactivated to begin work on a new standard, which will be based on the 568-C.0 foundation.
New standard in-process
Since reactivating, the group has conducted research and drafted the working document. "The task group is entering a second cycle of internal review of the document," Congdon says. "Either at the end of this second review, or perhaps after a third, the task group will turn the document over to the full subcommittee," Congdon says.
In keeping with TIA's standards-creation procedure, the task group will request to be disbanded after turning over the document. Once the TR-42.1 subcommittee assumes ownership, the official ballot process begins. As this article was going to press, the TR-42.1 subcommittee was planning to meet as a group this month, and again in November; Congdon expected the transition from task group to subcommittee would take place during one of those meetings.
"With luck," he states, "the standard may be finished in the middle of next year and further demonstrate the value of using the 568-C.0 document as a foundation for new standards."
Task group member Mark Maloney of the firm Ehvert Engineering (www.ehvert.com) notes the industry involvement that has guided the process to this point: "The task group is not made up just of manufacturers, telecommunications consultants, and cable-plant designers. We have been fortunate to have health care end-user community participation from both the United States and Canada. I think their insights, and support of what the group as a whole is trying to do, will aid in the acceptance of the published standard."
IP affecting design
Members of the task group, in their official research for this standard as well as in carrying out their professional duties for years, encountered several overriding themes that affect the design and installation of cabling systems in health care environments. One is the current and future migration of communications applications to Internet Protocol (IP), and the corresponding need for structured cabling systems to support those applications now and in the future. In fact, that reality is evident to many cabling professionals who spend time and effort supporting health care environments, regardless of whether they participate in the standards-creation process.
"Unifying on IP as a standard for every device in a hospital holds great potential for futureproofing the environment," says Roger Jette, president of Snake Tray (www.snaketray.com). He cites patient rooms as an example: "IP-addressable patient-telemetry devices and other devices that are connected to patients are now part of the network. In addition to medical tubes and hoses being hooked up to patients in a hospital, they now have network cables connected as well."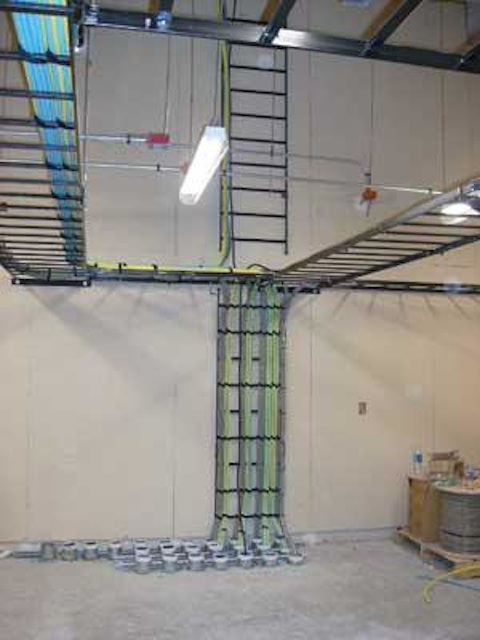 Health care facilities present some of the most complicated pathway and spaces issues, including designing for live voltage, and traditional and non-traditional HVAC systems, as well a specialized equipment.
Click here to enlarge image
Simon Cowley, technical director, North American sales for CommScope (www.commscope.com), cites All Children's Hospital in St. Petersburg, FL–a recent new-construction project that used CommScope cabling systems–as an example of current IP-based communications devices as well as those yet to come. "All Children's can be considered a converged building in that way," he says. "They have IP phones and cameras, which carry many benefits but also require to plan out the cabling for those applications."
One new IP application being used at the facility is an alert alarm management system, which incorporates personal communications devices to caregivers, enabling users to respond through the use of remote handheld Voice over IP devices.
"Overall, the medical environment is very fertile ground for converged messaging and intelligence," Cowley says. "I attended a recent health care summit, at which this convergence theme resonated with CIOs. Many of these environments have 20 to 25 low-voltage systems. Not all those applications are ready to go IP yet, but in future years, as those systems drive toward IP, I see that type of convergence only accelerating."
IT and the construction process
Brian Wilhide, a CommScope account manager who handled the All Children's project, recalls the facility's willingness to embrace IP-based systems. "When we first got their attention, we talked about an intelligent building," he says, explaining that the hospital's staff was enthusiastic enough about the idea that "the CIO walked out of the room and called the developer." All Children's Hospital found itself in the situation that many do–having brought IT and specifically cabling considerations into the process too late to make such a significant move. "All Children's was too far down the road in the building process" to be constructed as an intelligent building, Wilhide states.
AMP Netconnect's Congdon recognizes the common challenge of getting IT systems into building specifications early in the process, and says the forthcoming health care environment cabling standard is an attempt to help accomplish that feat: "We're trying to help network designers deal with architects. We have to give those designers some justification for when they explain how the architect must carve out a certain amount of room to work within. One benefit of the standard is that it will help in that way," by including recommended dimensions for telecommunications rooms.
Congdon adds, "Every square foot you take out of those buildings is a square foot you're not making revenue from," so, justification will be necessary for IT professionals to have the telecom-room space they will need–immediately or eventually–to manage the applications for which they will be responsible.
Pathways and spaces
Planning the pathways and spaces for health care facilities has proven to be a significant task in everyday cabling system design and installation, as well as in the creation of the document that will become the TIA standard.
SnakeTray's Jette states, "The spaces to get through in a hospital probably are the most complicated in the world. Besides traditional live voltage, you have traditional and non-traditional HVAC systems. Some patients are in negative-pressure areas; other areas will receive medical air, nitrogen, and oxygen. We are dealing with a tremendous volume of specialized gear, and hospitals are probably where it is most important to design designated pathways into the facility. They must be engineered into the building from the very start."
Jette recalls a hospital new-construction project on Long Island in which "the architects compressed the building height, which amplified all these issues and caused us to manufacture specialized trays to fit into the spaces that nobody had originally planned to have." He suggests that by gazing just a little bit into the future, hospitals may be among the first facilities to engage in three-dimensional building design "to create an engineered building that can have all these services coexisting without conflict."
Although the health care standard will come from the TIA's TR-42.1 group, titled the Commercial Building Cabling Subcommittee, the significant differences between health care environments and commercial building environments adds to the challenges the task group has faced to this point. For one, health care facilities–and hospitals in particular–are long-term structures that stay in place for decades once occupied. From a practical cabling standpoint, this affects the planning of pathways and spaces.
Ehvert's Maloney comments, "From my perspective, the real benefit of this document will be to have an industry-voted-upon standard that supports the struggles that consultants, cable plant designers, and end users have–namely, that's getting people to think 25 to 30 years out and, as such, providing pathways and spaces that seem oversized today but will most certainly be needed 10 to 15 years out, not to mention 20 to 25 years from now. Wireless is becoming further entrenched in health care facilities, but that does not mitigate the need for cabling and associated pathways and spaces."
Congdon further explains differences between a traditional office environment and that of a health care facility. In an office-oriented environment, the workspaces may be different and include cubicles, walled offices, and conference rooms. But those different spaces all have similar types of equipment in them and have similar requirements of the cabling drops.
Clarifying definitions
"When we start looking at health care facilities–not just hospitals, but all facilities–one of the biggest challenges was identifying so-called equivalents to work areas," he reflects. "If I go to a hospital in one city and ask to be shown a patient room, I may see a place where a patient waits to talk to a doctor. In a different hospital in a different city, what they call the patient room may be closer to an operating room. It has been difficult to find a clear definition of what a patient room is."
The task group ultimately came up with nine categories of room type; for example, "diagnostic and treatment" and "caregiver facilities." Those nine categories are further broken down into categories of workspace; in all, the group came up with more than 50 individual room types.
"We don't get into trying to define all these types," Congdon explains. "First, it's not our area of expertise. And second, if we defined it one way, other facilities would call these areas something different. There are a wide variety of rooms," in a health care environment, he stresses.
The task group divided the dozens of room types according to the concentration of communications outlets they would require. "For example, a reading room or waiting room might need a low concentration," says Congdon. "Once you get to a pharmacy or procedure room, you'll likely need a higher concentration."
The document recommends 2 to 6 outlets for a low-concentration room, 6 to 14 outlets in a medium-concentration room, and 14 or more outlets in a high-concentration room. "If you have 14 or more outlets in a room, they don't all need to go into a single faceplate," Congdon says. "On one wall, you may have outlets for nurse call and other communications. On another wall may be a TV input, perhaps video. Additionally, in an area such as an operating room, outlets may be in the ceiling so cables do not drape across the floor."
Having a number of rooms with such high concentrations of communications outlets, added to the notion that in the future more communications systems will be IP-based, underscores the need for adequate space in the telecommunications rooms through which these cabling systems will route. It also makes an argument for cabling a facility up front for its future needs.
Building for the future
Congdon concludes, "In a health care facility, it's more about building enough pathway space from the get-go, as opposed to building enough to add later. Moves, adds, and changes are very tricky in health care facilities. Infection-control restrictions force you to make a lot of considerations before you punch a hole through a wall or poke up a ceiling tile in an emergency room. Pathways and spaces is an issue we have talked about in the task group, and the discussion has been along the lines of sizing the facility up for what you're going to need eventually."
The standard for health care facilities is currently in draft 0.1, not having yet officially reached the TR-42.1 subcommittee level. By the time it does, it will have undergone scrutiny from professionals who recommend, design, install, and use structured cabling systems in these environments. As such, those involved fully expect it to serve as an essential planning tool for the construction of these facilities.
---
PATRICK McLAUGHLIN is chief editor of Cabling Installation & Maintenance.
---
More Cable Installation & Maintenance Issue Articles