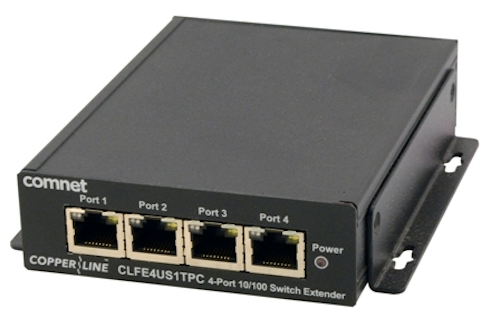 The CLFE4US1TPC Ethernet switch from ComNet Communication Networks combines four 10/100Base-TX signals and transports them as far as 1,500 meters over coaxial cabling or 900 meters over twisted-pair cabling. It is designed for applications in which existing coaxial or twisted-pair copper media is in place and an upgrade from analog to IP-based video transmission is necessary.
ComNet's president and chief operating officer Andrew Acquarulo Jr. explained, "As more and more facilities are making the transition from analog to IP video, there already exists a large installed base of copper media, be it coaxial cable or twisted-pair wiring. This product allows that existing infrastructure to be utilized. We introduced this product to give our customers a significant cost-saving benefit. The CLFE4US1TPC allows a fourfold increase in IP camera deployment without increasing the required transmission media. This represents measurable savings versus the cost of new media and labor."
ComNet's vice president of marketing Frank Haight says the introduction of this switch, the first in its CopperLine product portfolio, "ComNet continues to recognize the requirements of the market and develop unique solutions to meet those needs. Although ComNet was founded with a core competency focused on fiber-optic transmission, we're evolving the company to be a single source for all types of transmission through different media. Our research identified extended-distance Ethernet-over-copper as a great solution for renovation and system upgrades that were making the transition from analog to IP. CopperLine was developed to fulfill that need."