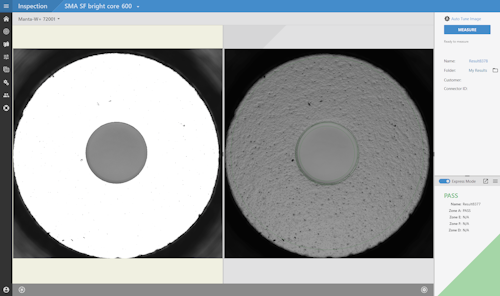 Sumix
Sumix Corporation announced the introduction of Huber+Suhner's trademarked ODC® and Q-ODC® inspection tips for its award winning Sumix Manta-W+ fiber microscope. Huber+Suhner has also introduced Sumix test adapters for its own laboratory and field inspection needs. The new adapter tips are also available for any companies implementing equipment with the new Huber+Suhner interfaces. 
The Huber+Suhner Q-ODC and ODC outdoor connectors are waterproof, dust proof, corrosion resistant and RoHs compliant for reliable connection in harsh environments. Sumix has developed adapters for both plug and socket (male and female) sides of ODC-2, ODC-4, Q-ODC-2, and Q-ODC-12 type connectors.
Adapters are compatible with the Sumix Manta-W+ and Manta+ microscope probes. "The entire ferrule and the individual fibers are visible at a glance, which makes our work much easier", said Jonas Hanimann, process engineer at  Huber+Suhner. "Manta-W+ sets the focus automatically, hence this solution saves us a lot of time and increases our throughput."
The Sumix Manta-W+ is billed as a revolutionary solution for multi-fiber testing. Per Sumix, "With its wide field of view, Manta-W+ is the only probe on the market capable of inspecting 6 rows of 12 or 16 fiber terminations of an MPO connector in a single scan. Along with Multi-fiber Push On connections, the microscope also supports all standard connector types including LC, SC, SMA, E2000, AVIM, Mini-AVIM, and many more, both patch cord and bulkhead side, with an extensive selection of interchangeable tips available.
Sumix' industry standard platform of fiber scopes also includes SMX-Manta, SMX-Manta+, and Scopio series, which can be used for network maintenance, labs and manufacturing.
"We are always ready for the latest technological challenges of industry leaders like  Huber+Suhner," comments Farhad Towfiq, Sumix President. "Sumix team delivers the high-quality solutions our customers need with short development cycles. The rapid deployment of 5G and other needs are pushing the technology envelope faster than ever."