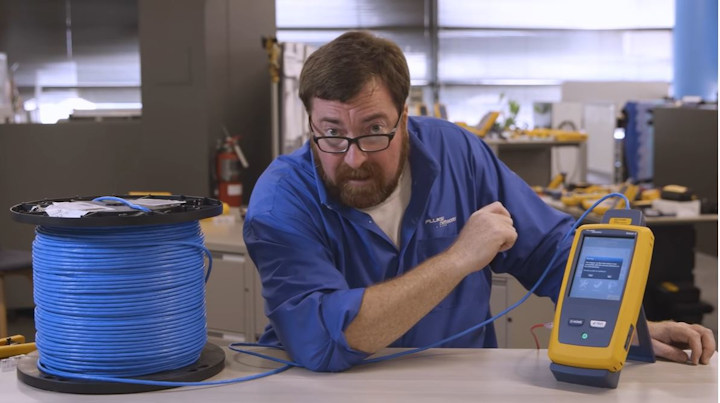 Fluke Networks recently released firmware Version 6.2 for its DSX-5000 and DSX-8000 certification kits and in doing so, provided users with the capability to conduct single-ended testing on a spool of twisted-pair cable. Such testing can provide assurance to an installer that the spool or reel of cabling they're about to install meets electrical-performance standards.
Jim Davis, regional marketing engineer with Fluke Networks, demonstrates this new capability in a four-and-a-half minute video (view below). He walks the viewer step-by-step through the tester's menu to get to the appropriate test limit. After an explanation of the adapter commonly used by cable manufacturers to analyze the cable spools they produce, Davis explains why the use of that adapter is likely to be impractical for a cable installer to use, then describes what they can use to conduct a similar test of a cable spool.
While explaining the process, Davis comments that the DSX from Fluke Networks is "kind of a purpose-built VNA [vector network analyzer] just for four-pair cable."
Firmware Version 6.2 for the DSX-5000 and DSX-8000 is available free of charge from Fluke Networks' website.