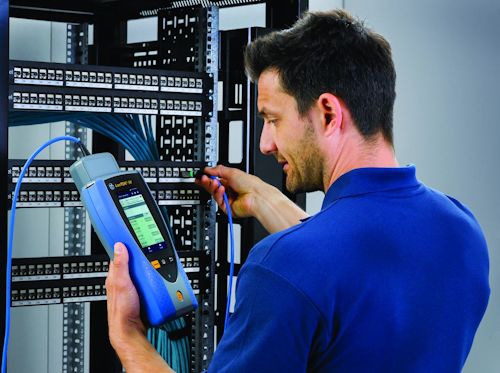 Ideal Networks
By Patrick McLaughlin
Recent technological developments within the landscape of local area network (LAN) cable test equipment indicate a few trends within the industry, which have prompted providers of this test equipment to enhance existing products or launch new products to better equip their users for the installations they are likely to encounter regularly. This article will focus on two of those trends in particular—the ability to confirm that an installed cabling system successfully supports the flow of live traffic at given data rates, and the ability to assure an installed system possesses the electrical-performance characteristics to support remote powering through Power over Ethernet. Several recent technology introductions exemplify these trends.
AEM recently added network connectivity testing to its TestPro Multifunction Cable Tester. When announcing these capabilities in September, AEM explained, "Useful for moves/adds/changes and troubleshooting, TestPro will connect to a live network either through the platform's built-in 10/100/1000 network interface, or through the integrated WiFi interface. Once TestPro is connected, the auto-discovery feature displays connected devices on the network. Ping any other device on the local network or the internet to determine connectivity and latency."
The company points out these capabilities are available on all newly shipped TestPro CV100 units, and existing CV100 users can acquire them through a firmware upgrade at no cost.
The unit's WiFi connection capability uses autodiscovery to display all detected service set identifiers (SSIDs) and each one's associated received signal strength indicator (RSSI). "This is useful in determining if the WiFi network to which a customer is trying to connect has sufficient signal to a specific location," AEM says. The capability enables users to determine WiFi dead zones, connect to any SSID using the network's credentials, and use ping to verify point-to-point connectivity, or internet connectivity, by selecting predefined or custom URLs.
The new Base-T Ethernet connection capability in TestPro lets users display a list of IP addresses for connected devices, select an IP address to view device details and other information, view LAN details, and use ping in the same manner the WiFi connection capability does.
"This new capability does not require any modules," noted Lisa Schwartz, AEM's director of product marketing and channels. The unit contains an RJ45 port on its side, which is used for the wired-connectivity capability. "A WiFi antenna always has been built into TestPro," Schwartz added, "but we had not previously exposed its functionality.
"With the influx of more and more IoT [Internet of Things] devices, there can be a need for some more in-depth analysis during MACs or troubleshooting," she said. "To that end, we have built out this functionality to allow a broader set of users to accomplish that analysis."
Qualifying 'tent cities'
Other test-equipment providers also have developed technologies that confirm a cabling system's capabilities not just by testing specific electrical-performance parameters, but also by putting live data onto it. Softing's NetXpert XG is an example. "With a next-generation qualifier, installers can label and autotest hundreds of cables per project at bit error rate test [BERT] up to 10 Gbits/sec with complete reporting," says Deane Horn, Softing's director of product management and marketing. "We call it cable project qualification, and it's a powerful testing solution to complement cable project certification.
"Network channel topology is changing rapidly," Horn continues. "It used to look like highways or plumbing, with main lines connecting various branchings. Today's networks are more like tent cities, with smart cameras, smart access, smart lighting, wireless access points, and low-voltage devices popping up everywhere and running on the same cables as voice and video. This stuff is getting cheaper all the time, and even small buildings will look like this after their next upgrade."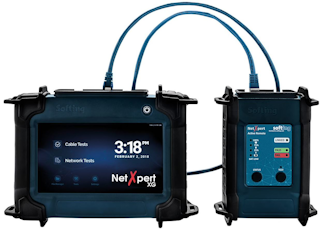 Softing's NetXpert XG cable project qualifier was developed to address the rapidly changing face of network channel topologies.Softing
These "tent-city" style connections require more than simple continuity testing, but do not require all the tests required for certification to specific cabling standards. "This is the cable qualifying space," Horn says. "Qualification is very thorough, but much simpler to accomplish than certification. Technicians connect a cable to the local and remote units, and click through to autotest and labeling function, then move on to the next cable."
Certification plus
He adds that since launching the NetXpert XG, Softing has found that "many networks previously certified to run at 1 Gbit/sec were actually able to run at much higher speeds. This demonstrates another difference between certifying and qualifying, and why both are important. With 10G qualifying, it becomes possible to know ahead of time if newer topologies calling for fewer patch cords and higher-speed switches and access points can achieve higher network speeds without replacing permanent links."
In light of the continuing importance of certification, in July Ideal Networks introduced the LanTEK IV certification system for copper and fiber cabling. "Engineers and technicians can conduct and save a Cat 6A test within 7 seconds," the company said when introducing the tester. "The tester's enhanced functionality certifies links up to Cat 8, including TCL [transverse conversion loss] and resistance unbalance, and will sweep to 3000 MHz."
The company also pointed out the test system's VisiLINQ permanent link adapter that it says "allows users to initiate testing and view the results without even needing to hold the certifier. The RJ45 tip on the VisiLINQ permanent link modules are also field-replaceable to reduce the cost of ownership."
LanTEK IV also connects to WiFi as well as to the Ideal AnyWare cloud test management system. "With enhanced connectivity, LanTEK IV also makes live support possible," said Tim Widdershoven, Ideal Networks' marketing director. "Colleagues, cable manufacturers and our technical support team can all connect to LanTEK IV remotely, helping to increase collaboration, minimize troubleshooting time and reduce callbacks."
Addressing PoE
A reality for many of today's twisted-pair copper cabling systems is that user organizations expect these systems to support remote powering, via PoE, as well as signal transmission. The TCL and resistance unbalance that Ideal referenced are among the electrical-performance parameters that determine success or failure for PoE support.
AEM points out that its TestPro CV100 has, since its introduction, had the ability to test PoE-specific performance parameters through the use of an adapter. And Softing explains its NetXpert XG serves as a troubleshooter of active PoE networks. The company says the tester's PoE toolset capabilities include "load tests for voltage drop to verify stability of PoE supplies, identification of the devices connected to the network, and detection of availability of critical devices such as IP cameras, wireless access points, and network routers."
Some other companies have released standalone PoE-specific testers.
Ideal Networks, for example, offers the PoE Pro. Widdershoven says it "eliminates trial and error when installing or troubleshooting PoE systems. Installers can now accurately measure the maximum power available to PoE devices in any installation. Previously technicians had to understand all the various standards, device power outputs and cable lengths to be sure the [powered] device will operate successfully. There was a lot of guesswork involved.
"With the PoE Pro, users can see whether 75 watts of power is provided to a device that needs 75 watts of power, such as a remote point-of-sale kiosk or a digital flight status sign at an airport. The pass-fail indication provides peace of mind the PoE device will work first time, every time."
He added that if the PoE test fails at the device location, the technician can measure available power directly from the switch or injector to determine whether the problem lies with the power supply or cabling. "It's easy to define if there is a problem with the cable, switch or device, saving loads of time. Users can quickly rule out whether they are getting enough power from the switch, and they can see which pairs have power, indicating if the power is coming from a midspan injector or a PoE switch."
Fluke Networks offers the MicroScanner PoE, a tester that the company says speeds the installation and troubleshooting of PoE devices, including those supporting the IEEE 802.3bt standard. "The tester, which can verify and troubleshoot Ethernet cabling, displays a simple indication of the class of power available as reported by the switch in accordance with Ethernet Alliance designations," the company said when introducing the product. "This information indicates if sufficient power is available for the device in question."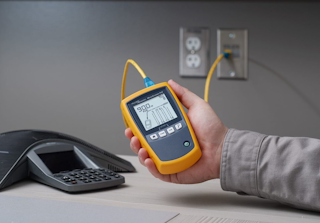 MicroScanner PoE from Fluke Networks verifies and troubleshoots Ethernet cabling, and displays a simple indication of the class of power available, including the classes defined in the IEEE 802.3bt standard.Fluke Networks
Fluke Networks explained, "PoE provides substantial cost, efficiency and flexibility benefits, sparking an explosion of powered devices such as cameras, access points, and displays, along with switches to support them."
Unfortunately, until the term "Power over Ethernet" was included in the 802.3bt standard, neither it nor the abbreviation "PoE" were defined in any standard. As a result, a powering device did not need to comply with any standard in order to bill itself as a PoE device.
The Ethernet Alliance launched a certification program to end confusion surrounding PoE compliance and interoperability. Numbers from 0 to 8 indicate the amount, or class, of power sourced or required. During installation, a technician must ensure the class number of the source is equal to or greater than the class number of the powered device. Fluke Networks observed, "When connected to a PoE switch, the MicroScanner PoE will display the maximum power class indicated by the switch, making it easy for the tech to know if the switch and device are compatible.
"The MicroScanner PoE also provides a complete set of tools for the technician installing PoE and non-PoE devices," the company continued. "Cable wiremapping, a built-in toner, and distance-to-fault indicators can track down cabling problems quickly. When connected to a live switch port, the unit displays the speed of the port up to 10 Gbits/sec—especially useful for troubleshooting slow access points. Cable identifiers can be used to track which cable goes where."
The company emphasized that ensuring quality installation of a PoE network is a three-step process. 1) Designers should use Ethernet Alliance PoE certification to ensure their selected equipment will work together. 2) The cabling installation should be certified to meet not only the category cabling requirements, but also the resistance measurements that are critical to PoE. 3) Technicians should be outfitted with tools such as the MicroScanner PoE so they can ensure they're properly connected to devices that can supply the necessary power.
As an installer or technician working in built environments as well as newly constructed cabling systems, you may find yourself needing more test capabilities than ever. If you need a capability you can't yet find from a tester on the market, chances are it's under development and will be available before much longer.
Patrick McLaughlin is our chief editor.