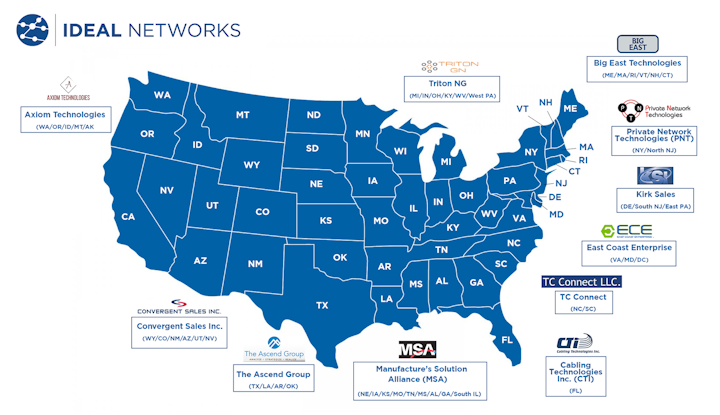 Ideal Networks
Ideal Networks announced that it has appointed four new manufacturer rep agencies in the U.S. to provide local support to data cable and network testing equipment customers.
The new rep agencies are as follows:
-- Axion Technologies has been appointed to cover Washington, Oregon, Idaho, Montana and Alaska.
-- Big East Technologies, Inc. will serve Maine, Massachusetts, Rhode Island, Vermont, New Hampshire and Connecticut.
-- Convergent Sales Inc. will cover Wyoming, Colorado, Arizona, New Mexico, Utah, and Nevada.
-- East Coast Enterprise will handle Virginia, Maryland and Washington DC.
The announcement brings the number of manufacturer's rep agencies providing coverage to Ideal Networks' customers across the U.S. to 11, helping to best meet the needs of channel partners, installers and technicians across North America.
"We are pleased to have strong representation from all of our rep agency partners and are dedicated to continuing to bring our industry expertise to end users through extensive local coverage," commented Jim Hunter, Ideal Networks' vice president of sales for North America. "We have a well-established portfolio of products, a strong innovation pipeline and a dedicated U.S. facility – all of which ensures that those who choose IDEAL Networks benefit from unrivalled service, support and solutions."
The network test equipment manufacturer's appointment of seven new rep agencies was previously announced in August 2019. Those agencies are: Cabling Technologies Inc., Manufacturers Solution Alliance (Nebraska, Iowa, Kansas, Missouri, Tennessee, Mississippi, Alabama and Georgia), The Ascend Group (Texas, Oklahoma, Arkansas and Louisiana), TC Connect (North and South Carolina), Private Network Technologies (New York and Northern New Jersey), Kirk Sales Inc. (Southern New Jersey, Eastern Pennsylvania and Delaware) and Triton GN (Michigan, Indiana, Ohio, Kentucky, West Virginia, Western Pennsylvania).
From network transmission testers to in-line troubleshooters, through its rep agency partners, Ideal Networks provides a wide range of innovative testers to help network technicians and cable installers to improve their accuracy, productivity and profitability. The company recently launched its LanTEK IV, a copper and fiber cable certifier which it says provides "a unique way to certify up to Cat 8 media, providing faster test times and bringing a new standard to the industry."
For more information, visit www.idealnetworks.net.