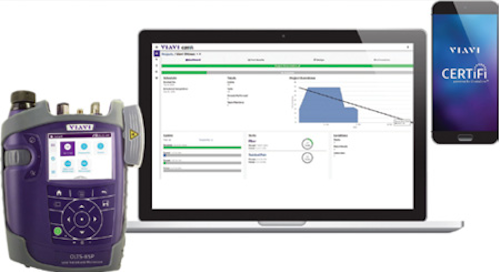 Testing platforms have come a long way from the days of hitting autotest an
d moving on.
Not too many years ago a cabling tester was just that—a device that tested an installed cabling system to specific performance parameters and reported whether or not the infrastructure met those specifications. What happened with those results, and with the rest of the cabling project, was basically disassociated from the tester's functions. In many cases the most significant convenience throughout the process was that an instrument included an "autotest" button that required just one push to conduct the full suite of prescribed measurements. Test results could be saved to a memory card so those results could be sent to a home office or elsewhere without the tester having to go with them.
Today, for several suppliers the tester is the central instrument in a platform of software- and web-based capabilities that are project- or business-­management assets.
Built upon the StrataSync platform, Viavi Solutions' CertiFi is a cloud-based solution that enables alignment among team members throughout a project—from creating design requirements and assigning tasks to performing tests and analyzing project metrics in real time.
StrataSync and CertiFi
One such platform is StrataSync, which was introduced by then-JDSU (now Viavi Solutions) in early 2013. At the time of its introduction, the company explained that StrataSync "provides network operators with an agile and centralized way to manage and analyze data from thousands of deployed … test instruments directly from the cloud. StrataSync will help network operators manage and optimize their networks in a more efficient and cost-effective way, empower their technicians with real-time data, and help to improve customer service."
The platform's four primary offerings are updates and options (e.g. firmware upgrades, instrument options), asset and configuration management (user-defined configuration templates, monitoring capabilities), test-data management (common repository), and workflow/compliance reporting (job tracking and pass/fail reporting).
Viavi Solutions has built several capabilities using the StrataSync platform, including CertiFi, which the company describes as "a cloud-based solution for teams who design, build, test, and certify the structured cabling in enterprise networks." Again, there are four main management capabilities: design, assign, test, analyze. Here's how Viavi Solutions describes each.
Design—Design and manage multiple projects within a web-based interface; define all test requirements, acceptance criteria, and labeling requirements; use prepopulated vendor specifications or custom specs; add attachments including drawings, maps, photos, scope-of-work documents, or AuotCAD files



Assign—Assign projects to consultants, field technicians, subcontractors or others; download the mobile app; push assignment notifications to crew members' mobile devices using the app.



Test—Preload test instruments with tasks and required test criteria; add notes, pictures, and/or videos; auto-sync the results to the cloud through the mobile device that deployed the task.



Analyze—Provide site leads with real-time test results and project statuses on mobile devices; view progress dashboards and test results from the CertiFi web interface; provide immediate feedback to field technicians throughout the project.


"Project managers can leverage the web interface to access CertiFi project dashboards," Viavi Solutions pointed out, "allowing them to view real-time progress of all their projects—whether they are in draft, active or archived—in the field with dashboard summaries, test results, and other details that allow them to analyze project objectives and metrics including project schedules, key dates, project burnout chart, cables and test totals, all team members, progress tables, and test locations.
"This ensures sufficient team management across multiple projects, flexibility in adapting to changes, accuracy in supporting designs and testing, and the ability to meet or beat deadlines. This reduces downtime, errors, the need for additional or delayed communications with different project teams," Viavi Solutions added.
LinkWare Live
Since fall 2014, Fluke Networks has offered LinkWare Live to users of its Versiv tester family. Through LinkWare Live, users can upload, manage, and analyze certification test results from cabling projects "anywhere, anytime" the company emphasizes. In early 2017 the company reported that in excess of 5 million test results had been uploaded to the cloud via LinkWare Live. In a blog post commemorating the milestone, Fluke Networks' marketing manager Mark Mullins stated that more than 300,000 test results were being uploaded monthly. He added that the 5-million-result milestone "is a significant demonstration that more and more of our users are embracing cloud services and connected technologies to transform the way their companies and employees work and do business."
The upload rate has continued to increase; in October the company said the number of uploaded results had exceeded 8 million.
The DSX-8000 is part of Fluke Networks' Versiv family of testers. Every product in the Versiv family is equipped with LinkWare Live, which saves cabling contractors from wasted time and effort managing test results. Fluke Networks recently introduced the LinkWare Live Affiliates program and opened its platform to developers.
Since launching LinkWare Live, Fluke Networks has emphasized the platform's ability to reduce or eliminate time and effort being wasted by cabling installers. A survey of more than 1,000 contractors discovered that 83 percent had one or more test-results-management issue in the previous month, and that on average, contractors spent more than 15 hours per month dealing with test-results issues—including the hours required to get the results back to the office for analysis and reporting.
"Collecting certification test results is a significant challenge because they [traditionally] are stored in testers that frequently move from one job site to another," Fluke Networks noted in 2014. "These job sites can be hundreds of miles away from one another, as well as from headquarters. Accidentally erased or failed memory cards can negate several days' worth of work, leading to costly truck rolls, lowered profit margins and delayed payment.
"By uploading test results to LinkWare Live, project managers can save trips solely to collect results, prevent data loss and continuously track project progress," the company added. "LinkWare Live automatically organizes test results by job, eliminating the painstaking task of manually compiling results from multiple testers."
The company has refined and improved the platform since its introduction, including the addition of device tracking and management capabilities in early 2016. The device-management capability enables users to keep track of their testers, and confirm the status of device software and calibration from a single screen.
Affiliates program
In October 2017 Fluke Network announced the LinkWare Live Affiliates program; in doing so it invited companies and developers to create services and products integrated with the LinkWare Live platform. Three producers of label-making tools—Brother, Dymo, and Epson—joined the LinkWare Live Affiliates program and announced applications integrated with LinkWare Live. "The partners' products make the network and cable labeling process much more efficient by eliminating manual entry and time-wasting tasks by loading the labeler with data generated from LinkWare Live during the network design and installation stages," Fluke Networks said.
Brother LabelLink (known as iLink&Label outside the United States) is an app for cable installers using Versiv testers and Brother PT-E550W handheld printers. The app enables a contractor to access the project cable ID information in the LinkWare Live cloud via smartphone or tablet, then transfers it to the labeler over WiFi. LabelLink eliminates the need for duplicate data entry.



Dymo ID software is integrated with Fluke Networks LinkWare Live and allows project managers, cable technicians and installers to access projects in LinkWare Live, import cable ID data, and use the built-in label application along with preloaded templates to simplify labeling tasks.



The Epson Datacom app, when paired with the Epson LabelWorks PX LW-PX400 printer, streamlines network installation labeling with simple-to-navigate menus, TIA-606-B or custom formatting, and brand-name patch-panel templates. The app now works with Fluke Networks' Versiv System to print wire and cable ID directly from LinkWare Live.


David Crist, president of Brother Mobile Solutions, pointed out, "Our multi-year journey with Fluke Networks has been an honor and a tremendous learning experience." Brother and Fluke Networks announced the ability of their systems to work with each other in mid-2016. "When the LinkWare Live and LabelLink combined vision was first conceived by our two companies, we had high hopes for the kind of value this solution would bring to the datacom contractor market. A year later, we both continue to receive validation from the market that the solution is delivering the kind of efficiencies we envisioned."
Dymo's director of marketing Adam Delange observed, "Label identification is essential for datacom professionals to keep operations running efficiently, but it can be tedious. Dymo's new partnership with Fluke Networks makes the labeling process much easier. With Fluke Networks, Dymo users can now easily access LinkWare Live projects, import cable ID data and use built-in label applications and preloaded templates, simplifying previously complex labeling jobs."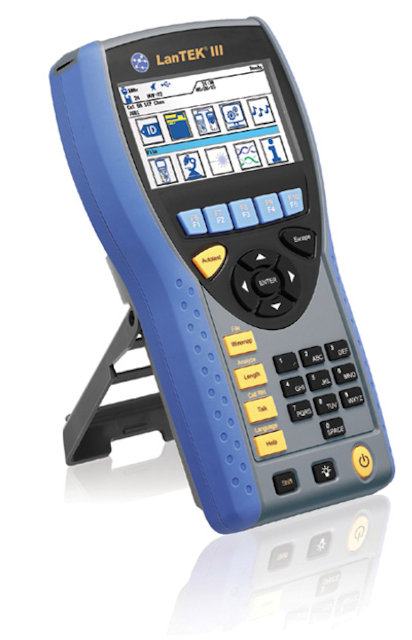 As part of its Test4Less program, Ideal Networks makes its LanTEK III certifier available as a free-on-loan device, or for purchase with an initial up-front payment. Ideal offers a pay-as-you-test option, in which LanTEK III users purchase test credits in batches.
Andrew Kasun, marketing manager for Epson LabelWorks PX, added, "The Epson LabelWorks PX LW-PX400 works wirelessly in the field via Bluetooth and the Epson Datacom app, making it a perfect fit with LinkWare Live. Working together with LinkWare Live, the LW-PX400 makes cable identification easy and seamless."
Eric Conley, vice president and general manager of Fluke Networks, commented, "The daily work of installers worldwide is changing dramatically as they increasingly use LinkWare Live to design, install and manage cabling projects, uploading nearly half a million test results a month. As more applications are integrated with the LinkWare Live platform, installers will reap the benefits, including increasing time savings and business operations efficiency, which all add up to cost savings and more profits."
Testing: From capex to opex
While Viavi Solutions' StrataSync and Fluke Networks' LinkWare Live use web-based capabilities to broaden the testing process's horizons such that they are project-management tools for contractors, the new program from Ideal Networks changes the economics implications of testing for contractors. Called Test4Less, the program is a combination of products, services, and payment methods that decreases a contractors' capital expenditure on test equipment. In a business sense for the professional contractor, it shifts testing from a capital expense to an operating expense.
The company says its range of Test4Less solutions "has been specifically developed to address the common frustration of data cable installers and systems integrators, and provide cost-effective solutions to help them overcome these challenges."
Ideal Networks' global marketing manager Tim Widdershoven commented, "Companies investing in multiple certifiers face the issue of increased expenditure and reduced ROI," noting that end-of-life for some tester models has brought the issue to the forefront for many contractors.
"Research showed that high capital expenditure for cable certifiers is an issue for many, as it reduces cash flow and offers a low ROI," the company continued. "We also discovered cable installers required a certifier only 25 percent of their cable installs typically, and on the remainder, a less-expensive cable transmission tester could be utilized to provide proof of performance. These 25 percent of cable installations include building specifications that require a cable certifier, or if cable manufacturer warranties are required. With this simple approach, businesses could reduce capital expenditure on testers by up to 57 percent."
Ideal Networks arrives at this 57-percent figure using costs associated with its own equipment offerings. Its LanTEK III is a certifier; the SignalTEK CT and SignalTEK NT are verifiers. The 57-percent savings calculation is based on the difference between 10 LanTEK III units with permanent link adapters, versus 3 LanTEK III with permanent link adapters and 7 SignalTEK CTs.
Given the high price of certifiers, the company pointed out, many contracting companies buy X number of certifiers and share them among their crews. The "3-certifier/7-verifier" approach enables companies to equip every technician with a verifier.
Ideal Networks offers a "pay-as-you-test" approach, which it says can "transform a certifier fleet from a capital investment into an operating expense." With this approach, users purchase test credits for the LanTEK III in batches from 5,000 to 10,000 tests. Business can opt for either a free-on-loan certifier agreement, or to purchase the certifier with an additional, initial up-front payment.
Ideal Networks' Ideal AnyWARE app enables the transfer of test-results data via a user's mobile device.
Patrick McLaughlin is our chief editor.